Discussion Starter
·
#1
·
--DISCLAIMER--

The Golden Hands Space Marine Chapter is most loyal--it is not traitorous. This W.I.P. is merely a go at my abilities while utilizing my creativity.
This is my first conversion. Be nice!
The arms--i decided to use, for the left arm, a Chaos Marine's hand. It worked out the best in more ways than one.
The right arm was cut in half, repositioned, supported, and GS'ed.
I made the loincloth rugged..just cuz i could.
The head/neckline area is a bit..frazzled.
This is cuz i had to actually drill through (damn i was scared--first time using a drill on a mini!) to carve out the old neck. I had originally had another head on there, but as i was gluing the support for the right arm--i didnt see the giant glob of plastic glue on his face.
So, as im busy on the arm, i notice his face was half melted! I was rather pissed.
I tried to pry the head out with a knife--not smart-- then i tried tweezers and pliers--no good. So then i just cut his head off and then slowly, ever so slowy, redrilled the neck dip, so another head could fit in.
Also--This is my first time using Green Stuff. All i had to do was make the rubbery joint parts for a space amrine, but it was my first time. I also have to make a tuft of hair later on, though.
This is just a pic of the bloody minded Marine, upfront. Can you guess what he will be holding?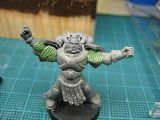 This is the slighty scenic base. Will be fancied up, though. Scorch marks, bullets holes, a dead loyalist. <--Not joking.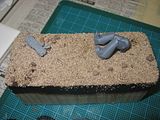 (Can you spot the axe?!)
This is just most of the crap i'm gunna use. Well, yeah..most.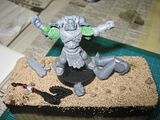 Updates tommorrow, i think.
PS
--I might decide to change my mind andmake him a cool loyalist ..with scythes. I dont know yet. If i cant make them with GS.