IDEA
So, I've been a long time planning this idea, and even managed to build a couple of the units for it, but thought I'd run through my Project as I recently decided to expand this Squad.
So, those Black Templar's amongst us are aware that Helbrecht has a ruling that allows him to take a Command Squad under his wing - now for Black Templar's, a Command Squad can consist of 10 units, 9 + a Sergeant, and Helbrecht can Annex this format with this ruling. Additionally to this Command Squad, Helbrecht - fluff-ily speaking - likes to train Neophytes himself, to encourage the troops to do so, and so he may also include 5 Neophytes with Close Combat weapons and Bolt Pistols. In total this makes a 16 Man Squad: Helbrecht, Sergeant, 9 Command Initiates, 5 Neophytes.
Taking this rule into account, I decided not long ago to make this Command Squad with Neophytes look somewhat special, to nail home the fact that they are effectively Helbrecht's Honour Guard, or Retinue.
Canonically, Helbrecht wears Artificer armour which is coloured Gold - I assume to honour the BT's roots as Imperial Fists. So in this vein, I have decided to colour the Retinue similarly to Helbretch.
PARTS
Ideally, I wanted to give the appearance that the High Marshal - or at least Helbretch - has had this "Retinue" for some time, and thus thought that the idea of having armour used while the BT's still resided within the ranks of the IF's. Therefore, I opted for Mark III Iron Armour - I used the forgeworld finecast models, pricey but well worth it. As well as the armour, I included a mix of Black Templar upgraded weapons, and Command Squad artifacts - Banner, Combat Shield w/ Bolt Pistol, Power weapons etc.
For the Neophytes, I've used a standard Scout box set, and replaced the heads with WH Fantasy Chaos Warrior Helmets with the horns cut off.
PAINT JOB
As mentioned, the intent is to make them resemble Helbrecht. So, I have opted to paint the "under-plate" armour, that resembles Techmarine Plate Armour, Shining Gold - details and shading will be added later once I decide what works best. For the "over-plate" armour, that appears to be extra plates of ceramite added, I have painted them Black - for heraldry - with Shining Gold trim.
I will attempt to paint the Helbrecht Sacred Banner for the Bearer.
For the Neophytes - although their overall appearance is still in thinking stage - I am opting to give their shoulder pads the same paint job as the canon appearance for Helbrecht - Right Pad White, Left Pad Gold. Unlike the Iron Armour, "gold-ifying" the Neophytes may make them look stupid, or too much like Custodes.
IMAGES
Command Units, just armour and backpacks - no heads or armours/weapons
Helbrecht and a Command Unit

Neophyte's helmet - Chaos Warrior Helmet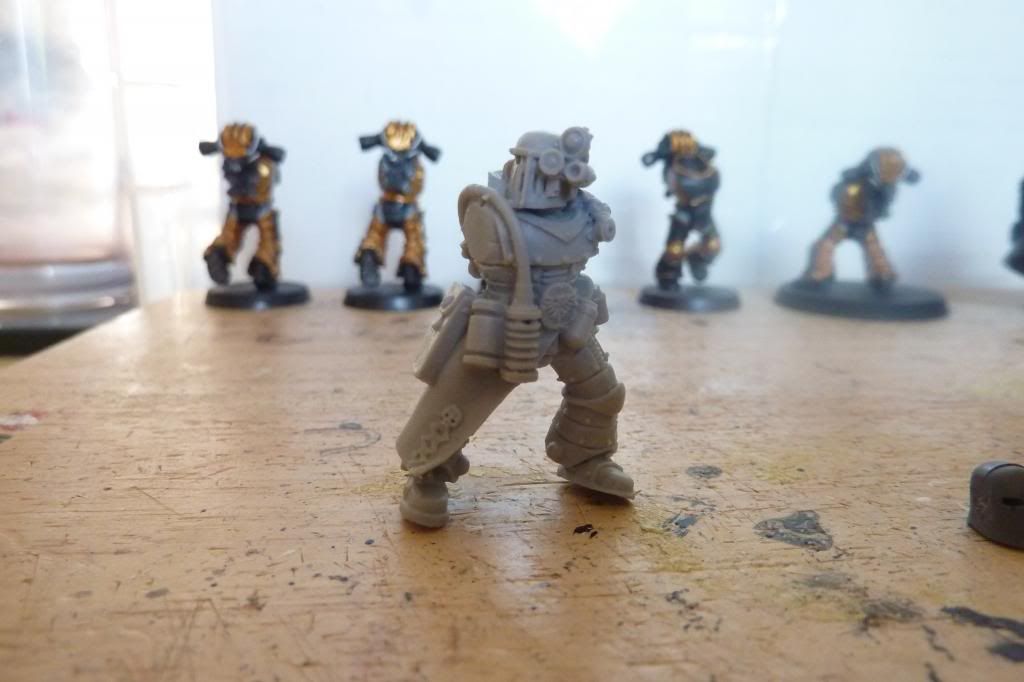 Apothecary - Forgeworld Iron Armour Apothecary from the Mark III/Mark IV Apothecary set.