Hullo.
Commission and wargaming stuff aside I agreed to paint a set of figures from CMON's recently released board game Blood Rage.
It's basically an area control game with deckbuilding/draft elements to it. Rather clever. It reminded me of a mix of 7 Wonders (which I like a LOT) and Small World. The theme is vikings beating each other on the head. It's Ragnarok, the end of the world, and each of the four viking clans needs to acquire more glory than the other clans before the world ends, so their guys get to Valhalla.
My brother bought it around christmas and decided that the minis would look nicer painted. This is where I come in.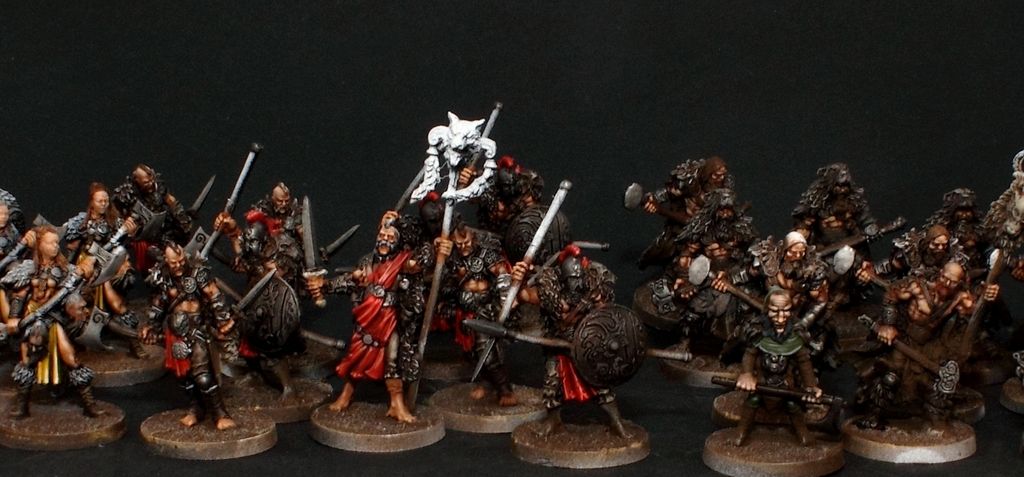 I'm painting those in weekends, because during the week I gotta do commission stuff and such of course. The above I did this weekend. Hope to be done in three weeks time or so. I really can't put too much time into those because we want to actually play the game again some time soon and frankly i'm very short on time. So these won't be showcase material (while of course I'll still try to make them look pretty).
The figures pictured are (almost) all of the player figures. There are four "clans" (from left to right): Snake clan (yellow), Wolf clan (red), Bear clan (brown), Raven clan (blue), each one has 8 warriors figures (2 different poses) and one leader each (with the banner).
Once these are done I'll do the heroes and monsters players can hire in addition to their warriors and leaders. These are 4 to 5 human sized ones and four huge monsters.
So yeah, that's it.
Hope you like them so far. The minis pictured are WIP. Comments and critizism are welcome as always!