Discussion Starter
·
#1
·
Yup you read right, Angels vs Angels. I'm trying a new Angels mech list, formerly Imperial Fists. Will see how they do against Justicar's jump Angels.
Blood Angels "Wing Striker" - 2,000 points
HQ
Librarian - shield of sanguinus & unleash rage
Librarian - shield of sanguinus & unleash rage
Elite
Sanguinary Priest
Sanguinary Priest
Troops
5 x Assault Marines w/ Razorback - flamer - Razorback w/ lascannon & twin-linked plasma gun
5 x Assault Marines w/ Razorback - flamer - Razorback w/ lascannon & twin-linked plasma gun
5 x Assault Marines w/ Razorback - flamer - Razorback w/ lascannon & twin-linked plasma gun
5 x Assault Marines w/ Razorback - flamer - Razorback w/ lascannon & twin-linked plasma gun
5 x Assault Marines w/ Razorback - flamer - Razorback w/ lascannon & twin-linked plasma gun
10 x Scouts - sniper rifles & 10 x camo cloaks
Fast Attack
Land Speeder - multi melta & heavy flamer
Land Speeder - multi melta & heavy flamer
Heavy Support
Predator - autocannon, lascannon sponsons & hunter killer missile
Predator - autocannon, lascannon sponsons & hunter killer missile
Predator - autocannon, lascannon sponsons
Total:
2,005
*I'm doing some major proxies today. Leman Russes are Predators, all Rhinos are Razorbacks, all troops have pistols and chain swords, all heavy/special weapons are flamers.
Blood Angels "Book of Blood" - 2,000 points
HQ
Librarian - jump pack, shield of sanguinus & unleash rage
Librarian - jump pack, shield of sanguinus & unleash rage
Honour Guard - jump packs & 4 x meltaguns
Elite
Sanguinary Priest - jump pack
Sanguinary Priest - jump pack
Troops
10 x Assault Marines - 2 x meltagun - sgt w/ power fist
10 x Assault Marines - 2 x meltagun - sgt w/ power fist
10 x Assault Marines - 2 x plasma pistols
10 x Assault Marines - 2 x flamers
5 x Assault Marines - plasma gun
Heavy Support
5 x Devastators - 4 x missile launchers
5 x Devastators - 4 x missile launchers
5 x Devastators - 4 x missile launchers
Game:
Capture and control + pitched battle
Deployment
I won the roll off (for once) but I let Kris go first, means he has to come to me. Perhaps looking back might have been better to go first as I could have fired first then him come to me and still be out of range and then fire some more, ah wll.
Kris deployed two Dev squads and the 5 man plasma unit on his objective, which was just outside a building. He put his other Devs in a ruin in the top right corner of the board which was at a angle. He then spread his Assault Marines across 2/3's of the board, keeping a melta unit with the flamer ready to tag-team along with the plasma pistol unit. The other flank had the other melta unit supported by the Honour Guard. Librarians were attached to plasma pistol and flamer units.
I deployed putting my full unit of Scouts on my objective which is directly opposite Kris'. I put all three Speeders behind a ruin so won't get blasted by krak rockets then triple Preds from the Speeders to the Scouts, these created a nice line breaker for the oncoming melta squads on the right flank. On my left flank I deployed all Razorbacks keeping in potential shield range and feel no pain range, I did put one Priest with the Scouts.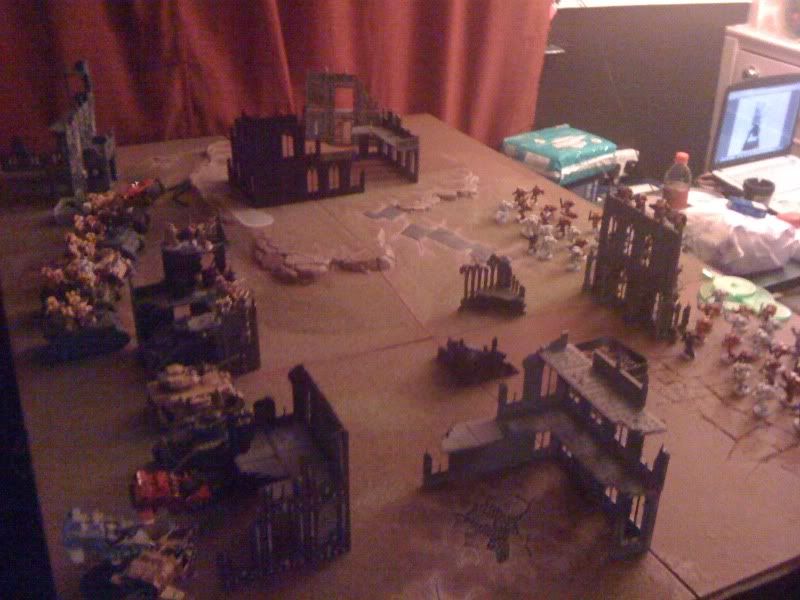 *Tactical Notes

Ok I am fearing the mass krak rockets and mass melta, plus pop a transport and those plasma pistol and flamer Assault Squads will have a field day on my 5 man Assault Squads. My plan is to try and seize the initiative, hold position and then torrent a melta unit until gone. Once meltas are gone I'll jump out with mass Assault Squads flame the plasma and flamer units then assault, with the long range weaponry blasting the Devs off the terrain. Once all threats in my face have disappeared I'll saddle back up and move over to Kris' objective.
Turn 1
I attempt to seize initiative and fail
Kris rolls out with his Assault Squads leaping towards me across the board, he uses terrain well using it to block one melta Assault Squad on the right flank - the others are all exposed.
Shooting Kris lays down krak missiles at my Razorbacks, I cast shield and engage in a psychic face-off against Kris' Librarians with psychic hoods, I cannot remember if I pass though after the rockets hit home one Razorback is toasted another is immobilised.
My turn I move my remaining Razorbacks forward towards a melta Assault Squad on the left flank to get into plasma rapid fire range. I move all Land Speeders out with the intention of blasting some Honour Guard with support from the Scouts, all Preds turn about and aim for the melta unit on the left flank which has no cover.
In the shooting turn my Razorbacks alone destroy the melta Assault Squad on the left flank dropping lascannons, twin-linked plasma and hunter killer death killing 4 Marines each a turn! With all those melta Marines dead I fire the Predators at the plasma pistol unit seems I've pivoted that way, they have half left but pass morale. Land Speeders and Scouts fire at the Honour Guard and kill 2.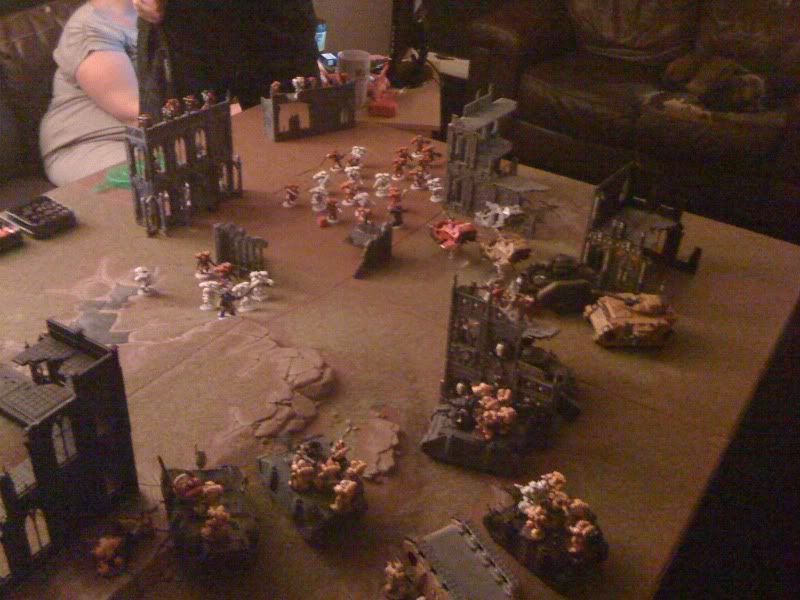 *Tactical Notes

Ok I've lost a Razorback and got one immobilised, but it can still fire. Could have been worse, now that I remember I got my shield power off but it saved fluff all.

Next turn I'm expecting two Predators to be dead by melta death and the plasma Assault Squad move up and go for the Scouts. In turn 2 I'll gun down the Honour Guard to take out mass melta and the other melta Assault Squad, then I'll start blasting the Devs and charge into the Marines left.
Turn 2
Kris moves his remaining Angels forward ready to bring on the pain.
Shooting Honour Guard fire at a Land Speeder which they immobilise and break the multi melta. Krak rockets blast the Speeders destroying them both. Remaining melta Assault Squad pops a Predator.
In assault Honour Guard assault the Speeder and make it go boom with krak grenades spanning a massive 6" radius and hitting loads of Marines, luckily only a single Marine dies.
In my turn I pivot a Razorback and bail out the back, the Razorback then zooms off 12" ontop of the hill. Other Razorbacks move up while the squad busted out the wrecked Razorback moves up towards the plasma pistol Assault Squad. I move remaining Predators through terrain ok, one relocated into a ruin and spots melta Assault Marines through the windows. Squad out the immobilised Razorback moves towards the plasma pistol Assault Squad
Shooting I drop multiple flamers on the plasma pistol unit along with bolt pistols softening them up for assault, only 5 left including the Librarian attached. I blast the melta Assault Marines with Predators and Razorbacks leaving just a single melta and attached Priest left, they pass morale. I fire Scouts at the Honour Guard and kill two with rending shots - right through the eye! They pass morale ok too.
In assault my Librarian and attached squad charge along with another squad with a Priest giving them all furious charge and feel no pain. I have another psychic fight with Kris as we both attempt unleash rage, I know mine goes off I cannot remember about Kris'. I win the fight with Kris falling back but escaping sweeping advance, a single sgt from that unit remains.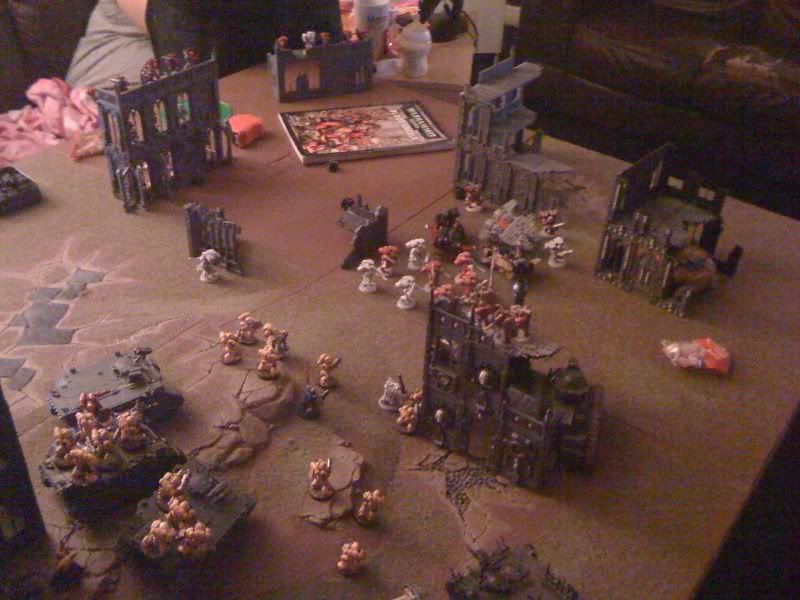 *Tactical Notes

Ok I've lost the Speeders which was a surprise, I thought Kris might have left them as only single multi melta shots which worry him and go for the tanks so he can assault the troops inside but rob my mobility too.

It went well for me though, two melta units seriously mauled and the Honour Guard just has the Priest remaining so no longer a threat. I also got one in assault too, so just a single full man unit in my face and a single Priest whose not a I.C from the Honour Guard and the two models from the Assault Squad, inc a Priest.
Turn 3
Kris moves his battered melta Assault Squad to tackle a Predator while the single Priest moves within range of the flamer Assault Squad.
Shooting Kris uses those krak missiles again immobilising and scoring weapon destroyed on one Razorback and popping another, luckily for me my shield powers save one after another psychic fight. Kris blasts his flamers into my squad with a Librarian softening them up for assault. Melta fires at a Predator and misses.
Kris charges my Librarian and Assault Squad after it's all said it done I lose a Marine and Librarian is wounded but I kill his Librarian outright making it a draw in combat.
In my turn I bail the last two squads out the Razorbacks, one includes the second Librarian. Other squads move up ready to join into the big ruckus. Predators move to blast the melta Assault Marines away, won't need a lot of fire power.
Shooting the solo Priest gets shot in the eye socket with a rending shot from Scouts. Melta Assault Marines get blown out their boots by lascannons. Devs start taking wounds from the other Pred, which is immobilised and weapon destroyed thanks to missiles launchers previous turn.
In assault I charge all my squads in on the 5 enemy Angels, I win combat taking no wounds with the enemy Angels escaping sweeping advance but they're still close to me so cannot regroup, muh ha ha. I consolidate one squad onto my objective as no where else for it to go.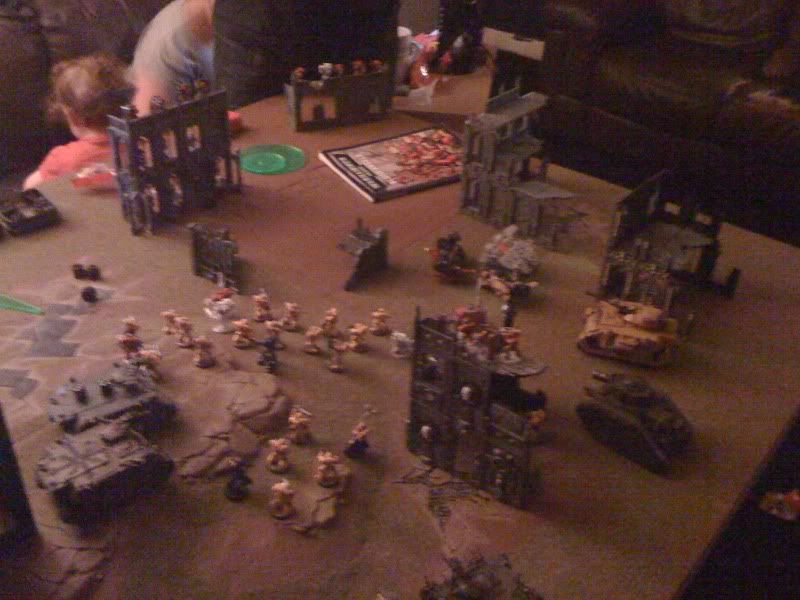 * Tactical Notes

Ok I've got one operational Razorback which hopefully should put me close enough to get Kris' objective, plsu my other squads should get close running across the board as Kris' objective is directly opposite mine.

Now with nothing of Kris' on my side of the board I think I've got this game in the bag. I just need to move forward and get Kris' objective, I'll nail the Devs and thin them out as the Assault Marines on his objective are a little out of view, only 5 of them though.
Turn 4
Kris hasn't got much options here so keeps his troops in position.
He fires kraks at my Predators and does little and blasts the last Razorback but fails to do anything, I might have saved with shield power actually. One of my Marines gets with long range plasma shot but shield saves.
In my turn I run all available squads except the second Librarian unit which gets back in their transport and moves 18" towards the enemy Angels.
Shooting Predators blast Devs on the top ruin floor but they pass morale ok, 5 man plasma unit loses two guys I think thanks to the other Predator. Scouts fire and hit nothing!!! Fail!!111!!!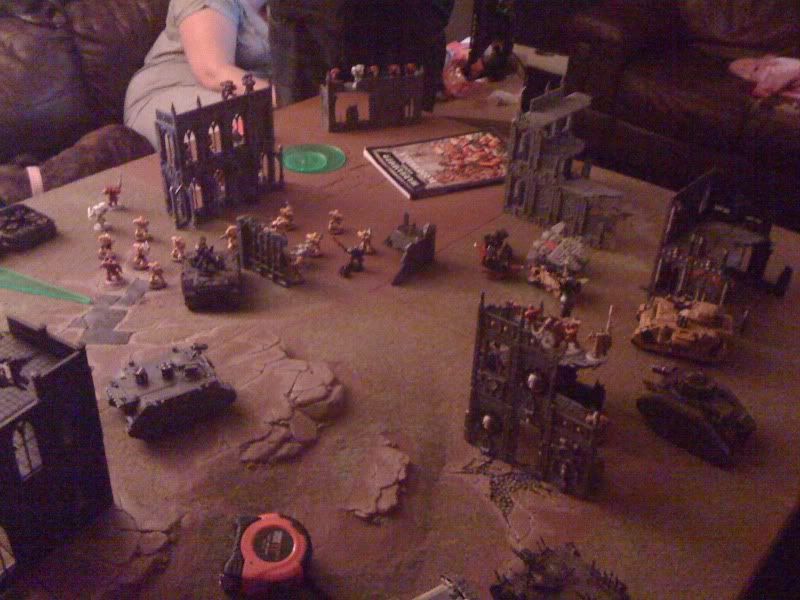 *Tactical Notes

Not a lot to say TBH. This game is pretty much in the bag, if all goes to plan I'll be piling 4 of my Assault Squads into 3 squads of Kris' which have lesser numbers than me. It will leave just his surviving Devs which are out of range to do anything which allows me to claim his objective and my own. Lets do it!
Turn 5
No movement from Kris. He blasts my Marines with krak missiles forcing cover saves, the unit with the wounded Librarian only have two models left and take morale but pass. Another squad takes a morale test and passes, that's it for Kris!
My turn I move all Assault Squads around his objective contesting it.
Shooting I wipe out that Dev unit on the top floor. I unleash flamer on the middle squad Devs and blast the troop unit on the ground floor with mass flamers and bolt pistols.
In combat I charge the Devs killing all but one, I take no wounds they then fail morale and get destroyed by sweeping advance. Troops are all wiped out.
My Blood Angels win!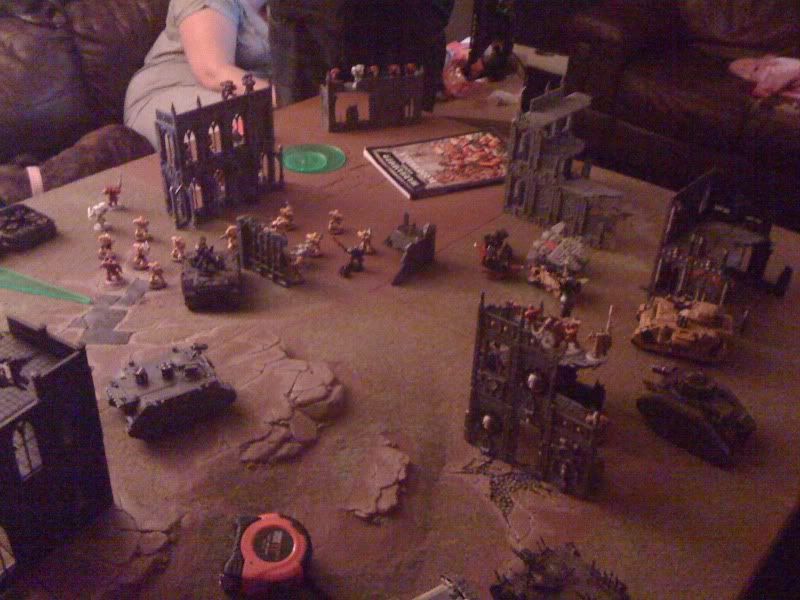 Summary
A very interesting game for my new mech Angels, but first the mistakes!
First mistake was me going second. I should have gone first stayed still and open fired killing Marines or nailing those Devs taking out ranged fire power, then second turn after Kris has come to me move up and unleash hell on the squads on foot with las/plas like I did in my first turn. Other mistakes were pivoting the Razorback, getting the troops out and then moving the tank - troops cannot move once got out a vehicle even if pivoted and teh Razorback should do it's movement all in one! Another mistake was near the end when I got back in the Razorback and moved 18" flat out, cannot embark and go flat out. Lastly, cannot destroy Devastators by sweeping advance should have been no retreat! saves.
For Kris' mistakes I would have left the Speeders and dealt with the Razorbacks, get the troops out and take out two threatening weapons instead of one. I also don't think he used that battered plasma unit, unless I forgot maybe. Other than that he played fine, and like me he underestimated those las/plas Razorbacks, however he didn't run off this time and kept the pressure on. Looking back Kris did some damage taking out or damaging all but one Razorback, two Predators, all Speeders, and some serious battered Assault Squads - definately wasn't a total walk over.
The list I found good. Very good. It has a lot of fire power but still needs some tweaks. Librarians both work fine so keeping them, double shield and unleash rage is cool - re-roll to hit when charging is nasty. Priests work fine but I don't need three, the Priest with the Scouts did nothing all game. Small Assault Squads I was worried about, but I've got a total of 40 Marines in that list and they did ok. My plan with getting these squads into assault worked, let the opponent come to me and I've got a 14" assault range from my tanks which isn't bad - the flamers worked well as as bolter profile and cover plenty of troops instead of just one like with a bolt pistol - though I like melta so I'm going to add infernus pistols along with power fists for anti tank and to make sure my squads get the job done in assault, power weapons. Sure power weaps aren't that awesome but when charging you're I5 and S5 you do a nasty job and I did all the attacks I get and to get my attacks in first. Speeders were ok, but I'm going to drop one and along with the heavy flamers as I rarely use them, those points can get me power fists. Predators are ok but I don't need hunter killers on them as got enough fire power.