Discussion Starter
·
#1
·
Ok, so I had this crazy idea for using my magnetized Dread (seen here)...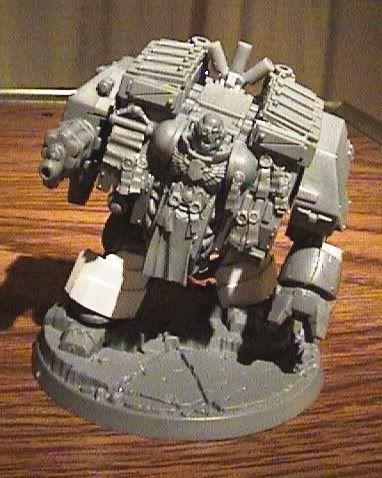 To represent a Daemon Prince in my counts-as-chaos Blood Angels list (he'd have his furioso arms on, naturally)
However, I find dreads to be rather stubby and unimpressive, even venerable brother Versitus there. They also don't fly.
I want something really huge and scary, clearly something that used to be a dread but is now something much more.
Soooo...here's what I'm thinking:
Sentinel legs and feet. They're cool looking, add height, and have that kind of backwards-bending demonic sort of quality to them.
Dreadnought torso. No sarcophagus, instead I'll do my best to re-create Venerable Brother Versitus and his unrestrained awesomeosity. Possibly a khorneite vampire head. He's a blood angel, after all.
Defiler Pincers as arms. Probably only the lower half, possibly married into normal dread arm/shoulders, or maybe just attached via some GS and plasticard improv. They seem a little big on a regular dread, but this will have extra height
And...the fun bit...a Whirlwind launcher as a Jump Pack (possibly with thrusters from a land speeder)
Idea shamelessly stolen from Doghouse's
Deathguard DP
I'll probably shave the spikes and blades off of the defiler claws. The idea is for it to look technological/imperial. At the moment the chapter is loyal (just using the CSM rules to sort of bring back the old style lists we used to play in 3rd). Like some kind of experimental super-furioso.
But, my main question is (before I order parts through the war store) how well will things look in proportion? I've seen dreads with sentinel legs, and I've got a defiler so I can size check the arms...but I've never had a whirlie. How well would the launchers fit/look on the back of a dread? Possibly mounted at an angle
Anyone have any advice on marrying the legs and the torso, or the arms and the body?