Discussion Starter
·
#1
·
Let me first start off by saying I have not tried this with any other vehicle sponsons aside from the Land Raider. Any vehicle sponsons that have a top and bottom mounting plate SHOULD theoretically work the same, but it DOES work for Land Raiders, as seen here.
At the time of writing this, I have only done the Twin-Linked LasCannon sponsons, as I am waiting to get my Land Raider Redeemer/Crusader kit to replace the metal Hurricanes with the much easier to manage Plastic ones. As the weapon mounts for the GodHammer and the Crusader/Redeemer are of identical thickness at the pinning pivot points, there should be no problems with this working with the alternate mount.
MATERIALS:
2x Sponson Mounts(and a vehicle to attach them to, hopefully.)
2x Pinning Item(Toothpicks are perfect size. Brass rod or Plasticard rod will work as well.)
2x Pin Toppers(in this case, the Land Raider Targetting Sensors)
1x Hobby Knife
1x Jeweler's Saw(if using Brass Rod)
Adhesive(superglue)
1x 3/32"(.25cm) Drill bit
1x Pin Vice(if you wanna be drilling for hours..I used a power drill)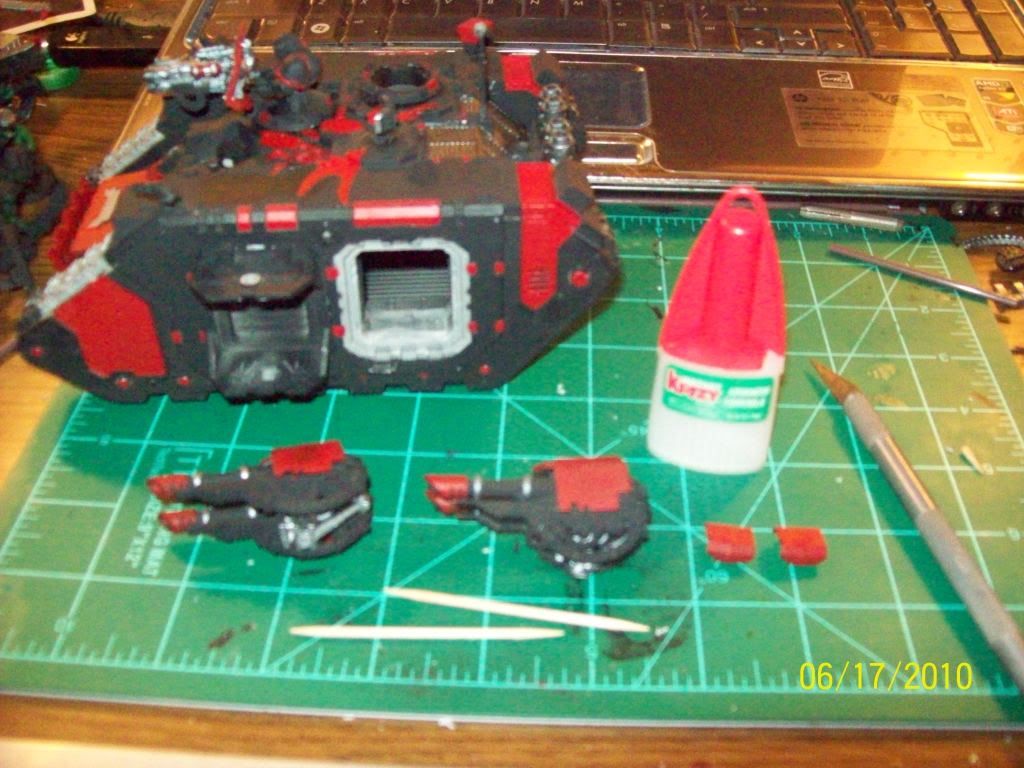 Step 1: Cutting
The Land Raider weapon mounts have a very small peg that slides into the sponson mount holes on both sides. Using your hobby knife, cut them off(already done in the picture above.)
Step 2: Drilling
This is the part where you have to be VERY careful. With the mounting pegs cut off, take your Pin Vice and begin working your way into the weapon mount. Make sure you are DEAD center. I recommend using a smaller bit to make a pilot hole on both ends to be sure you are centered. If you make a pilot, once you have worked your way in a little, switch to the bigger bit. This is what I used the power drill for. There is ALOT of plastic to work through.
MAKE SURE YOU ARE DRILLING PERFECTLY STRAIGHT! iF YOU ARE EVEN SLIGHTLY TILTED TO ONE SIDE OR THE OTHER, YOU WILL DRILL THROUGH THE SIDE OF THE WEAPON MOUNT!!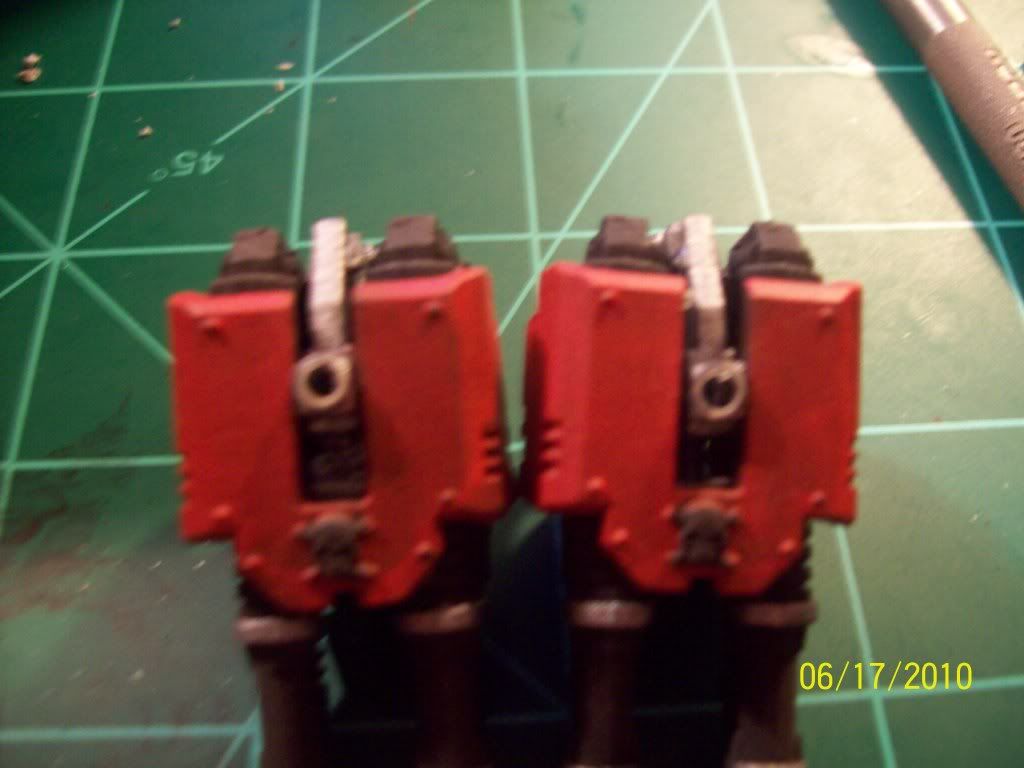 Once the drilling is done on the mounts, using the 3/32"(.24cm) bit, take your Topper and make a shallow pin hole for your post to go in.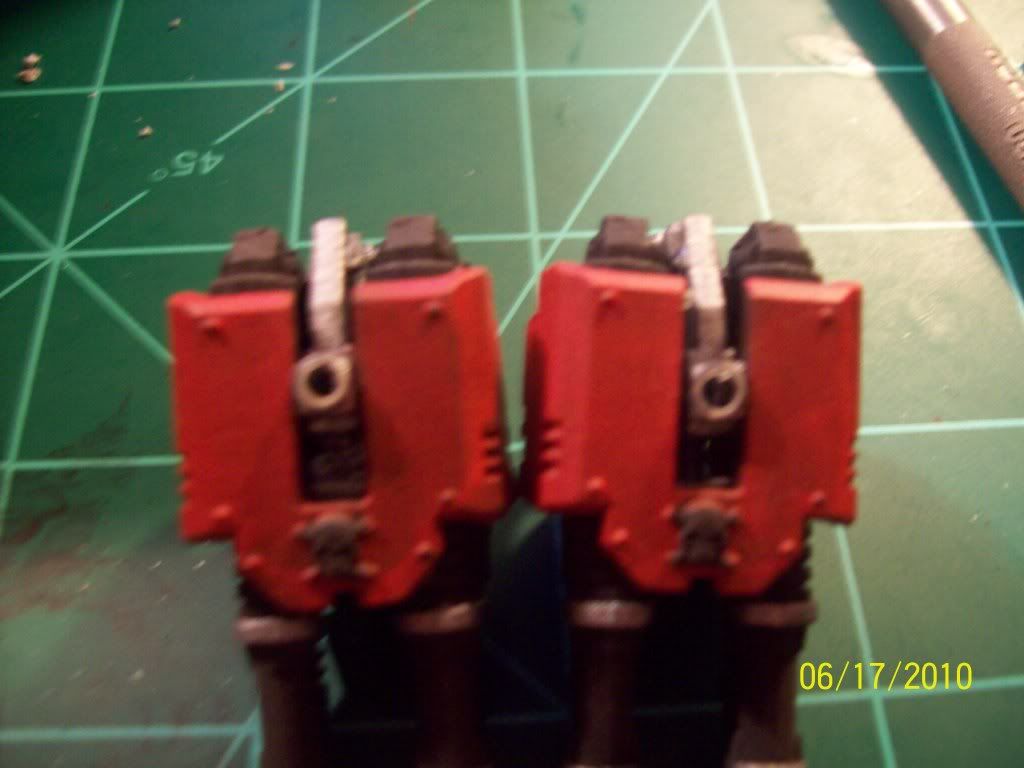 Step 3: Pinning
If you have made it this far, you are pretty much done. At this point it is short, sweet, and to the point. Pin your topper with your pinning item, ensuring it is in straight. Once the adhesive is dry on your pinned topper, insert it into the Sponson Mount(not the weapon mount you drilled out earlier!) and trim it off at the underside of the sponson mount.
That's it, you're done. Put your weapons in place and insert the pin in the holes.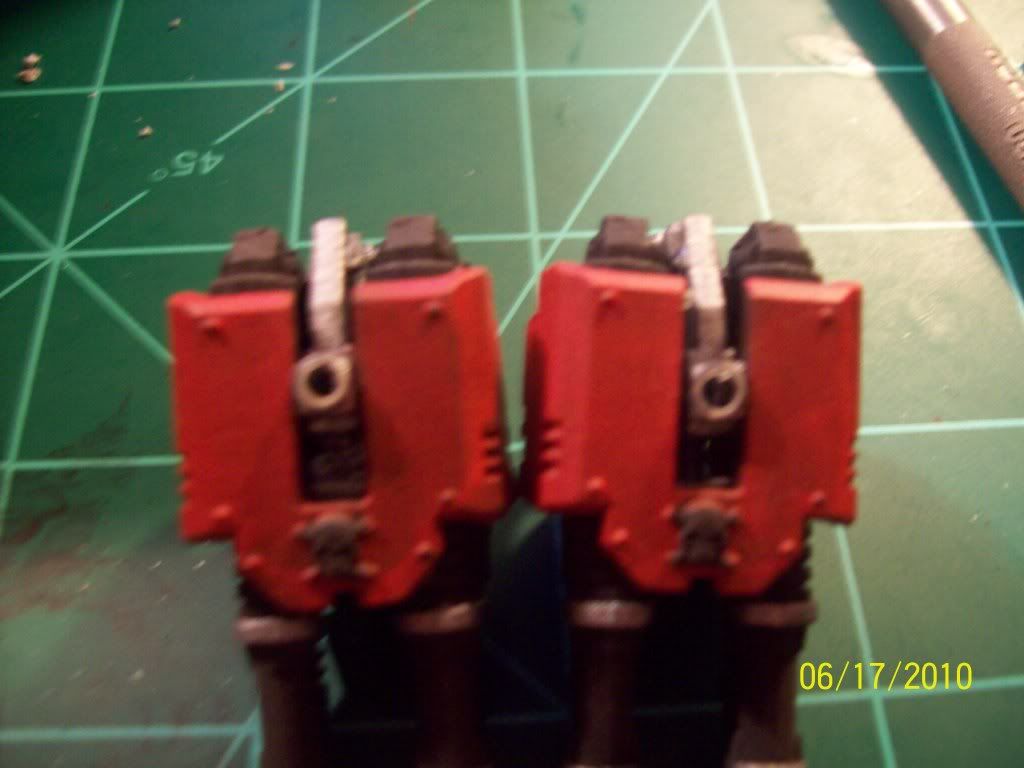 And that is how I am doing my alternative to magnetizing weapon mounts. It is ALOT cheaper and does the job just as well!
NOTE:: This is only for swapping the Weapon Mounts themselves. In order to swap the Weapons themselves(Crusader and Redeemer only as they use the same mount), it is just going to be a matter of making a single pinning hole on them for alignment and using the existing Weapon Mount pins to place them on. Just remember not to glue it all together, as you want to be able to take them off.