Discussion Starter
·
#1
·
Hello guys, figured I might as well put this up here. A bunch of us over at astro are doing a Tale of X Gamers-style of project. With each of us doing a fantasy army, for the total update check
here
And here's mine :wink:
HEPHESTO'S FIRST UPDATE
Fluff - The Rangers of Ilandral – prologue
Gasping for air Ilandral woke, the memories of what he had seen pass so many years ago haunted him to this day. He would never forget the beastial sounds of the vile children of chaos for as long as he would live. His thoughts often dwelt to that time, a time when master Scarloc still lived and the great victory they claimed for Athel Loren when they destroyed the abomination that was Cyanathair. The deformed beast spitting out his final word to him 'revenge' as he spat forth his last breath of air.
But as is the nature of all things chaos he could not be truly destroyed, merely vanquished for a short periode of time. Though there was relative peace for over 200 hundred years and some of the most elder spellsinger even believed Cyanathair destroyed, but it was not to be. Deeply engrieved by his resurrection queen Ariel sent forth her most experienced shadow warriors of sneak through the realm of Bretonnian to the Forest of Arden to once more destroy the creature.
Thoguh they fought with favor and skill they unfortunately failed and Cyanathair, or Morghur as the creature called itself, was once more set loose upon the Old World. Bent upon the destruction of the Asrai he slowly turned his attentions to the woodland realm Athel Loren. I had been year since the battle of Arden en Morghyr had once more matured into the favored child of the Chaos gods. For months now small raiding parties of beastmen had been spotted on the edges of the forest and Ilandral had been ordered to take his rangers to the western glades to ensure none of these vile creatures would penetrate the forest. So like many of his kin Ilandral now travelled to the edge of the glades to stand vigil against the coming of Chaos.
A Tale of X Gamers you say?
Hello and welcome to my first update for the Tale of X Gamers, another one of the great projects at Astronomican. Right after DarthXander started this up my thoughts kept turning to that box full of Wood Elves goodies standing idle beneath my hobbytable. So I figured why not, count me in.
My approach to this will be slightly different from several of our other participating members, I am not blessed with the pressence of other WHF players in my neighbourhood. So instead of going for a maximised gaming army I plan to go with a 'just for fun' army, that although tough to play still has quite a bite to it. So I will mostly be focussing on the hobby side of the Wood Elves, something which will be quite a bit of work since I have no Wood Elf sized bits. The main focus of this army will be on its small, eight men (and women) scout unit who's adventures will help give the army a reason for coming together.
But on to the contents of this update; first up is my armylist, followed by some of the conversions I've finished so far and finally my ideas for some of the stuff I still need to do.
Armylist
With the help of various forum members I've finally come to the following tough to use, but very mobile and fun army list. If I do happen to get a few games in it will definitely become a challenging game. During which I'll need every bit of tactical wit I have, coordinating charges, moving woods around and keeping a close eye on my character's special abilities and wargear.
HERO
(probably the waywatcher lord model)
Noble, with light armour, additional handweapon, longbow and a hail of doom arrow
111 points
Cheap, versatile and the Hail of Doom arrow should really come in handy. As Indra said Wood Elven characters should be looked at as mobile, living artillery. And if necessacery he or she is pretty decent in hand-to-hand combat as well.
HERO
(floating female spellsinger wihout staff)
Spellsinger, level 2, starfire arrow, longbow and the deepwood sphere
175 points
Decent spellcaster primairly focused on ranged combat with the fear causing starfire arrows and the treesinging enhancing deepwood sphere. I still need to think of something cool to do with this model, she looks decent enough now. But it can always be better, I'm thinking of making a small magic staff and a intricately decorated longbow.
HERO
(drycha model)
Branch Wraith, level 1, annoyance of netlings and cluster of radiance
165 points
Very effective harreser with magic capabilities, who with the addition of the netlings and cluster will be a tough opponent in close combat and an additional magic buffer.
CORE
(branch wraith will join these)
8 dryads, 1 upgraded to branch nymph
108 points
Very cool models, who are cheap for their great abilities. This group will be heavily converted to represent the annoyance of netlings that accompanies the branch wraith.
CORE
8 dryads, 1 upgraded to branch nymph
108 points
A second harrasser unit of dryads, I still need to think up something to turn them into something special like the other group.
CORE
(all converted, central visual unit of the army)
8 scouts, 1 upgraded to a lord's bowman
142 points
The first real unit of the army, though taking an insane amount of time they're coming together very nicely. All of them will be extensively converted to form a small band of individual characters, kind of Mordheim style. Right now we have Ilandral standing on a treestump holding an insect while a hedgehog comes out of its home (isn't he sweet), a yet unnamed healer and tracker/ranger. Other ideas I'm working on are a bunch of wicked spites taking of with a ungor skull (the next piece of fluff will clarify this), a beasttamer/talker and some kind of fox or wolf familiar. These guys should be finished be the end of the next update!
CORE
14 glade guard, including full command
192 points
Hardhitting large unit of glade guard can't go wrong in a Wood Elf army, I have all the required models but I still need to think up something special to do with them. I'm not quite sure on these guys yet, time will tell.
CORE
(bow lord will join these)
15 glade guard, including full command
204 points
Hardhitting large unit of glade guard can't go wrong in a Wood Elf army, I have all the required models but I still need to think up something special to do with them. I'm not quite sure on these guys yet, time will tell.
SPECIAL
(wardancer lord model thrown in for good measure, serves as a normal wardancer)
9 wardancers, including command
193 points
Love the models, they make for an excellent distraction unit and they really can kick ass if needed. Right now I have five different poses and the female wardancer lord, now if I can just get my hands on a command blister I'll be all set. No need to convert anything on these guys and gals, although I'll probably do something cool with their bases. And their talismanic tattoes also need some thought, do I go with highlander style warpaint or intricate Elvish runes and stuff....choices, choices, choices.
SPECIAL - 3 warhawk riders
120 points
Great models, but a bit of a pain to put together. These guys will make for excellent scouts, taking on warmachine crews and contributing with flan and rear charges.
SPECIAL
(thinking of building my own) 3 treekin
195 points
No work done on these...yet. Still thinking about how to go with them, especially since I want to make my own treekin. Fortunately they will provide me with a nice tough, hard-hitting unit this army so desperately needed.
RARE
(thinking of building my own) treeman
285 points
Who doesn't like a magic-wielding, walking, grumpy tree. Though I still need to start on this guy, I already have a few small ideas running rampant in my head. Those pictures Hawke posted of his outdoor photographing adventures really helped to give me some new ideas.
So that comes down to;
1998 points
5 cast
5 dispel
+ treeman's treesinging abilities of course
3 heroes
5 core
3 special
1 rare
72 minis and a bucketload of work
The Workbench
I haven't had much time to work on my Wood Elves this month, something that should change in about a week. So right now I've only finished some conversions, but the next update should see a few finished units and a colourscheme or at the very least a series of testmodels. But on to the minis;
First up are Ilandral's Rangers, the scout unit that will form the visual/conversion centrepiece of the army....I hope. First up is Ilandral himself, what started out as a simple pose conversion has turned into a completely new armylist. Ilandral is standing on a treestump, which a hedgehog calls home, holding some flying insect. Only later realised got this idea from LOTR, although that was a butterfly/moth. I'm actually a bit proud of this guy...yes, yes I know pride, before the fall.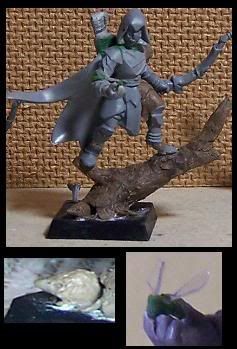 Next up is the tracker, well they're all trackers, but the best tracker of the bunch. I wanted to do something very different with this one, so I went with a command style scout. And by the looks of it she senses trouble, which she silently conveys to to other scouts.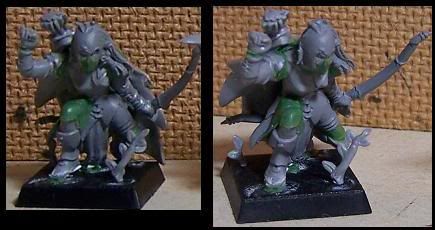 The we come to, the also still unnamed, healer/herbalist. While I first wanted to go with all robes and masked scouts, I figured that a bit of diversity would also be good. So after some intricate converting and nearly sacificing a digit or two to the gaming gods she ended up with a magic staf and a healing root. Though a bit tough to see in this picture, the staf has a nicely detailed crystal as toppiece. The plant she is holding was actually a necessary solution that turned out pretty decent. Since both the glade guard and glade rider sprue have no open left hands, I had to do something else. And while I first thought about something like a magic potion, a more herbalistic approach to healing just seemed to much more fitting for the Asrai.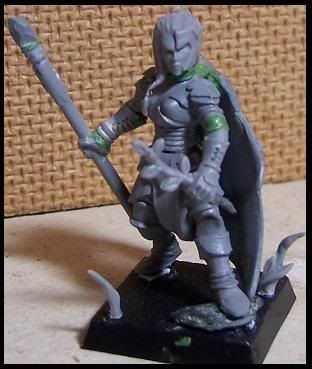 Now as some of you might remember, I promised to do a Mighty Kingdoms articles a while back. Unfortunately my local store still hasn't gotten the box. So what was suppossed to be a Wood Elves unique structure with rules and everything will just have to serve as my home capital for the moment. So here is the mini-miniature Lathel Loren on a trimmed down, normal round base;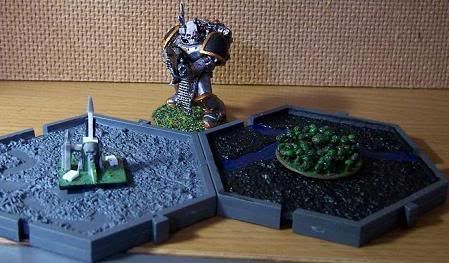 Next up I'd really like to give Kudos to GW for their excellent Wood Elven kit and the new Citadel Woods. For anyone in doubt about getting one of those woods, stop doing what you're doing right now, run to the store and buy one. You will not regret it I promise. Even if you dont like the use of the bast you can easily trim the side of the trees and use them as stand-alone trees. They will need a bit of work because of the unavoidable moldlines, but they look fantastic. Using the various bits and pieces from the Wood Elf kit I've given mine a bit of extra Asrai feel, it would be long before some Bretonnian peasent will be telling stories in the local pub about small creatures living in them there woods: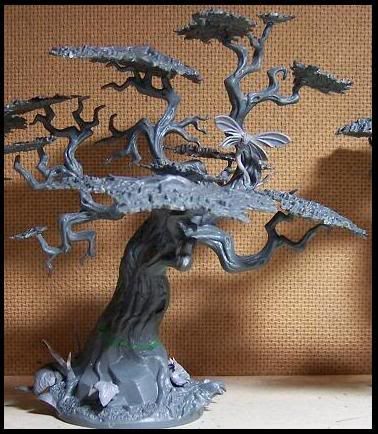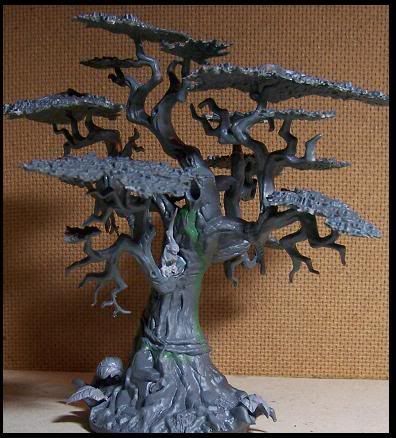 And now we come to the final conversions and bits from what must be the most diverse kit in the Wood Elf range; the Dryad kit. I have yet to assemble my 16 Dryads, but I've been using the sprues for week. Not only did I use it for for my old Wordbearer Umbras, my trees but also for my warhawk riders. And I still have plenty of parts left over to build the Dryads and even more. So the final unit for this update are the warhawk riders, models I really like but I thought that GW left the bases very empty. So I tried a few things that failed miserably, until I came across an old picture of some Bretonnian conversions I did for a friend about a year ago;
There would be no need for heavily converting the already very dynamic and detailed warhawk riders, I just needed to focus on their bases. So using various bits and piece they turned out very wild and connected to nature (in a non-treehugging fashion of course);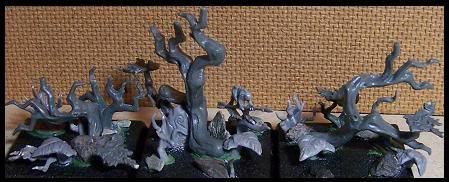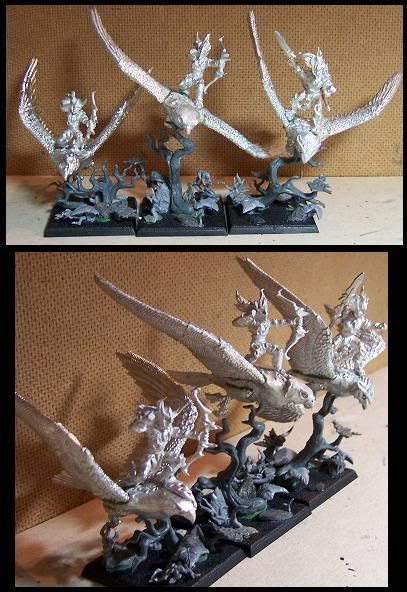 Thoughts on the Future
Well I've managed to get a good idea in my head for the feel of the army and that within a few weeks. That must be a record! No to keep up this pace of work, hopefully kicking it up a notch over the next one to two months. So here is my planning for the next month and update;
1) Try to get all of Ilandral's rangers together, although there is a very good chance that they'll be one of the last things to see paint. I really want to get my colourscheme down before I paint these guys.
2) Put my two Dryad unit together, I'm going to my local store this week so I'll pick up Drycha and hopefully that Mighty Empires box. And then it is on the converting an annoyance of netlings on one unit and coming up with something cool for the second one.
3) Get my Wood Elf colourscheme together and do some testpieces for the colourcombinations and no way less important do some testpieces to get a good feeling of how to get a good Wood Elf skin colour going.
4) Get some ideas on paper for the Glade Guard units, the Treekin and the Treeman. And while I'm at it check out which extra bits and pieces I'll need to order from GW, already planning on getting classic waywatcher 5, maybe Collectors Wood Elf Standard Bearer Body 2, the old falcons (if I can't make my own that is) and one or two of the new minis....and a few books I've been wanting to buy for a while....and some Dark Eldar cruisers (damn warhammerwiki-project for getting me all excited about these, my Dark Eldar might even get a revival.....that would really make GJ happy).
Well that pretty much concludes my first update, hope you guys enjoyed my rantings during my journey through Athel Loren. And I greatly look forward to reading the other updates!
Cheers,
-Hephesto-