Discussion Starter
·
#1
·
My fellow Heretics,
For the best part of a month by now or so, I've been keeping tabs on a rather unusual model kit that's caught my attention.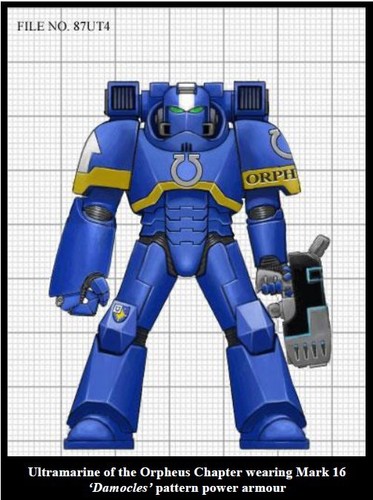 For those not in the know, this particular image originates from the famous Bolter and Chainsword Horus Heresy/40K project "The Dornian Heresy" - a Shattered Glass-esque retelling on the Horus Heresy, where Rogal Dorn rather than Horus becomes the Arch Traitor. Long story short - Space Wolves become this continuity's Khorne Legion, the Salamanders hook up with Malal, the Blood Angels turn to Nurgle (yes really), the Ultramar Segmentum secedes from the Imperium, the Sons of Horus become the Black Templars (while the Imperial Fists become the Black Legion), the Thousand Sons turn into Proto-Grey Knights, the Word Bearers found the Ecclesiarchy (and become it's militant arm as this continuity is devoid of Sisters of Battle, way to go guys Matt Ward would be proud) etc, etc.
Anyway, I really like the look of the armor, but I cannot for the life of me identify the original kit the legs, torso and even the shoulder pads come from. Are they produced by a parts manufacturer? Are they still operating? Is this eBay link the only place where I might pick up this brand of armor?
This is especially jarring as the suits have popped up in at least one other guy's modelling project, which I have linked
here
.
You may also find the eBay link for said kit
here
. I'd like to know if this is the only place where I might pick it up, or if there's some obscure third party manufacturer out there cranking out new suits.