Discussion Starter
·
#1
·
750 Points Eldar Vs. Chaos Marines​
Chaos List:
Kharn the Betrayer (Warlord)
Chaos Spawn (x4)
Khorne berserkers (x 9), Power Weapon
Chaos Khorne Lord, Axe of Blind Fury, wings, Mark of Khorne
Rhino, Dozer Blades
Chaos Marines (x6), Plasma, C-Plasma
Eldar List:
Farseer, Fortune, (Warlord)
Dire Avengers (x5)
Dire Avengers (x5)
Striking Scorpions (x6) Exarch, Scorpions Claw, Shadow Strike,
Striking Scorpions (x6) Exarch, Scorpions Claw, Shadow Strike,
Fire Dragons (x5)
Wave Serpent, Twin linked Shuriken Cannon
War Walker (x2), Shuriken Cannons
The Battlefield (4x4' – Realm of Battle):
Runes of two old towers stand tall atop hills on both side of the battlefield creating a valley of dangerous terrain filled with take traps in the center. On both ends of the valley lay more runes that are flaked by forest.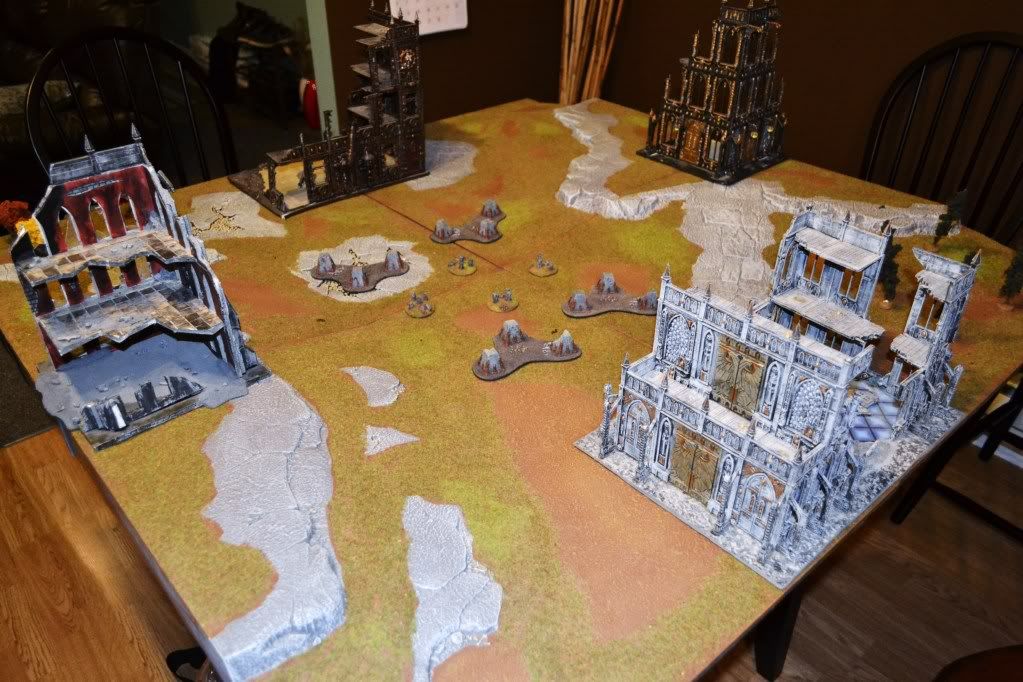 The Game:
Mission 3 – Big Guns Never Tire (Heavy Support are scoring as well)
Hammer and Anvil - left to right on top of hills (short table edges)
Warlord Trait Eldar (BRB) – Legendary Fighter – Your army gets 1VP for each emery Character slain by your warlord in a challenge.
Warlord Trait Chaos (Codex) – Kharn has Hatred Incarnate – Gives him and his unit Hatred Special Rule
First Turn went to Chaos
3 Mysterious Objectives were places onto the Battlefield:
One in the Center
One in the Gray Building
One in the Bright Forest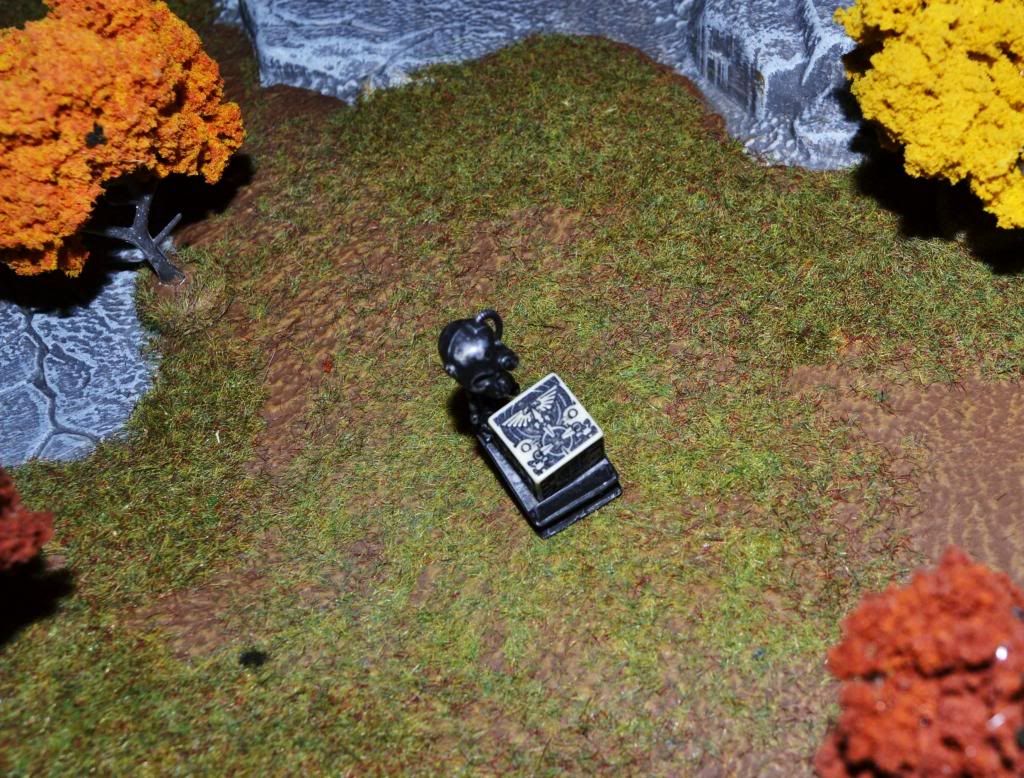 Deployment:
The forces of Chaos took to the battlefield first, setting up on the left side, with a Rhino full of Khorne Berserkers and Kharn the Betrayer taking a position in front of the old Black Church. On the left side of the Rhino, a 6 man squad of Chaos Marines stood strong with bolters and plasmas in hand. Rippling with warp energy prowled Chaos Spawn on the tank's right side.
Sensing the evil presence of Chaos, a Farsser of Alaitoc sent a small force of Aspect Warriors to deal with the threat, who took to the battlefield second. One 5 man squad of Dire Avengers took shelter in the Red Hall, a tall building in the center of the left side of the battlefield and another 5 Man squad of Dire Avengers took refuge in the Bright Forest to the Red Hall's far left. One unit of Striking Scorpions Infiltrated onto the rear of the battlefield, just outside a large Gray Building, while the other Infiltrated in an Old Factory at the top of the battlefield.