As of late I've joined a new group of gamers and have embarking on a 6 month challenge to get 1000pts painted. Now, most of you would scoff at such a trivial feat, masters of the craft that you are. Me on the other hand ... well, it will be a challenge and then some just because of the crap job I do when it comes to painting.
ANYWHO!!! ... I've decided I would like to document, for posterity's sake, my craptastic foray into the hobby world. I'll be posting (HOPEFULLY on a regular basis) my snail's pace progress in this thread.
Let's get this sloppy whore rolling!
To start off are the warriors. I LOVE warriors!! If hounds could wear chaos armor I'd probably mess my pants. Here's the test model I did for the armor color scheme:
I decided to go w/ something rather neutral so that I can give these bastards whatever mark I want and not have to worry about someone raising an eyebrow over green Khornite warriors.
Group shot:
Apologies for any crap backgrounds ... the paper wasn't playing nice in the light box.
I opted for a custom banner for the group. First off because I think it's cool (most people will probably cringe in horror) but mostly because I had a model where the halberd had already snapped off so I figured why not. Screw planning, I'm going for spontaneous! Here's the standard bearer: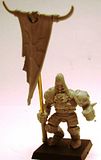 He's not done yet as I plan on putting one of the chaos stars from the new chariot kit on the top ... somehow.
My armylist includes me running 3 Skullcrushers ... for the very 1st time ... EVER. :shok: Yeah, I'm a bit behind the times. Suck it up, buttercup.
Assembled Juggers:
Crusher bases:

That's it for now. I'm still deciding b/w a few models for my sorcerer (and by a few I mean 3 or 4 different models). I'll get some pics of the chariot (started) and hounds (already done fools!!!) up soon. Also, I've got some teaser pics to take my BSB model that I plan on using in larger games and a flightless DP w a custom built poleaxe.
I'm out like a fat kid in dodge ball ...