Discussion Starter
·
#1
·
Hi all, this is my first post on heresy online. It's also my first attempt at painting a 40k army since I was about 15. I0I've decided on raven guard purely as I think their fighting style strikes a chord with me. I love the fluff surrounding them. Anyway, I'll occasionally put some pictures up of how it's all going and any and all feedback is welcome as I have no idea how I'm doing. Thanks for having me on the forum.
This is my first model. Codicier Hirak.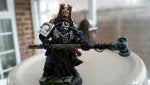 Then I though I'd try something bigger.
And finally I've made a start on the vanguard veterans.
View attachment 959973794
I don't have a lot of spare time,but I'll update as I go.
Sent from my GT-I9195 using Tapatalk