Game of the Month Feb '09 - Warmachine
---
February 2009!
Warmachine
http://www.privateerpress.com/WARMACHINE/


Contents
Foreword
Brief introduction to Warmachine
The Game
The Miniatures
Stockists
My Rating
Foreword
(I'd like to apologize for the delay in this being posted!)



You are reading the 'Featured Non-GW System of the Month - February 2009'. This Months chosen system is 'Warmachine'. Throughout this Review you will find out a bit about the game play of Warmachine, the history of Warmachine and its' creators and the miniatures. Also, a list of stockists holding Warmachine products can be found at the end of this review (NOTE - I cannot guarantee a Full List)

If you have any questions about this review or the featured system after you've read it, then please feel free to ask away.


Brief Introduction to Warmachine
Warmachine is a Tabletop Miniatures wargame at a 30mm scale created by the popular company Privateer Press. Privateer Press was founded in December 2000 by Brian Snoddy, Matt Staroscik and Matt Wilson. Even before forming Privateer press, all three were quite well known throughout the gaming world. Matt Staroscik & Matt Wilson were two of the creative minds behind the Legend of the Five Rings card game whereas Brian Snoddy's artwork has been popular for years with fans.
Warmachine is like most Fantasy Tabletop wargames only with an interesting and exciting twist to it. It is set in the fantasy world of Caen in the Iron Kingdoms. The game depicts battles fought Warcasters from different kingdoms each of which may control different Warjacks and troops whether they be human or some other fantasy race.


The Game



Warmachine is similar to many other Tabletop wargames due to the fact that each army is built up of several different units, each of which each of which may act during a turn. Individual units are allowed to; move, attack, and may perform other actions during this turn they are given. The game itself is an overall more aggressive game rather than defensive.

The main feature in Warmachine, different to other Fantasy wargames, is Focus points. Warcasters receive a certain number of focus points each turn, which represents that caster's magical power. At the start of a turn, focus points are allowed to be spent in order to pay for certain abilities which are allocated between the Warcaster and Warjacks in the caster's battlegroup. Warjacks are enabled to become more accurate and powerful by boosting their attacks with Focus points. Good focus management can often be the difference between winning and losing.

"Cryx Liche Lord Terminus"
Warmachine's most distinctive features are warcasters and warjacks. Warjacks are techno-magical constructs designed for going to war against other Kingdoms' armies. They are powered by a coal-burning steam engine and guided by a cortex. Warjacks are incredibly heavily armoured and they often carry large weaponry (whether it be close combat or ranged weaponry). They take the place of modern day Tanks on the field of battle. They may well cost a lot more than standard infantry to field, but they certainly pack a harder punch!

Warcasters are the Main characters of the game. Warcasters are incredibly powerful spellcasters who have learned to control warjacks. Warcasters serve a number of different roles when it comes to the battlefield. Aswell as guiding the warjacks' insane power, they are the leaders of the army and can make lethal combatants. Each Warcaster has a special rule that may be used once per battle, these can be enough to turn things around considerably.

You may have heard me talking about a few different kingdoms? Well, as mentioned earlier, there are a number of different Kingdoms that make up the Iron Kingdoms. These are:


Cygnar
Khador
The Protectrate of Menoth
Cryx

This is in addition to the Mercenaries who will fight for a number of different kingdoms. Each Kingdom has different characteristics and specialities as with Codices or Army books in Warhammer 40k or Warhammer Fantasy Battle.

The Miniatures

The entirety of the Warmachine miniature range is made up of High quality white metal figures. In my opinion, the sculpts are generally fantastic and clearly on a par with Games Workshops' stuff (if not better). The quality of most of the sculpts is also top notch and you will very rarely find something wrong.

Here is a taster of some of the Warmachine miniatures: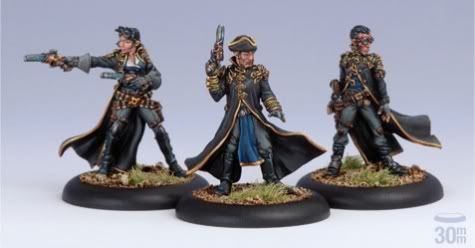 "
Cygnar 13th Gun Mage Strike Team"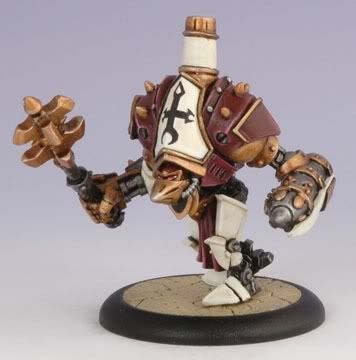 "Protectrate of Menoth Redeemer"
"Khador Komm. Irusk"
"
Mercenary Ogrun Bokur"
Stockists
I have currently yet to write a proper stockists list enlisting all of the private retailers holding Warmachine products and I cannot guarantee a time for which it will take me to complete this. However, here is a link to the Privateer press Store and a couple others for starters:




My Rating
For each System of the Month I will give a rating of what I think the game is like (1 being terrible, 10 being excellent).




My Rating - 10/10 – That's it, the first 10 out of 10! Warmachine is one of the greatest games available at the moment. I prefer it to Warhammer 40'000, the rules work really well in my opinion and the miniatures used for the game are just superb! There isn't much wrong with this game to be truly honest.


(if anybody doesn't agree with my rating, that's fine. Remember, it's just my rating and my opinion, many people will have different opinions)






Thanks for reading!
---
Regards,
Jake.
---
Last edited by Red Corsairs; 02-02-09 at

06:03 PM

.
---
I've got to say the Black 13th looks like they could be amazing counts as Commissars or JHOs in a Guard army. Komm. Irusk would make a nice Inquisitor.
---
That which doesn't kill me has made a tactical mistake.
Rites of Battle
Your source for 40k opinions, news, and hobby updates.
---
Never thought about that but the 13th could make good commisars, especially the front one (in the picture posted).
dafistofmork - Remember the rating is from a personal opinion, but yeah, I think it's
very
good
Cheers.
---
Regards,
Jake.
---
Thanks squeek. The problem of nobody playing locally often arises and may explain the very limited interest of this particular forum. If there's a game you
do
like the look of then maybe you could spread the news about it around your local games club (if you have one) and inform all of your gaming freinds. They may or may not be interested in it but it's always worth the shot
Thanks again people
---
Regards,
Jake.
---
Nice write up Red, I must admit its a game that has always caught my eye as in general the Humanoid models tend to be beautiful. My problem however is I'm not a huge fan of the Jacks themselves.
I think it is a game I would like to try eventually though, and your write up has inspired me to take another step in that direction.
Any chance of a look at one of their other games at some point. 'Hordes' as that game seems interesting as well, and doesn't seem to have the Jacks which still slightly puts me off Warmachine.
---
Come and join us by the fire, to chat about the games that matter to you at the Roleplay Games Forum
---------------
"I feel I was denied. Critical, need to Know information!"
---
Fair enough point Druchii. I must admit, the first I ever heard of Warmachine I wasn't too keen on the Warjacks as the sculpts themselves I wasn't overly fond of.
But there will be a Hordes review soon enough you can be sure of that
Though it may not be for a few months now yet as I wouldn't want to review two games from the same company too soon after each other.
Cheers.
---
Regards,
Jake.
---
Quote:
dafistofmork - Remember the rating is from a personal opinion, but yeah, I think it's
very
good
And i trust your oppinon compleatly on this sort of thing.
---
Very tempted by this, as I have just found a place in my city that I think produces the models for the uk.
Lower Navigation
Game of the Month Feb '09 - Warmachine