Join Date: Jul 2008
Posts: 560
---
I honestly think I'd want to be a Witch Hunter or a Warrior Priest Of Sigmar. I just read the Mathias Thulmann trilogy and it was pretty badass. I've always liked Witch Hunters and Sigmarite Warrior Priests. Or maybe a Saurus, I mean being bread for just one thing - fighting. That could be cool making all the warm bloods pay for entering your jungle.
Senior Member
Join Date: Jan 2009
Location: Joliet, Illinois, USA
Posts: 320
Reputation: 1

---
@ Apoco: Hilarious!

I'd definitely have to go High Elven here. I'd love to be a Phoenix Guard; the beholder of all the knowledge of the universe, a stalwart defender of the most holy place of an entire race, the protection (and gift of immortality) of the Gods, and a fear-inducing aura about you? Count me in!

The only downside would be the silence, but by knowing everything that ever was, is, or will be, who needs to convey ideas through words?
---
"In the eyes of the Elves of Ulthuan there exists no fear, only grim determination.

Until one has witnessed them in combat, one cannot comprehend the power that they possess."
Join Date: Apr 2009
Posts: 44
---
I'd be a.......vampire count cairn wraith cause i'd look like the grim reaper
---
i would either be an empire flaggelant or a goblin fanatic
just for the pure fact that those two can go down i n style killing stuff or martyring themselves and having a glorious death
i mean who wouldn't want to get drunk on fungus brew and then be incredibly storng and have a kick ass metal ball to swing round at whoever is closest
---
please! an elven follower of slaanesh that has infiltrated top high elf society, just for the kicks.

Edited: Removed adult content - squeek
---
Last edited by squeek; 04-24-09 at

10:00 AM

.
---
A dark elf corsair!
So i can run around stealing your stuff.
---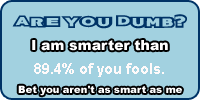 The Dumb Test
95% of teens would cry if they saw the Jonas Brothers at the top of a skyscraper about to jump. Copy and paste this if you are part of the 5% that would yell "DO A FLIP!!!"
---
What would I be in the Warhammer Fantasy world...........probably severly perforated.
---
Virtutis gloria merces

The major difference between a thing that might go wrong and a thing that cannot possibly go wrong is that when a thing that cannot possibly go wrong goes wrong it usually turns out to be impossible to get at or repair. - Douglas Adams

It's a knife for gods sake, what you been useing to keep your fork company all these years, sharp side, blunt side, what you want a lesson? - Bullet Tooth Tony
---
Last edited by keytag33; 05-07-09 at

10:24 PM

. Reason: spelling what else
Join Date: Feb 2009
Posts: 18
---
Three words.

Black. Arc. Corsair.

A sailors life is a life for me yo ho, yo ho, yo ho ho plus handbows and stealing are fun!
---
Whenever I see post like what would you be in ext. I can't help but wounder if the author is asking what would you be based on personal/physical traits or what would you want to be. Both tend to be incredibly different from each other!
Lower Navigation
What would you be in the Warhammer Fantasy world?