Battlefleet Gothic Armada II announced
---
Quote:
Originally posted by Focus Home Entertainment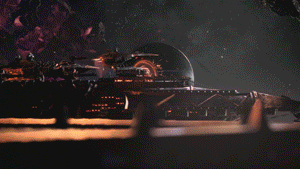 We are pleased to officially announce the development for PC of the sequel to Battlefleet Gothic: Armada, the real-time strategy game that portrays the epic space battles from the Warhammer 40,000 universe. Get a first sneak peek at the game in the official Reveal Trailer!
Largely expanding on the groundwork laid out by the first game, Battlefleet Gothic: Armada 2 is a full-blown sequel - bigger, richer, more impressive and more ambitious than the original game.
It will include, at launch, all 12 factions from the original tabletop game and its expansion Armada it is based on: the Imperial Navy, Space Marines, Adeptus Mechanicus, Necrons, Chaos, Aeldari Corsairs, Aeldari Craftworld, Drukhari, the T'au Merchant and Protector Fleets, Orks, and finally, the Tyranids.
The latest dramatic story development in the Warhammer 40,000 universe, the Gathering Storm and the 13th Black Crusade, will serve as the canvas for several, extensive and dynamic campaigns that will be playable either alone or in drop-in/drop-out cooperative mode with a friend.
With bigger battles, refined gameplay, improved multiplayer modes and features for a better and more balanced online experience, improvements across the board and even more customisation options for fleets and ships, Battlefleet Gothic: Armada 2 promises to be the ultimate Warhammer 40,000 space battle experience.
The game is planned for release on PC in 2018, and will be first presented to the press during Focus's yearly event in Paris, le What's Next de Focus, on February 7-8.
---
[Flerden] 9:05 pm: Why the hell can't he just go offline if he goes to watc tv?
[dark angel] 9:06 pm: It is Doelago, we will never know
---
Last edited by Doelago; 01-24-18 at

10:35 AM

.
---
I just want the board game back😣
---
---
Quote:
I just want the board game back😣
Tell me about it!
---
---
What irks me about most of these new Warhammer franchise games of late is that the first one come out, does ok, but has inherent bugs. Then a patch and a DLC comes out which costs another fiver on top of the £25 initially paid. That works about the same price as a normal game, so far so good.


Then the game stops being developed, the bugs remain, the users drop off drastically and the game dies...


But Lo! Here cometh the second incarnation!! Still basically the same as before, but with a fresh render. That'll be £30 please.




It seems to have become the basic GW business model as this extends to the new necromunda, the "eliminate rules and book bloat" 8th edition, and the digital franchises.




It wouldn't be so bad, except they now charge for FAQ. So they charge to fix something that was broken on release. If it was a boiler, I'd contact the manufacturer and get it done under warranty.




GW. The EA of the tabletop world.
Member
Join Date: Mar 2017
Location: Telford
Posts: 66
Reputation: 7

---
I wish I had a computer to play it on. I only have the mobile version.
but I just hope all this is pushing interest for the return of a proper BFG tabletop game (and not the rumoured horus heresy smaller ship version)
Lower Navigation
Battlefleet Gothic Armada II announced