---
Thanks.

after looking some more I think your right.
Vanguard might be the best fit I think.
---
Hello Scum!
Senior Member
Join Date: Apr 2011
Location: Denmark
Posts: 2,003
Reputation: 13

---
https://www.warhammer-community.com/...perial-agents/
Warhammer 40,000 Faction Focus: Imperial Agents
We have Reecius, from the SoCal Open, back again today to discuss some of the Imperium's more specialised agents and warriors: the Inquisition, Officio Assassinorum and Adepta Sororitas.
Reece helps runs some of the biggest independent Warhammer 40,000 events in the world, including the Las Vegas Open and the recently announced Southern California Open. Like Frankie, he's also been part of the playtest team for the new edition of Warhammer 40,000, putting in hundreds of hours to make sure this new edition will be great for all you gamers out there (Thanks Reece!).
He knows what he's talking about when it comes to Warhammer 40,000, so let's see what he has so say…
Previously, these factions ranged in efficancy on the tabletop and some of them were very rarely seen, such as Adepta Sororitas – apart from
Celestine
had a surge in popularity recently. The Inquisition was a bit of a mixed bag, with Coteaz making or a solo Inquisitor with Servo Skulls making occasional visits to the battlefield, but not much more. However, that is all about to change.
The Officio Assassinorum particularly have had quite a ramp up. They all come in at very reasonable points costs for matched play and have interesting and fun abilities. The
Vindicare
is a truly deadly sniper with his ability to ignore cover and invulnerable saves on a gun that is AP -3 and always wounds Infantry on a 2+ with D3 damage (or D6 on a 6 to wound!). However, the award for most improved goes to the
Eversor
, who's always been my favourite of the Assassins. He now can appear from reserves anywhere on the table more than 9″ away from enemy models but charges 3D6″. When combined with Command Points, he has a very high likelihood of making a charge from reserves and when he arrives, and in melee he packs a wallop!
The Inquisition also offers a lot of tools for the Imperial player's arsenal. Many of the same faces are there still, and
Coteaz
particularly still offers up a great toolset, although it is now much more focused in application. His rule Spy Network (similar to his older rule, I've Been Expecting You) now allows you to fire on an enemy unit that is deployed after the game begins — such as Terminators coming in via Teleport Strike — but only with a friendly Inquisition unit within 6″ of him. However, as almost no other units in the game have this ability, it is quite a powerful tactical advantage. A unit of
Jokaero Weaponsmiths
or Acolytes with plasma guns can make short work of a unit that your opponent thought would be positioned to pounce!
The most exciting part of this article though, I have saved for last. The Adepta Sororitas are absolutely fantastic in the new version of Warhammer 40,000.
They now boast some powerful tools such as their Iconic rule, Acts of Faith which triggers on a 2+ roll at the beginning of your turn. If you pass, one of your units gets to use an Act of Faith which ranges from a free move, free shooting phase, free round of melee, or the regeneration of D3 wounds for a previously slain model in a unit. This gives you a huge amount of efficiency and flexibility from your units. They all have the very good Shield of Faith rule which not only gives you a 6+ invulnerable save but allows a limited version of Deny the Witch to every unit with it.
That said, a single Act of Faith would seem a bit limiting, right? Well fret not, you can get as many as you want. Celestine grants an automatic Act of Faith to a unit within 6″. Imagifiers also grant you an additional Act of Faith to a unit within 6″ on a 4+. This gives you a scalable strategy to get the most out of your very awesome special rules.
Speaking of
Celestine
, she is absolutely incredible. She boosts the Shield of Faith save of nearby Adepta Sororitas units by 1 (typically to a 5+ invulnerable save). Combine this with the Seraphim Squad's Angelic Visage special rule to re-roll their Shield of Faith save and you have some tough cookies! Celestine also comes with regenerating bodyguards, the Geminae Superia and if that were not enough, once per game after being slain, she can come back with full health on a 2+ roll. She is a phenomenal character and will be seen in nearly every Adepta Sororitas collection.
Adepta Sororitas also benefit from some powerful vehicles. The
Immolator
especially is incredible. It not only transports 6 models but also packs a mean weapon, the immolation flamer, which has the standard flamer style rule with auto-hits, with 2D6 Strength 5, AP -1 shots with a 12″ range. But, even better, it is an Assault weapon, meaning the vehicle can advance and still fire! That is truly powerful in the new Warhammer 40,000. Combine this with a
Dominion Squad
with 4 meltaguns and you have a potent combination of anti infantry and anti tank/monster firepower.
The
Penitent Engine
is another potent vehicle dramatically improved from previous versions. They are improved on a basic level due to the changes to how vehicles work, and they are no longer in danger of getting taken out from a single shot in most cases. Defence aside, they really shine in the offence department. With 2 heavy flamers, they can plow through units and have excellent overwatch capabilities. In melee, they get 4 Attacks at Strength 10, AP -3 dealing 3 Damage each. But where it really gets crazy is when they pile in and attack again in combat on a 4+! Save a Command Point re-roll for this bad boy and watch this unit tear enemy units to shreds.
There's much more to discuss, but suffice it to say that the
forces of the Imperium
have a wide variety of tools available to them with these excellent factions!
---
Well, I guess, since I have the assassins from Execution Force I'll use them to support my Mechanicus. I'm enjoying the mental image I have of dropping the Eversor in the middle of an opponent's HQ and wrecking havoc followed by the Vindicare cleaning up whatever is still standing.
---
I got a chance to play some 8th with my Sisters today. Probably not quite representative, given that I felt I had the Emperor's own luck at some points, but I can make a good number of observations:

-Point costs seem very well done. Nothing disappointed for its cost, nothing seemed like an auto-win, and the same went for my opponents. Small games and I didn't even play all the Ministorum units yet so very limited sample size, but still. So far so good.
-Units still largely play like I expected them to in 7th.
-Flamers are distinctly less effective than before, and unreliable, but at least they're cheap. This goes with the next observation:
-While a bonus of 1 to the save may not seem like much, added to the new AP rules it makes Guardsmen placed in a building/forest/crater remarkably survivable.
-Consolidate move is now part of Fight phase, so if your enemy just walks away in their Movement phase you don't get to make one and you're stuck out in the open.
-Speaking of Consolidate move, not sure why it's even still there. It seems kinda useless this way, especially with the new Wound Allocation (controlling player chooses) meaning you don't have to rotate expensive models out of the line of fire.
-Vehicles take a ton of killing. Bring the anti-tank, you're going to need it. Rather wish we had a few big weapons that did something like 2d3 instead of 1d6 for a more reliable damage curve.
-New Acts of Faith of the Sisters are far more dangerous than the old set ever was. Toss an extra Fight phase on a Canoness (with an Eviscerator) or Celestine herself, toss an extra Shooting phase on a unit with 4 Melta weapons, or get a double move... or a model back, if you don't have anything better to do. That seems like a better job for a cheap Hospitaller, though.
-Imagifiers (and others with abilities that go off start of turn) don't mix well with Transports.
-Necron Quantum Shielding is utter bullshit. Don't want to call it as stupidly broken yet, but... "Each time this model suffers damage from an unsaved wound, roll a D6. If the result is less than the damage inflicted by the attack, the damage is ignored" makes it very, very difficult to get rid of the 14 wounds on a Ghost/Doomsday Ark as any big hits likely get negated.
EDIT, forgot:
-Dammit Veridyan, where did you go? You only just GOT here.
---
Ask not the Eldar a question, for they will give you three answers; all of which are true and horrifying to know.
---
Last edited by Shandathe; 06-04-17 at

10:09 PM

.
ZOMGZOR CUSTOM USER TITLE
Join Date: May 2011
Location: Finger Lakes Region of NY
Posts: 6,195
Reputation: 56

---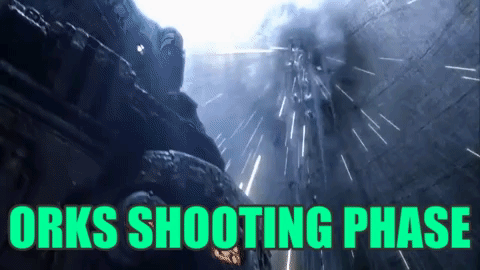 ---
---
Saw this today. One of the most exciting things about this edition for me is the ability to run your FW minis, no questions asked. However, the fact that a Spartan can take centurions but not Primaris is a bit odd.
Forge World Preview: Indexes
We saw quite a few upcoming new models last week at Warhammer Fest, so for this week's Forge World preview, we thought we'd take a look at some of the new Datasheets in the Imperial Armour Index books – one from the Forces of the Adeptus Astartes and one from the Forces of Chaos.
Let's start off with a true relic of the Horus Heresy, the Spartan tank.
We've seen the Land Raider already, and this thing is even tougher, killier and carries more guys. Those quad-lascannons are going to be able to take down pretty much anything over a few turns of firing, and that's without even considering the fact that these things usually pack a complement of Adeptus Astartes elite combat troops inside.
Next up, let's look at the Brass Scorpion.
This enormous Daemon Engine is a terror at close range. If you can get it in amongst the enemy army, it will flip battle tanks, shred infantry and pretty much just crush anything it can reach! Snip snip.
So there you go, a bit of a taste of what's to come in those books.
Both Imperial Armour Index: Forces of the Adeptus Astartes and Imperial Armour Index: Forces of Chaos are available to order now.
---
Last edited by Khorne's Fist; 06-06-17 at

09:21 PM

.
ZOMGZOR CUSTOM USER TITLE
Join Date: May 2011
Location: Finger Lakes Region of NY
Posts: 6,195
Reputation: 56

---
They are attempting to force ppl to buy the LandPredRaider love child.
---
---
Quote:
They are attempting to force ppl to buy the LandPredRaider love child.
But can "normal" marines ride is said love child? If not, it may not end up on my teetering sprue pile
---
Lower Navigation
8th Edition Rumours