Junior Member
Join Date: Sep 2016
Posts: 5
Reputation: 1

---
40K needs pimped-out Genestealer Cult limousines.
---
Good thing I only 'need' one kit after seeing all the Angel's Blade stuff, 'cuz I reeeeaaaaally want me some Genestealer Cult.
EDIT: for fun here's a still of the vehicle from the video: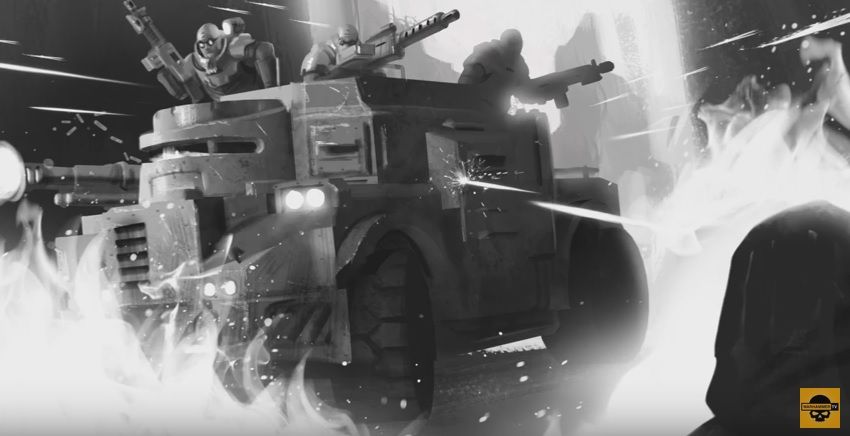 ---
Bloody hell, what's up with GW lately?
---
Quote:
Originally Posted by
Jace of Ultramar
View Post
I think Tawa is a temporal entity that exists outside of the hobby/modeling timeline. Essentially, he's the Heresy Online equivalent of a Time Lord... which is kinda hilarious and frightening all at the same time.
"God-Emperor? Calling him a god was how all this mess started."
---
MY WALLET ISN'T READY FOR THIS
---
Hell I've got a load of rat metal stealers that I've been waiting to use for 20+years. Here's hoping they will be good again.
Critique for da CriticGod
Join Date: Aug 2010
Location: Philadelphia, PA USA
Posts: 3,350
Reputation: 43

---
---
Hey guys look what i found. they got their actual codex! cool.
---
The Legion of Perfects Project
Quote:
The calls of Slaneesh stir so deeply within me, as if I was birthed from the very essence of it. For my ambition to infinitely ascend above all is never ending, like fire within it burns me to ever cindering ash. Lord of light and ascension is who I am, realities burn to ash at my very passing. My luminescence is unparalleled for I am luminosity itself, all light is but a shadow of my silhouette
---
This screams two week release to me. At least two weeks (please, anyway).
Lower Navigation
Codex: Genestealer Cults