Dark Angels Imminent
---
Coinciding with
this video
released by GW, I saw this on BoLS: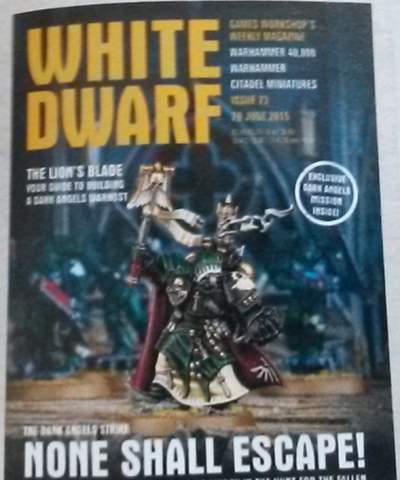 Quote:
Preorder 20/06… Release 27/06

Codex DA 160 pages 46€
(It is Said to have 3 different decurion style detachments -GW, RW, DW- and several formations)
DA datacards 10€
Interrogator Chaplain 23€
Nothing new or surprising, per se, just felt it warranted its own thread. I for one am stoked for a reason to say I'm going to paint (but then never actually paint) my Deathwing army.
---
Chaplain looks really good.

Here's hoping Belial doesn't suck anymore..I think my DW have more dust on them than paint.
---
any word as to whether we get a painting guide. I absolutely love the new painting guides and already have SW, BA and nids and am getting cult mechanicus this week.
---
Seems promising. Dark Angel reboots never fail to impress. Good story and nice style.
---
Anything new other than the chaplain?
---
Quote:
Anything new other than the chaplain?
Not on the release schedule itself, no. They sort of blended the latter half of Codex: Space Marines and Dark Angels together, with the Ravenwing battleforce last week, the Librarian this week, and the Chaplain next week with the Dark Angels codex. The Tactical Squad box has been reissued with 30mm bases, and then there's the new Assault and Devastator boxes, so there's really not a lot to retool or release specifically for the Dark Angels at the moment beyond the book. Which is okay.
---
IN THE US? ASK ME HOW TO GET 10% OFF GAMES WORKSHOP PRODUCTS!


---
Cheers
---
Looks promising if this is any indication:

via MongooseMatt on DakkaDakka 6-15-2015

I am not really a rumour source, but this has just come through from the GW sales team;
A 160-page full colour hardback codex. The most comprehensive Dark Angels codex ever, which includes three new Dark Angels Detachments, 6 formations of and Tactical Objectives, plus Warlord Traits and Chapter Relics. This new codex gives the player the opportunity to build their own Deathwing and Ravenwing formations, from the extensive range of available miniatures.It is a £35 Codex. Looks like Dark Angels are getting the royal treatment (at last)!
---
So long as when the book comes out I can still field an all Deathwing army I'll be OK. If I'm forced into some next shit I don't think I care enough about this portion of my collection to keep it through thick and thin like my BA.

You what would also be great? To see Mortis Dreadnoughts in the DA codex.
---
It says the codex allows you to "build your own Deathwing and Ravenwing formations", so does that mean you build a force using the formations in the book? Or that you literally are able to create your own formations via this codex? Cause that would be something kinda new. Sounds cool.
Lower Navigation
Dark Angels Imminent