Member
Join Date: Mar 2015
Location: Belfast
Posts: 54
Reputation: 1

---
Is there any mention of The Legion Of The Damned in the new space marines codex?
---
Apparently LotD are still in, but I'm skeptical as they have their own mini-dex.
People on Facebook going wild over this pic, but it doesn't look like the official GW paint job - more than likely to be someone else's army featured in WD (I know Nick Bayton bases his tanks for sure, and he can't be the only one).
EDIT: Actually, I recognize the Whirlwind. It's Nick Bayton's... panic over!
Member
Join Date: Mar 2015
Location: Belfast
Posts: 54
Reputation: 1

---
Quote "Apparently LotD are still in, but I'm skeptical as they have their own mini-dex."

Thanks MidnightSun I have a copy of their mini-dex but didn't know if there would be anything different in the main codex or would it supersede anything in the mini-dex.
---
Ah - well, what I've seen is that they're still in, pretty much the same but somehow improved deep strike. Can't remember
where
I saw it, but that's what I saw
---
Quote:
Apparently LotD are still in, but I'm skeptical as they have their own mini-dex.
What, like Skitarii or Tempestus Scions? I think they'll survive.
Here's a picture of Lysander's rules...which look identical.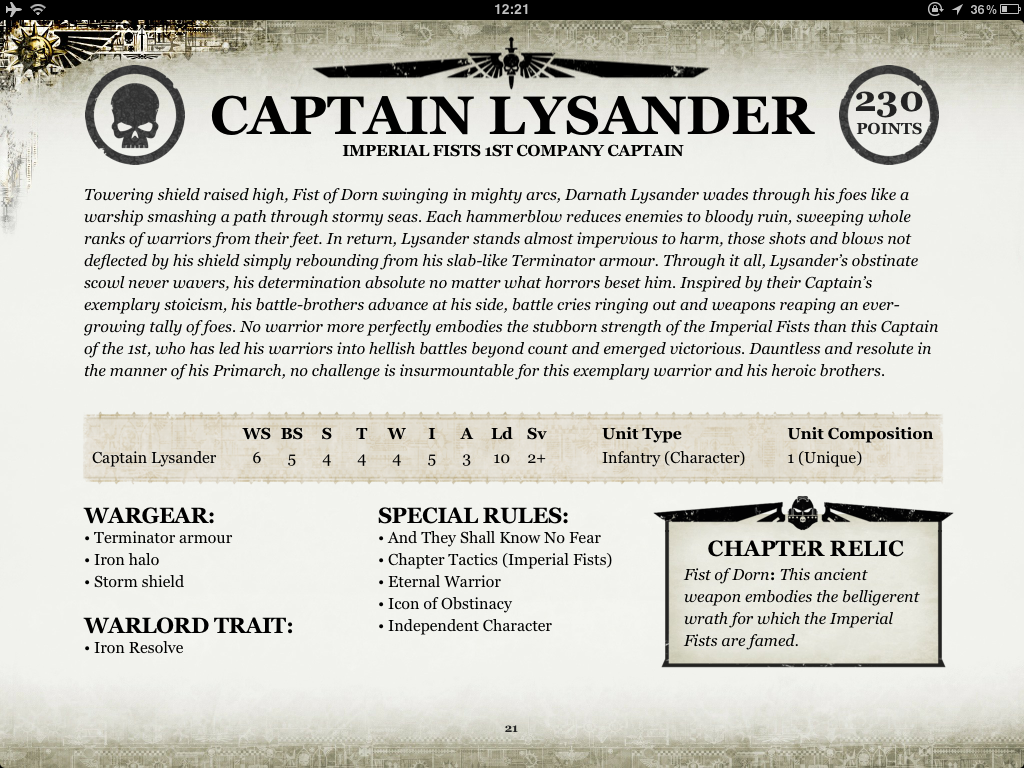 ...and here's some confirmation that Black Templars are indeed in the main Codex, with what looks like the names of the Chapter Tactics underneath:
Why else would they be pictured with the other 1st founding chapters?
---
All comes down to Chapter Tactics. Most of it seems almost exactly the same at least in name, although the prevalent rumour seems to be that they pretty much are the same just better (White Scars have no restriction on HnR for Bulky units etc.).

If Righteous Zeal is the return of the old Righteous Zeal rule, I'm going to find my local BT conclave who are leaping around and cheering at how amazing the rule is and punch them repeatedly for terminal idiocy.
---
Quote:
Most of it seems almost exactly the same
I'm kinda getting that feel from the whole codex. Not trying to pass judgement, as I clearly haven't seen the book yet, but I'm curious to see what's actually different between them.
---
It does appear to be more a patch than a sweeping update, but honestly I'm pretty fine with that. Tweaks and slight buffs across the board is good for people who already play that army. Grav-Cannons available on infantry (Devastators or Tacticals) and rumoured Drop Pods being unable to carry Bulky models or anyone without a 3+ or better armour save are both pretty important.

Still, I'm most excited for Chapter Tactics rules over other leaks since they're in everyone's army.
---
It seems to me that GW is eager to get iterations of every codex out that includes formations, to get everyone on the same page. Can't say that's a bad thing other than codexes that recently got updates needing to be redone.
---
Some more stuffs:
Quote:
Via Leman Russ SW on Bolter & Chainsword

I have seen the new Marine Codex the command tanks are not in it. Tac Squads can take Grav, All dreadnoughts now have 4 base attacks. Only LOW is Calgar. No master of the Forge but
Techmarines can take Conversion Beamers.

Bike are troops if you take any HQ on a bike, no need to be five man now. Temis squads of both kinds got a 5 point drop but TH SS cost the same as before after buying the upgrade for them.
Centurions are pretty much the same.

No grav on dread that I saw.

(In reference to The Emperor's Champion)
Fear, reroll ld, FNP, can't remember the others, only the FNP stood out as being really good. EC has no stances, 2+ 4++ 2 base attacks, I5 WS6 plus a pistol, In a challenge can preroll to
hit and wound and causes ID on a 6

Sternguard are the same rules wise. A few of the units have got cheaper by a few points. Not sure on Termi weapons, assault squads can take an evissorator for every 5 guys

Honour Guard and Command Squads are Elites now you don't need characters to take them. Fist is still unwieldy. All termis are 5 cheaper TH SS upgrade is 5 points more.

Calgar the same just LOW and can choose his Warlord trait so will pretty much always have FNP. He still lets you use a doctrine twice and now they are better he is better.

Calgar can pick his Warlord Trait from the marine list the best one being FNP. Shrike and any jump unit he joins can infiltrate. Vulcan master crafts melt weapons. Khan gives scout to bikes rhinos and razors. No Iron Hand character. You can take a librarian formation where one librarian can know any of the powers the others have if they don't cast and warp charges are on 3+

Lysander has 4 wounds and Eternal warrior still and Fist or Dorn is +6S. Kantor makes Sternguards objective secured

Didn't read Grimaldus, Helbrecth gives all units Hatred and Fleet once per game. Kahn, Sicarius and Him still only ap3. Sicarius lets you effect reserves and give one tac squad a usr.
Lower Navigation
Space marines confirmed next