---
Quote:
I thought the same but there is a space marine for scale by his feet, which shows it's a sizable beast. To be honest it hasn't blown me away either.
Totally missed the marine at it's feet the first time, lol. Now that I see it, holy Frag that thing is huge.
Quote:
Honestly, those two models are some of the best designed I've seen yet. While, Guilliman is in a static pose he just looks too perfect for the character. The sculpt quality makes up for the pose. Sigismund, on the other hand, definitely has the better pose.
---
A better shot of the titan, this I like:
And Sigismund
Ordinatus (?)
UM Breachers
Nurgle deamon
---
Quote:
A better shot of the titan, this I like:
thats actualy perfect, from this angle the proportions look a lot better, thanks for posting
---
The Nurgle Daemon looks amazing, as do the Chaos Knights - the proto Lord of Skulls especially.
I can't wait to get to see the rules on the Word Bearer.
Guilliman and Sigismund though? Nah. What happened to Sigis' hair? And Calgar looks like a Tonka toy. The overbright blue always looks terrible though, can't wait to see what it looks like when someone stops over saturating the photos.
And for anyone wondering why they should play the Heresy over normal 40K Space Marines? See above. What looks like 30-40 of Fulgrim's elite bodyguard charging into the Gorgon Terminators of the Iron Hands to prevent them from helping Ferrus Manus, all the while Deathstorm Drop Pods unleash their automated weapon systems and other Drop pods disgorge their payloads of Astartes deep into the fray, supporting the armoured assault of the Iron Tenth lead by a Fellblade Super Heavy Tank, 4 Land Raiders and supported by a Predator and some Rhino borne infantry, snaking around the ruins of a crashed Thunderhawk.
Meanwhile the Emperor's Children sally forth, their Predators and Rhino borne troops assisted by Contemptor Dreadnoughts and Javelin Attack Speeders under the gaze of the Fortifications weaponry.
100% free webcam site! | Awesome chicks and it is absolutely free! | Watch free live sex cam - easy as 1-2-3
---
Quote:
It's not a black and white question really, there are different shades of anal probing,
a rectum spectrum, if you will
---
Quote:
What happened to Sigis' hair?
Same thought I had when I saw Horus's mini. I don't remember either of them being mentioned anywhere as bald. As for Girlyman, despite the paint job, I think that's the finest sculpt they've ever done. The pose is a bit static, but the quality and detail on it is amazing.
---
Quote:
Depending on how much IF iconography he has, 'not'-Sigismund might find his was into my Emperor's Children. If only there was some brilliant duelist the Emperor's Children had who he could proxy as
I was thinking the same thing but then as a certain great Dark Angel swordsman.
---
Chaos Knights!
Hell has frozen over!
Let's see, though. Strength 8 CCW, S7 AP4 Blast with Soul Blaze, Armor 12/12/10 with a 5+ invuln save. Those sound about right.
I wonder if they will actually get rules, or if they're purely aesthetic for people who want to use knights as CTA allies.
There are a lot of badass minis going on at this convention. Well done, Forge World!
via BoLS: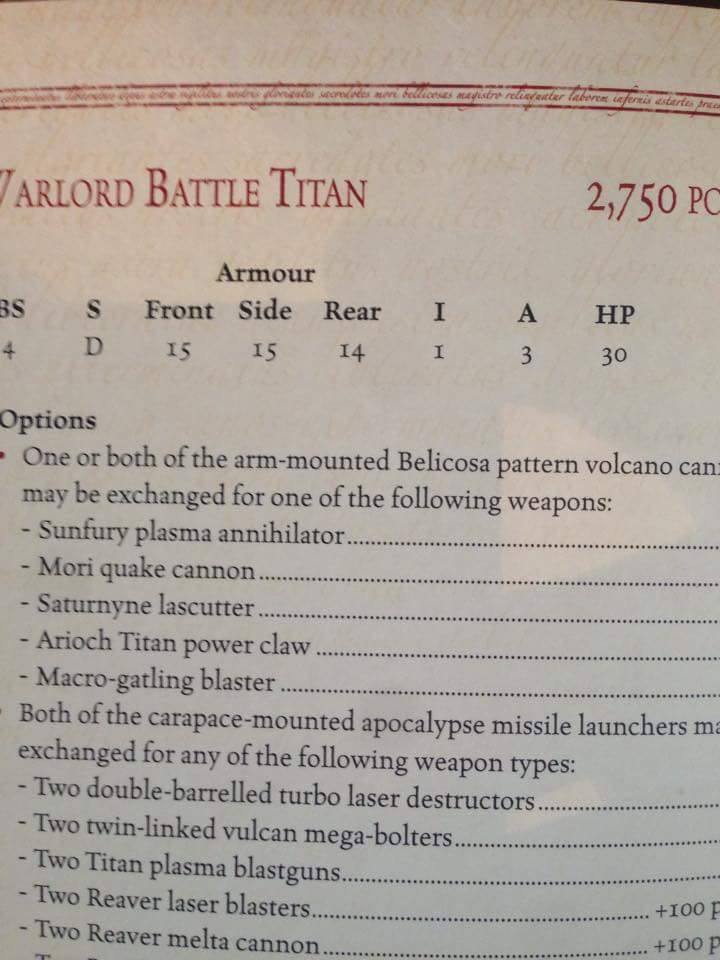 via M_R_Parker on B&C:
Not quite as cool as the picture from the teaser, but some cool daemonic dudes nonetheless.
Forge World Airbrush Colors! No way I'm ordering them, but cool that they exist:
---
SUFFER NOT THE PONY TO LIVE.
- - AMATEUR KHORNESTAR: MY BLOG THING - -
---
Last edited by venomlust; 05-16-15 at

03:43 PM

.
---
Ugh that stuff is all amazing. Why does Forge World not wholesale to retailers again? (I know why, I'm just whining.) I want one of everything...
---
IN THE US? ASK ME HOW TO GET 10% OFF GAMES WORKSHOP PRODUCTS!


Lower Navigation
Warhammer World opening: Guilliman and Sigismund Chaos Knights(!) Warlord Titan!