ZOMGZOR CUSTOM USER TITLE
Join Date: May 2011
Location: Finger Lakes Region of NY
Posts: 6,195
Reputation: 56

---
Time for me to wear my retailer hat.

Currently, Codex: Harlequins is sitting in a bunch of shipping containers. There's (another) dock worker strike, and while the book is scheduled to release week after next, we're sort of at a loss to know when exactly the book will arrive in stores.

That whole release-- the Codex and datacards-- is sort of in limbo. But, the model kit release next week, the Starweaver/Voidweaver box-- that's on track and not an issue.

If you're like me and are all about having a set of the datacards, be sure to jump on those NOW. GW changed how they're allocating them and there ABSOLUTELY WILL NOT be enough to go around-- they're allocating one per two Codexes ordered for stores.
---
IN THE US? ASK ME HOW TO GET 10% OFF GAMES WORKSHOP PRODUCTS!


---
So - order the datacards when they are available.

Got it.
---
From Natfka:
Quote:
via an anonymous source on Faeit 212
The Harlequin Discipline is called Phantasmancy.
Power #1 is called Dance of Shadows and its rule is as follows:
"Dance of Shadows is a blessing that targets a single friendly unit within 18". Whilst the power is in effect, all models in the target unit have the Stealth and Shrouded special rules."
---
Here's the force org, courtesy of BOLS:
---
Last edited by Arcticor; 02-11-15 at

04:41 PM

.
---
From BoLS:
Quote:
images via Spikeybitsblog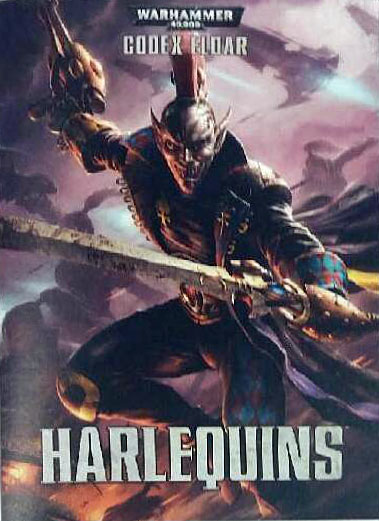 And here we have the Troupe Master Edition, with all the extra fancy stuff. Only 1000 lucky followers of the Laughing God get these: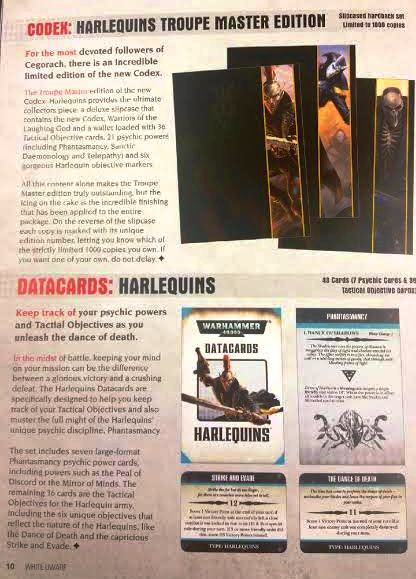 Senior Member
Join Date: Mar 2011
Location: Heavily Spanking Saint Celestine
Posts: 721
Reputation: 5

---
From the 'Dark City' ...
Phantasmancy powers and Enigmas:
Clicky !
---
40k Armies: Dark Eldar / Adepta Sororitas
WHFB Armies: Vampire Counts / Empire / various Elves
Horus Heresy: Alpha Legion / Warp Cult
---
I am not and have never been an Eldar fan (craftworld or Dark)
the closest I have come is IIRC Eldar Attack, from Space Crusade (the name may be wrong)

I do feel a little tempted here however.....
---
All right, but apart from the sanitation, medicine, education, wine, public order, irrigation, roads, the fresh water system and public health, what have the Romans ever done for us?
---
Will I need Codex Eldar to use the harlequins?
Lower Navigation
Harlequins, The Great Dance