Something for the Ork Players...
---
Found some information regarding the apparently impending release of plastic gretchin
Rumor:
Quote:
at games day i talked to one of the sculptors(dunno the name, he was nearest the white dwarf stand) who i asked about plastic grots, he gave a fluffy answer about various projects blah blah, so i pressed him, and he looked around furtively, and said, "i think it'll be ok, but they'll be out early next year". i know everyone is excited about the nobs, but plastic grots are far more neccesary.
-Posted by lord ecthelenor on Warseer
And pics, from philbrad2, again on Warseer: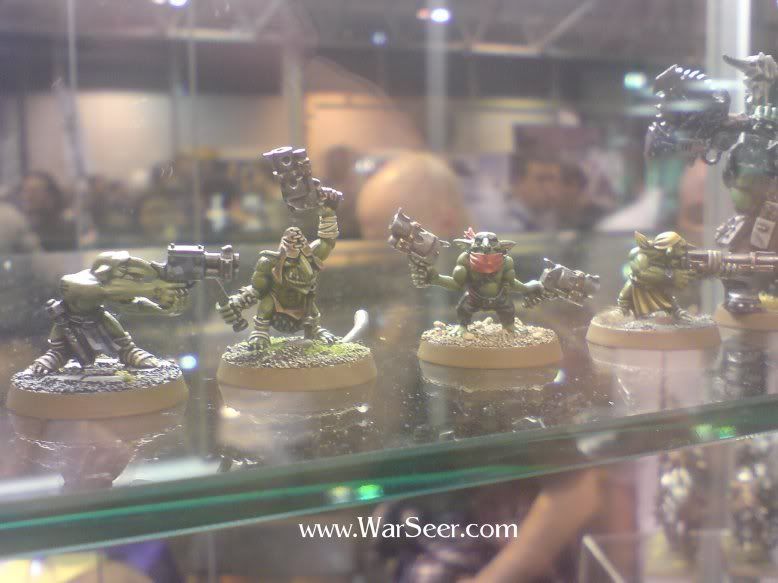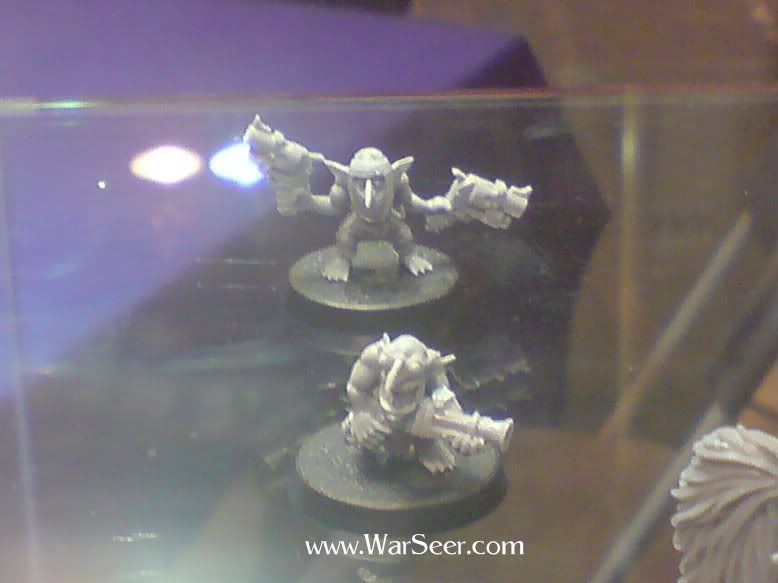 I actually hope this one turns out to be true; I've found scratchbuilding Ork vehicles to be strangely therapeutic, and Gretchin make excellent cannon fod...er....I mean crewmen.
---
Quote:
Originally Posted by Navar89
if I hang out with you any more I just might pick up 40K...You, sir, are dangerous.

Holy shit, I've a plog again!
---
A mighty fine nugget of information you turned up there loyalist, thanks for the info!

Zeldrin
---
"Man is an animal suspended in webs of significance he himself has spun"
---
Those sculpts look a great deal like the old metal models, though.


Oh well, it's not like I use Grots for anything but vehicle decoration anyway....


SSpeaking of which... we don't NEED plastic Grots.

Not when the Ogre Kingdoms Gnoblars fit the role so very, very well.
---
"I must not fear. Fear is the mind-killer. Fear is the little-death that brings total obliteration. I will face my fear. I will permit it to pass over me and through me. And when it has gone past I will turn the inner eye to see its path. Where the fear has gone there will be nothing. Only I will remain."
-The Bene Gesserit Litany Against Fear, Dune
The Swordsworn Chapter WAAAAAAGH! GOBSMASH
W: 1 T: 1 L: 6_________________W: 8 T:2 L:6
---
Yeah the plastic grots look just like the old metal ones. That sucks I was hoping for some new sculps but it just looks like they cast the metal ones in plastic. Oh well not like I use grots for anything but decoration and the fantasy gobbos work great for that.
---

Red Orc
"Ahh, isn't Morfang sweet, like a great big 350-pound (that's 25 stone, UK users!) ball of cuddly death...?"


God, gives children to people so that death won't seem so disappointing.
---
I love gretchin so and hate metal more. I have honestly had zero good experiences with metal models. Now I can have ranks of advancing cannon fodder without having to super glue my hands together!
---
"Employ your time in improving yourself by other men's writings, so that you shall gain easily what others have labored hard for."
-Socrates
---
they look alright, but yeah, they look like the metal ones. they could come up with some better things to spend their sculpting money on i think.
---
I'm glad they look like the metal ones, they had character (something SERIOUSLY lacking from modern GW sculpts) so I'm glad they kept to that, you others can keep your boring rubbish
---
---
yay! i'm new to orks and im not sure if ze grots are good for anything but if i pick some up i'm glad ill be picking up plastic cuz everything metal i get turns into a messy peice of -BBBBBEEEEAAAAAPPPPP-
---
i always had a hunch they'd make some plastic gretchin. probably 10 for 20 bucks or something. i'll get some just for collections
---
mmm plastic little'uns....mmmm
---
Sho: Out.

Want to buy premade quality scenery? PM me.
Lower Navigation
Something for the Ork Players...