Codex Eldar Available on Android
---
That's right, it's finally happened. GW has gotten around to releasing the codexes onto other platforms.
From the Black Library Site:
Quote:
Codex: Eldar (eBook Edition)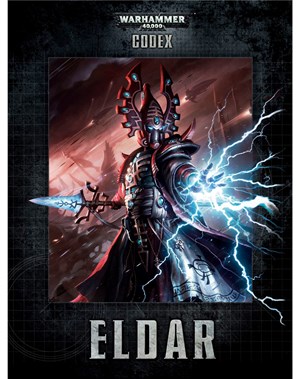 The Eldar embody excellence in the arts of war. Their psychic abilities are unparalleled and their elite armies are without peer. Now seer and civilian alike battle for the survival of the great craftworlds upon which they ply the stars. Led by visionary leaders and deadly Aspect Warriors, their armies fight fiercely against the upstart races of the galaxy, determined that their empire will blaze once more into glorious light before fate consigns them to oblivion.
About this book
This eBook features:
- The tragic tale of how the Eldar fell from grace, and a rich and full background on the survivors of their race.
- A description of, and rules for, the specialist forces of the Eldar, the technologies they use and their special characters.
- A stunning showcase of Eldar Citadel miniatures, with the various colour schemes and icons of the craftworlds.
- A comprehensive army list to help you guide your Eldar collection on the battlefield.
Compatibility:
This eBook digital edition is compatible with most current generation mobile devices, tablets and eReaders including Android, Kindle and iBooks devices.
You can find the codex
here
.
---
Quote:
Already another post on it
No there isn't. The other thread didn't contain
any
codexes. And if we got another thread on it someone didn't label it properly.
Banned
Join Date: Mar 2009
Location: Burning Depths of Hell
Posts: 2,452
Reputation: 11

---
Wow, it's €13 cheaper than the hardbook. €25.99 compared to €39 for hardbook.
---
Nice. Might do this as an alternative to keep my LE in good shape.
---
"Bide your time and hold out hope"
-The Count of Monte Cristo
---
Nice. Might do this as an alternative to keep my LE in good shape.

I hope they release a digital of the Iyanden book...
---
"Bide your time and hold out hope"
-The Count of Monte Cristo
---
Wow, its actually affordable. For me hardbacks cannot compete with that price and iBooks being restricted to iPad lessens the value compared to the .epub version since I can deploy this onto all four of my devices, whilst .iBook only works on my iPad. Nice flashy interactive content is not worth the additional 15€ for me when this is the option.

Now I will just go do some personal editing on a copy of it, rip out all the lore pages and leave a clean version for myself with just the rules for easy reference.
---
[Flerden] 9:05 pm: Why the hell can't he just go offline if he goes to watc tv?
[dark angel] 9:06 pm: It is Doelago, we will never know
---
---
HUGE BITZ RESTOCK NOW ON
---
So you're trying to tell me that because there is a discussions thread I'm not allowed to post the news? I'm sorry but it doesn't work that way. Some of us don't visit all the other sections of the site (I know I've been guilty of that), and this draws traffic into the site.
This forum is for News and Rumours. This is news and we didn't have a thread on it yet so I posted it.
Lower Navigation
Codex Eldar Available on Android