Rusted Heroes Miniatures
---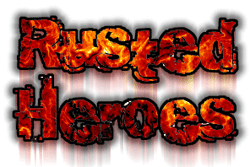 Rusted Heroes produces and distributes a line of 32 mm miniatures to be used in their own card and d10 based table top game.
Quote:
The Rusted Heroes project offers a line of dark and gritty miniatures that are specifically designed for battling it out within the Rusted Heroes World. You won't see any Orcs or skeletons in Rusted Heroes, this is about heavily armoured Knights and Norse Warriors battling it out for their factions glory and honour on the battlefields. The goal for the Rusted Heroes rules system is to bring a fast play skirmish style combat game to the gaming market. With time being so limited for gaming these days this is a game that can be played in one to two hours with two or more players.
There are 5 different races included in their range and and each race provides the player with unique looking table top force.
Examples:
Sir Bailentine of the Knights of the Rose
Duke Rathar, Dragon Lord of the Dragon Knights
Lars of the Norse Invaders
Sir Schaning, Mercenary Leader
Tuarus, Minotaur of the Maze of the Ancients
Useful Links:
Home Page
Miniature Ranges
Quick Rules Intro
Discussion Forum
---

Commissions, Project Logs, and Galleries
Follow me on Twitter: @MidgesWorkshop. You can aslo follow me on face book Here
---
Last edited by imm0rtal reaper; 02-02-11 at

08:36 PM

.
Lower Navigation
Rusted Heroes Miniatures