Member
Join Date: Jan 2011
Location: Russia
Posts: 48
Reputation: 3

Brother Vinni
---
Hi all! For don't create many threads, I will post here all my new releases.
My studio called Brother Vinni's miniatures and our webstore is here:
www.brother-vinni.com
Welcome!
And the newest release is:
Crawler Cyborg for "Nuclear Sandlot" series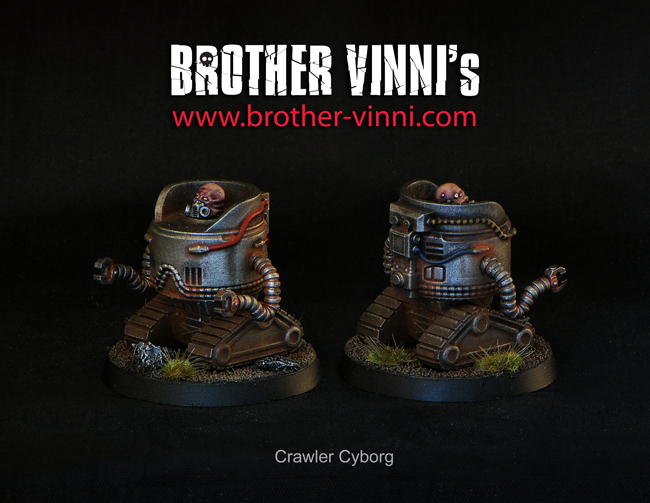 ---
not a sister of battle, but much better then your normal stuff, I could actually use this without getting 'funny' looks!
---
note: if you see me giving tactical advice: just assume i have a internet tab open to 1d4 chan and I'm summarizing off of that.
Avatar done by
Bulhakov
Brother Vinni
---
Quote:
There is no tits.



Ps. These look nice.
Don't worry nacho! He'll release a new variant with open gril with bare breasts visable.
I could easily see these with gretchin or ork heads instead. Hmmm...
---
Good to be green
Barks Dakka Ladz
: W3-D2-L3
Altansar Eldar
: W3-D0-L2

---
where is my naked girl? I hope inside the tin can?
btw funny looking model...could become a truly stupid mutilator! :D
---
The Legion of Perfects Project
Quote:
The calls of Slaneesh stir so deeply within me, as if I was birthed from the very essence of it. For my ambition to infinitely ascend above all is never ending, like fire within it burns me to ever cindering ash. Lord of light and ascension is who I am, realities burn to ash at my very passing. My luminescence is unparalleled for I am luminosity itself, all light is but a shadow of my silhouette
---
Could be a nice gun servitor, just whack a heavy weapon on it,....oh and some tits!
---
Member
Join Date: Jan 2011
Location: Russia
Posts: 48
Reputation: 3

---
Quote:
and now - egyptian ti.. girls
ask and ye shall receive, eh?
Member
Join Date: Jan 2011
Location: Russia
Posts: 48
Reputation: 3

Member
Join Date: Jan 2011
Location: Russia
Posts: 48
Reputation: 3

Lower Navigation
Brother Vinni