Bases
---
Hi all thought i'd do a tutorial on bases are there seems to be very little about the subject. I have put together a bit of info on how to make cobble/flagstone flooring out of plasticard from start to finish. This is my first tutorial so stick with me as i ramble on!!
This is only the way i do it and other people may have different opions on how they would do it. This is a bit of a long tutorial but i will cover every detail of what you have to do.
So here it is.......
So first off we are going to need the right materials for the job 1 base and plasticard, the thickness is not a huge issue but i'd recommend using real thin stuff as it is easier to work with and also if you are working with a smaller base and thick card then there will be major "foot" overhang from the model.
I start by gluing the base to the card, normal GW or any other glue will do and i put glue around the edge of the base and a bit in the middle. The reason i do this is because when i press down on the base it will force the glue out and act as a seal so there will be no gaps later when you are smoothing the edge out.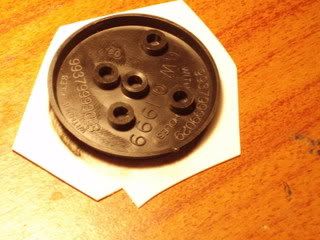 Ok so once the glue is dry you can cut from card sheet and begin the clean up. I do this by clipping off as close as possible the excese card and then gently scrapping with a modeling knife. You can see in th picture the difference, the right side i have started to clean up with the knife.On important point DON'T press to hard as you will end up with lots of little lines around the base. And please watch your thumb at this point if you scrape towards it (you'll know what i mean when you try this!) scrape away from your body for safety and so you don't sue me!!!!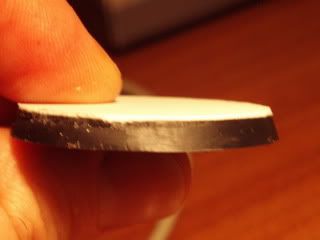 Right so we now have a cleaned up base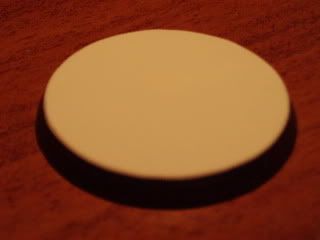 Time to start marking out the lines that will be the "flagstones" not sure what the rest of you guys call them!? So here we will need a model knife again and also a ruler, please use the metal one as you'll not then cut into it. AND BE CAREFUL! At this point it is completely upto you what you mark down here. Here are a few different examples.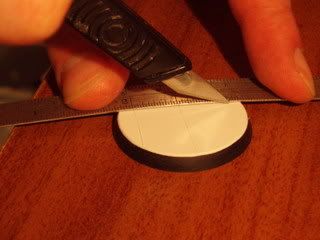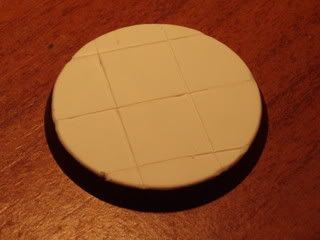 I'll be using the first picture for this tutorial.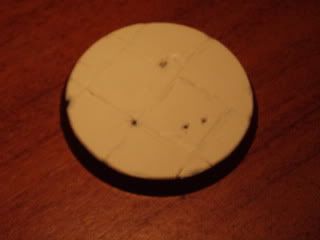 Once i have marked out the lines i then define them, this is the part that will make or break the base so don't rush this bit. My model knife has the tip (less than a mm) broken off and this was done on purpose for this task to get a good grove/shape in the base. So i turn my knife upside down and pull it gently through the lines i have already made and do this a couple of times. Once the lines are defined i begin to chip away at my now perfect flagstone to give them a worm feel. I cut out corners chip along the sides etc
Also at this point i will glue any extras i want on the base, skull, gravel etc for this one i have used a small piece of girder and a tiny amount of sand. Once all this is on i spray black and begin to paint.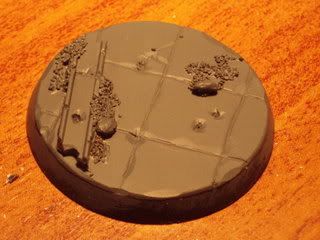 For this i am using codex gray (can be any colour you like really) i cover the whole base first, i did 2 thin coat on this. I'm in the habit now where i always water down my paints regardless of what i'm painting. To the codex grey i add a tiny amount of white (skull in this case) and dry brush on to it, i repeat with 3-4 times but don't go pure white. When i dry brush the base i actually spin the base round so the lines all go different ways and i also dab and circle the brush over the base so it doesn't just have lots of random lines.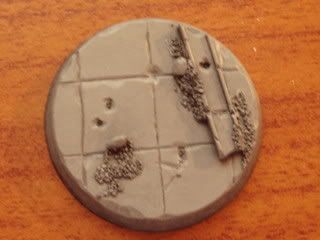 Ok so now we get to what i think is the fun part (you all still with me?) washes and inking, i also find some people would stop before this point or just wash and go !!!! (bad joke sorry). The picture you can now see has been given 4 washes/inks, 2 black, 1 brown and 1 green and in that order too. All have been watered down before applying. The 2 black are put all over the base so real straight forward, the brown is put around the edges of the flagstones and a couple of layers over the girder. The green is just put around a couple of edges to make it look like water dried up at this section of flooring (the effect should be real slight but will make a difference).
After all the inks have dried it is time to give it one final dry brush, i use kommando khaki. So again turning the base dabbing and twirling brush i VERY lighty go over the base.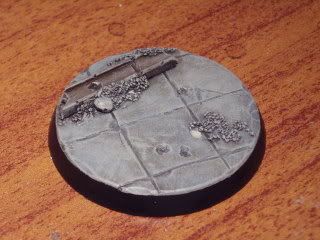 The base at this point is finished, but....... i take one last step - sorry
I use pigments to add a little extra, in this case i have used MIG products and used Russian earth and copper rust. These are put around the girder and slighty onto a couple of flagstone edges. Again only a slight difference but a difference all the same.
Well thats all, sorry for the length i just wanted to explain all as i went along but i hope you have learnt something from this. If this one is received well then i will continue to do more.
Cheers for your time
Warpath
---
Last edited by Warpath; 07-23-08 at

11:39 AM

.
Senior Member
Join Date: May 2008
Location: The Mystical workshop of the Red paintjob grot. (My room.)
Posts: 673
Reputation: 1

---
Fricking awesome, gotta try this.
---
wow that looks really good. some ppl actually buy bases like that
---
"The strong are strongest alone." Lufgt Huron, Tyrant of Badab.

The Blood Reaver. Master of the Red Corsairs. Lord of the Maelstrom. Huron Blackheart.
---
Great job! Great effort! Great result!
I predict that this will be a popular tutorial.
---
Damn good job mate; especially for a first tutorial!
I'll definitely be using this technique for my Space Marines when I start building them up again...this'll definitely be a popular tutorial.
---
Quote:
Originally Posted by Navar89
if I hang out with you any more I just might pick up 40K...You, sir, are dangerous.

Holy shit, I've a plog again!
Join Date: Jul 2008
Posts: 92
---
Awesome tutorial! Wish I had thought to use plasticard before sculpting all of my flagstone bases... oh well. And awesome painting job, puts me to shame.

I'd love to see another tutorial, in particular, maybe an urban/spaceport theme. I bought some diamond plate pattern plasticard and some girders and have been tossing ideas around my head.
Senior Member
Join Date: May 2008
Location: Lincoln, England
Posts: 2,628
Reputation: 8

---
thanks alot, i was wanting to try something like this on my forthcoming tau commander, because the same old sand and grass is pretty boring.
good advice and painting
- Rob
---
Great work mate! Very, VERY great tute, and one that I (at least) will be referring to very often when I base my minis in the future.
---
"Employ your time in improving yourself by other men's writings, so that you shall gain easily what others have labored hard for."
-Socrates
---
I agree with everyone else, a really good tutorial, I'll have to try it ouw, my chaos space mairnes bases are always a bit lacking. Thankye
---
"Let the galaxy burn!"
Lower Navigation
Bases