Great Unclean One
Join Date: Jun 2008
Location: cavorting among Grandfather Nurgle's entrails
Posts: 2,611
Reputation: 42

Pinning and Positioning - A Beginner's Guide
---
It occurred to me to put together a basic tutorial on this after seeing a lot of new modellers here and elsewhere asking things about pinning, what to use and how to do it. When I first started modelling, pinning was something that got mentioned but never really explained, and I shied away from it for ages because of this; now I'm a maniac for it, and will sometimes even pin plastic components together if I feel it's needed to give structural resilience to a model.
So, what is pinning, and why should you do it? Pinning is basically a way to get a firmer joint between things that might normally not tend to join together so well, i.e. metal to metal or plastic/resin to metal. Over time, as you use them on the tabletop, your models
will
get dropped at some point or other - so it pays to have them as solidly constructed as possible so they survive the experience. It also allows you to re-position limbs, weapons etc. so as to give a more varied look to models when using multiples of the same part in squads.
For the purposes of this tutorial, I'll be attaching a close-combat weapon arm to a metal Plague Marine: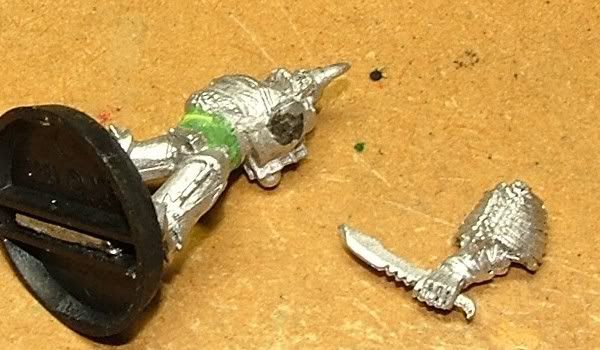 In terms of tools and materials, all you really need is a basic hand drill (also known as a pin vice, because of the way the drill bit is clamped in) and some kind of wire to use. I use standard galvanised steel wire, for several reasons:
1) It's cheap
2) Any hardware store should carry it, so it's readily available
and
3) It's rigid enough to hold metal parts in place solidly (I've dropped models pinned in this way from table height onto a hard floor and they've stayed structurally intact) but also just flexible enough to allow you to bend it to give a greater range of positions on the pinned-on part(s).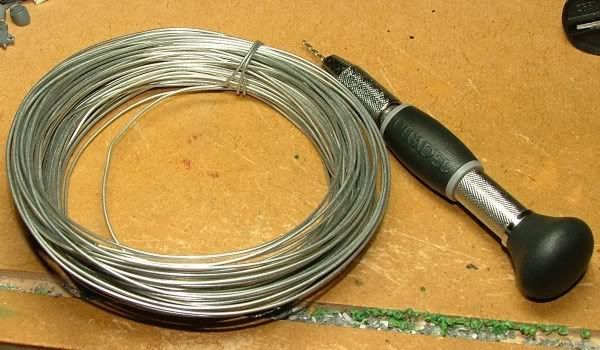 First of all, at the risk of stating the obvious, you need to decide how exactly you want your model to look. Blu-Tack is your friend, as it lets you put stuff together in a non-permanent way to check out how things look from different angles. I've lost track of the times I've thought "Wow, that would look amazing!" only to test it by Blu-Tacking my Genius Idea Of Doom together and find out it's a steaming pile of poo. So, once you know what bits you want to attach to what other bits, it's time to pin them together.
When joining two parts together, it's simplest to have the angle of the pin at 90° to the surface of the joint, mainly because that makes the physical process of drilling more straightforward. The red line shows the positioning of the pin through the arm-shoulder joint of this Marine: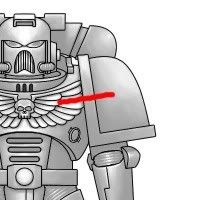 I tend to push a pin into the surface I'm going to drill into, just to give the drill bit a slightly better guide. You want to drill far enough into the model that about 4-5mm. or so of wire will go in, so as to make sure you have enough anchoring for the final joint. Test this by inserting the wire and visually gauging it till you're far enough in; I know I'm probably explaining all this in far too much detail, but for the purposes of a tutorial I figure it's better to have too much information than not enough
All this becomes second nature after a few goes, anyway.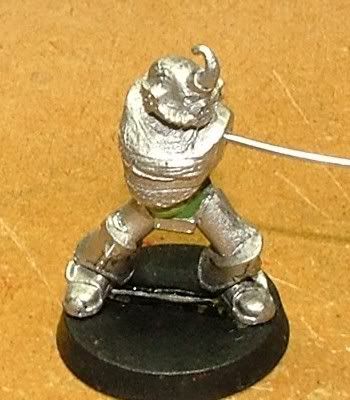 Now I drill into the arm, again 4-5mm. in, and then cut off a piece of wire of about the right length. At this point dry-join them together with the pin to test the length of the wire you're using; as is so often the case in modelling, dry-joining stuff to check is your friend. "Measure twice, cut once" and all that...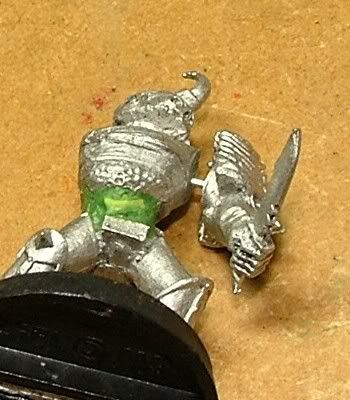 Now, this piece of wire is visibly a few millimetres too long for a flush joint. If you're planning to add a spacer to bulk out and widen the model, this would be fine; if you want a flush join to the body, trim the end of the wire until it's the right length when you dry-join the two parts together. Once you're sure you have the right length of wire for you purposes, superglue it into the body, then daub glue onto the other end and onto the inner surface of the arm and attach it.
Here's the arm, now pinned and glued firmly in place: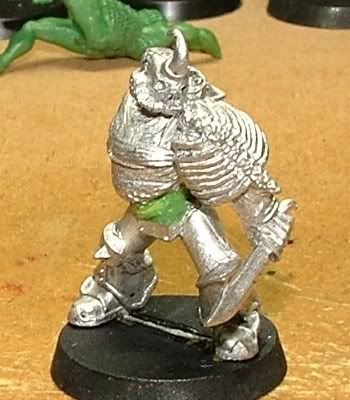 Et voilà! Your limb is now pinned and solid, ready for years of abuse on the gaming table.
__________
Now, if you want to use a particular (say) arm but want to change its position from the default one, here's a way to do it that still allows you to pin it on for a solid join. Drill the hole in the torso as before, and glue in your piece of wire. Now, cut a piece of plastic of the appropriate thickness and shape for the limb position you want, and drill a hole through it at the appropriate angle. Again, dry-joining stuff to check, we get something like this: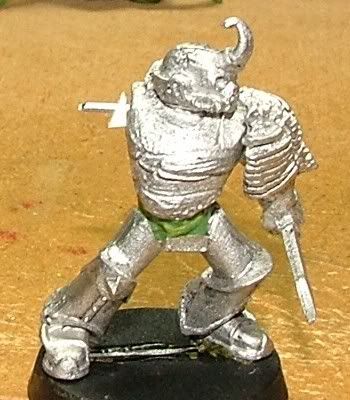 Now take the limb you want to add and drill a hole through it at the right angle for the pose you want bearing in mind that the wire is coming straight out from the model at 90°; for the purposes of this tutorial, I used a plasma pistol arm and drilled it to sit at this angle: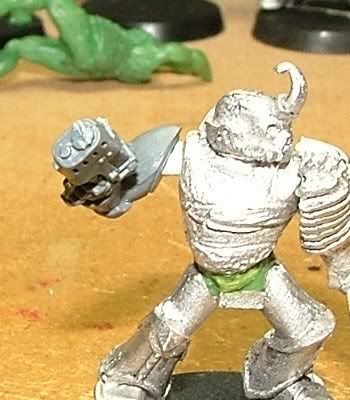 One thing to remember when altering the default poses of models is that you're trying to imitate the range of movement of a real figure. Assuming a human(oid) type of physiology, arms work best if you bear in mind that the torso will remain rigid as the figure 'moves', keeping the tops of each arm in line with each other. Try to visualise a line running through the top of the shoulders when positioning arms, so the finished result looks like a posture a human(oid) physique could actually manage; this picture hopefully shows what I'm talking about: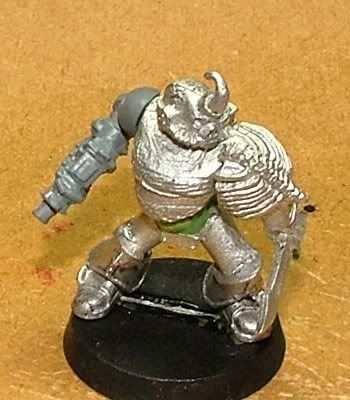 The right arm is in line with the left, which is correct for how the torso is angled on this particular model.
If you're ever in doubt as to the posture or positioning of a model, stand in front of a mirror and try to duplicate the posture you have in your head with your own body; look in particular at how the arms actually move. If you're trying to make an "action pose" type of thing with a weapon, ranged or melee, grab a prop and do the same thing; the Perry brothers, for example, are superb at sculpting very credible and realistic poses for melee weapons, since they do a lot of re-enactment and therefore know
exactly
how human bodies really hold and wield weapons (the new LOTR Galadhrim Warriors are a good example of this). I do live roleplay myself, so, if in doubt I'll grab one of my LRP weapons and literally pose with that to see what works and what doesn't. In the absence of real or LRP weaponry, grab a ruler to check the pose of a one-handed weapon, or something like a broomstick to check how you'd wield a two-hander; it sounds daft, but it really does work!
I hope all this waffling of mine helps...someone
_____
---
great tute, i also find that paper clips work great too. also so i dont get the arm or whatever it is in the wrong spot i sometimes put a small dot of aint on the end of the pin before the second bit is drilled
hope this helps
Lower Navigation
Pinning and Positioning - A Beginner's Guide