Powered by Squig Tea
Join Date: Jan 2007
Location: In da Toolz cupboard in da Mekshop
Posts: 7,589
Reputation: 53

Dremel Stylus
---
Dremel Stylus model 1100 Review.
What? Why now? The things been around for a few years now.
Well that's part of the point, now that mine has been in the tool box for about three years and taken all I could throw at it (or throw it at for that matter) I theoretically know what I'm on about.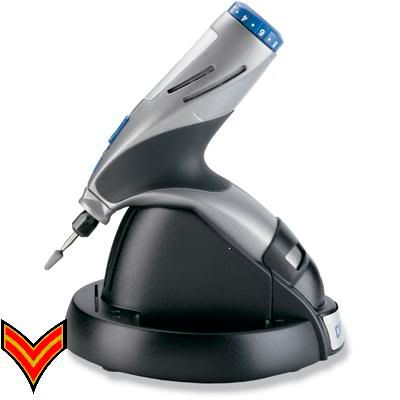 Good or bad every converter/modeller needs quality tools to stand a chance of getting the results they want.
High speed rotary tools come in many sizes from many producers so finding one to suit your requirements can be a bit of a journey. Hopefully this review can save a bit of time and money.
So without further ado what made the Stylus 1100 stand out from the rest of the crowd?
Feel, Balance and Control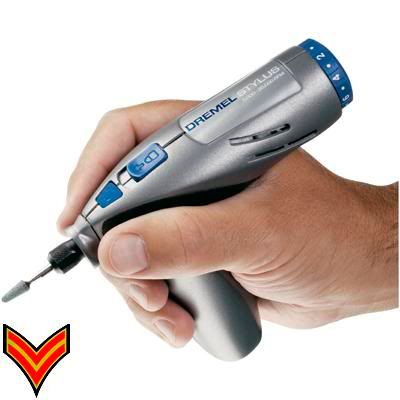 This is one of the major draws of the Stylus.
Dremel went all ergonomic with the design on this tool the grip design with its soft rubber grip make for a relaxed and comfortable hold on the critter as you make your target item into Swiss cheese. The picture above is not the only hold you can use though and the Destructions, sorry Instructions have a little section on ways of holding it. Personally I quite often finding myself holding it upside down gripping the front like a pen.
The fact that the batteries are in the handle section and that the motor is located in a fairly central position means that unlike using other rotary tools it is well balanced.
This means that you can use the tool for long periods of time without getting that cramp feeling you get and that you have a greater degree of control too.
Poweeeer and Speed!
A handy safety feature is that it is nigh on impossible to turn the stylus on by accident. This is due to the fact that you have to hold the start button down for a second or two like you mean it, yet off is just a touch and instant.
Another interesting little feature of the stylus is its start up. Rather than kicking in at the full speed of your setting choice it winds up to it in a gradual way over about 3 seconds.
You do have to let it get to full speed before applying it to the job in hand mind of it is likely to stall.
Speed is controlled with a twisty knob at the back and is on a 1 to 10 ascending scale. RPMs are 5,000 to 25,000.
Now onto power, this ain't no beast and you won't be using disks to cut through MDF boards or grinding adamantium but its butch enough for all of your needs when it comes drilling and cutting GWs white metal. *Note on metalwork, use a vice or wear heavy duty gardening gloves if you must hold the mini, the metal gets real hot real fast.
The power comes from speed and not torque so the more speed you use the less chance of it has of stalling on you.
The Dremel Stylus has a stall protection which stops it snatching a mini from your fingertips and spinning it in a finger biting manner, or burning out the motor by the simple expedient of stopping dead.
I have not bust a drill bit in the three years I have been using the stylus even though I have asked it to drill through some pretty thick plastics that try to grip the bit.
Battery Life and Power.
Dremel bang on about the 120-volt Lithium-Ion battery as its big selling point. It's claimed it will hold a charge for two YEARS if you let it sit but mine never gets the chance to prove that, so the jury is still out on that one.
It can however be left in the charger and charged at any time without needing to drain the battery. It takes about three hours to charge from completely dead a three hour charge time from a completely drained battery is stated.
I never really use it for extended periods of time but keep picking it up without charging it with large chunks of time between uses. The charger is very easy to use. Just remember to put it back in the charger every so often and you will never be without power.
You can leave it in the charger for long periods of time as well as it only feeds when it needs to and will not over charge.
Bits and Gubbinz.
The Dremel range offer plenty of extras and tooling attachments, it's just a question of what you are trying to do with it that steers your choice.
It's a must to get extra bit shafts to take various size bits. You don't get one small enough for a 1mm drill bit, which is annoying and a spare collet (Screw on collar) is worth the pennies. (I wore the grip texture off my first one using the Stylus in a DIY situation.)
Wire Brushes are dangerous, over speed four the start to shed bristles which if you are dumb enough not to wear goggles it's most uncomfortable getting wire in your eyeballs.
Cut off disks will fracture and then explode in a rather exciting way at some point... be prepared.
Final Summary
So after having this handy little toy for a few years now what's my opinion of the Dremel Stylus 1100?
Well I probably love it more now than when I first got it. Its durability, usability excel anything else of similar type I have used.
I would give it a 9 star rating and recommend it to anyone who is into Miniature gaming/modelling.
Viscount Vash.
---
Last edited by Viscount Vash; 11-18-12 at

08:17 PM

.
---
Thanks. I've just put one on the "List of Gifts for Dad" with a star beside it.

Thanks for posting this, seriously. I can think of several tasks this can help me with. The Dremel I have now is held like a pencil/pen and has a feel like it is about to jump out of your hand if you are not careful.

Thanks again!
---
There was a small review of it in my tool of the trade thread but this is much better. I have one and lost it. It really can take a licking and kick ass.
---
Nice review. I've had more than a few cutting discs explode on me over the years. I've found that switching to a thicker disk really cuts down on the problem.
Lower Navigation
Dremel Stylus