Powered by Squig Tea
Join Date: Jan 2007
Location: In da Toolz cupboard in da Mekshop
Posts: 7,589
Reputation: 53

Leather Hole Punch.
---
Leather Hole Punch.
Possibly the Mek's best friend.
Whilst mekkin larger Ork gubbinz for my Blitz Brigade there has been one tool that has moved further to the front of the tool box.
This is a simple device for punching holes in leather, so why has it become so important to me?
Well the by product of punching holes out of things is rather handy circles of waste material.
These things can usually be found in craft or hardwear shops in varying qualities and price ranges, but for our purposes cheap is good enough.
Cutting plastic will eventually wear out the brass plate that the cutting edge works to.
The example picture shows one I picked up in a local shop for the grand total of £3.50 and is still going strong.
This can cut plasticard of up to about 2mm thick that will be usable, (It will cut thicker but the shapes will be uneven and you have to have a grip like a vice to force it through in the first place.)
Here is a picture to show the different six sizes. The one I use the most is the smallest which is about 2mm across.
Some uses for lots of little plastic disks.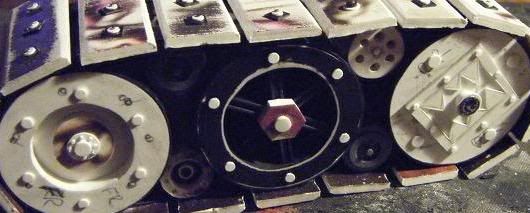 Ok ,so most of those are rivets but you get the idea.
Viscount Vash.
---
Last edited by Viscount Vash; 11-18-12 at

08:15 PM

.
---
That wasn't the first image that came to mind. Really though, this is pretty sweat.
Senior Member
Join Date: Apr 2011
Posts: 369
Reputation: 22

---
Just got one of these...it's great for things like wheelnuts and rivets.
---
As an addendum (and a wee bit of the dark art of threadomancy), when buying a rotary punch as the one shown, you want to see if you can get one with removable punches. Many of them are cheapish and replacement punches can be purchased online for them (though you need to make sure you get the specific ones for the brand of punch purchased). These are a little more expensive but should one of your punches break, all you have to do is buy a replacement punch instead of the whole thing. On top of that, you can sharpen them should they become dull with fine grit sand paper (you want the wet/dry kind around 220 grade). I use punches every day where I work (a saddle shop lol) and the ability to replace and sharpen them is a very nice side benefit lol.

Good luck and good gaming,

Nate
---
"If you can't stun them with your tactical brilliance, baffle them with your superior grasp of BS."
"I refuse to engage in a battle of wits with an unarmed man."
Quote:
Well, seeing as how you capitalize your characters, use proper grammar and punctuation, I'd say you qualify.
Lower Navigation
Leather Hole Punch.