Resin Model Preparation
---
Ok, I have put together a full guide for prepping large Scale Resin figures (such as those produced by
Forge World
) ready for painting. I thought it would be good because I picked up all this info from different sources. I included everything and some bits may seem a bit basic, but we all had to start somewhere so I hope you can bare with the simpler stuff!
Right, first off the first thing you should know, (and you will know because you bought it) this stuff is expensive, and you need to treat it with care, so no rushing, take your time with everything.
1.
Your stuff
I cant emphasis enough, CHECK and check again all the component are there, Forge World do mess up a lot, but they are very friendly and will send you missing parts, this is why its important to check as soon as you recieve the order, not 2 years down the line when you decide your going to build it!!
Also dry fit everything, make sure all components are doing what they are suposed to!
2.
Cleaning the resin
You may think with FW prices you will get you uber clean components that need very little cleaning and attention. This is far from the truth, resin is messy and although you get superior detail, you also get superior mess!
make sure you use the right tool for the job:
a razor saw is ideal for these big bits and is much safer than trying to hack with a knife!!
You often get this papery resin from the molding process, just carefully undermine and scrape away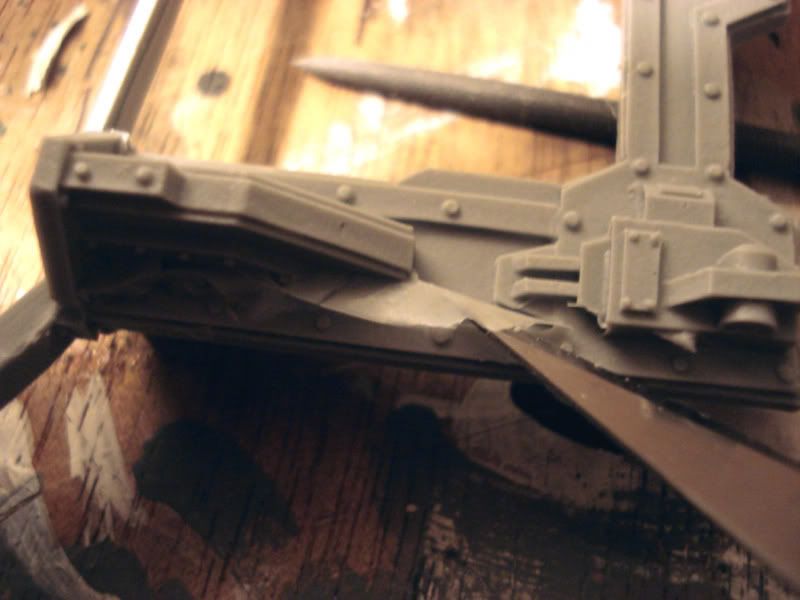 Use clippers for small to medium sized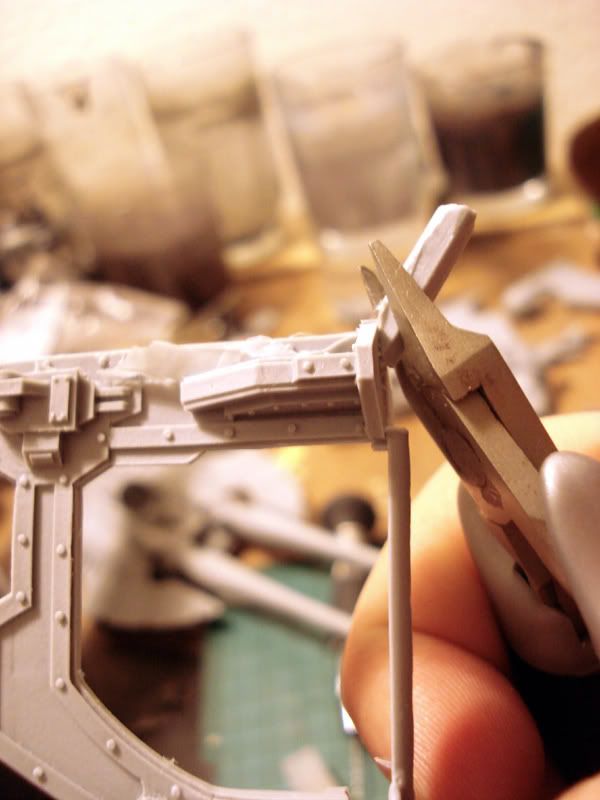 3.
Washing the Release Agent off

This is one of the most important steps. All Forgeworld resin has release agent on it. It's a chemical used for getting the molds to come off without damaging the resin.
The only problem is, it can react to your paint and stop paint form sticking
Here's what to do:
Warm bowl of soapy water (washing up liquid, and lots of)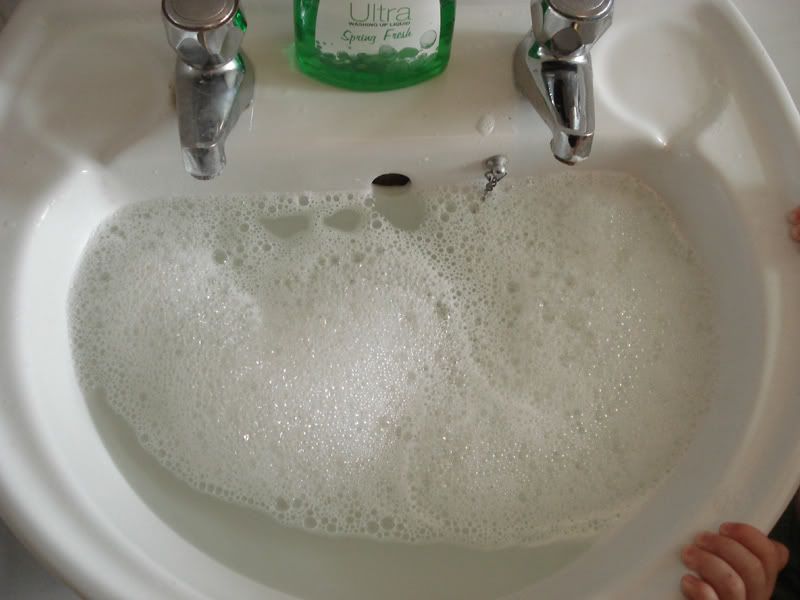 an old tooth brush (or a new one if your feeling fruity)... and then scrub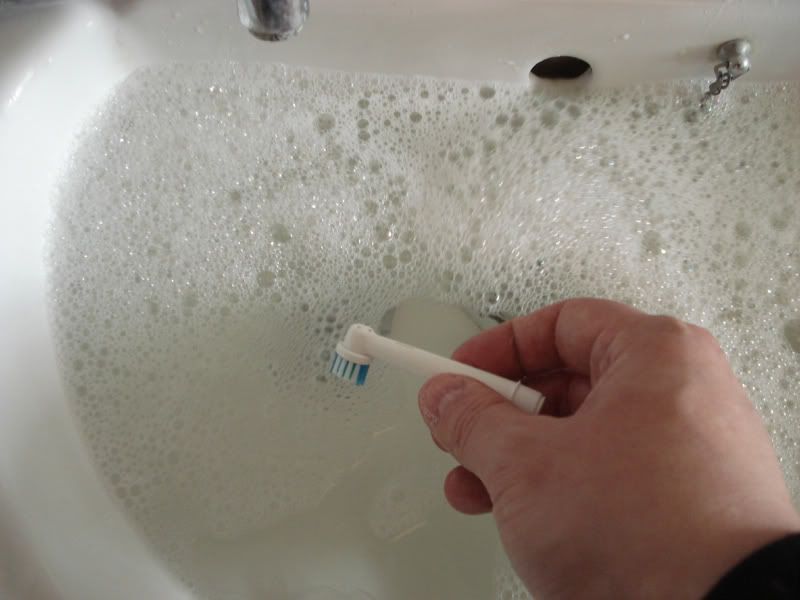 finally rinse
A guy in my GW actually uses brake fluid to get the release agent off, but this way works and is less hassle.
4.
Bending Resin

you will find things like guns are bent. DONT PANIC!! this is perfectly normal for resin and easily solved.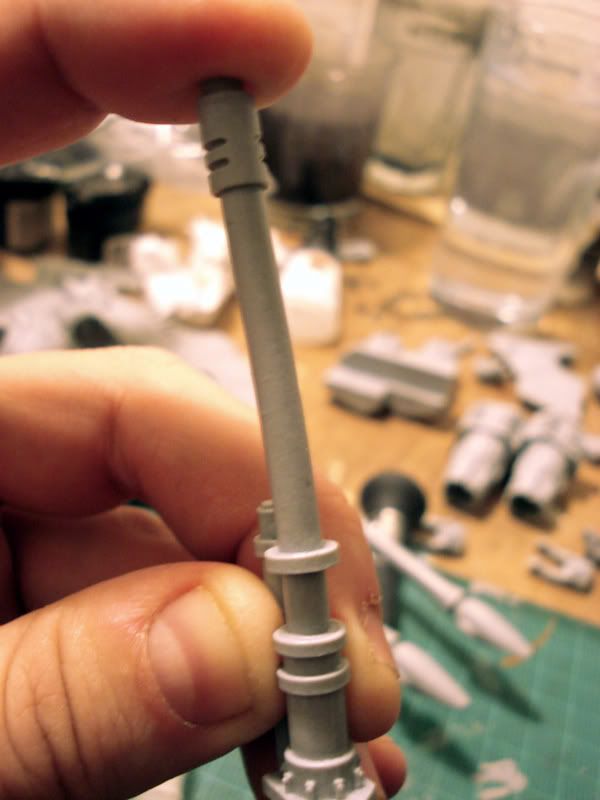 Get yourself a glass of hot water (not boiling- that is to hot and you can make a mess of your bending!) and dunk your gun in for about 30 secs,Then simply bend into shape. Do not force it and carefully press it into position. If it is causing to much resistance dunk it in the water again. If it still won't bend easliy try hotter water.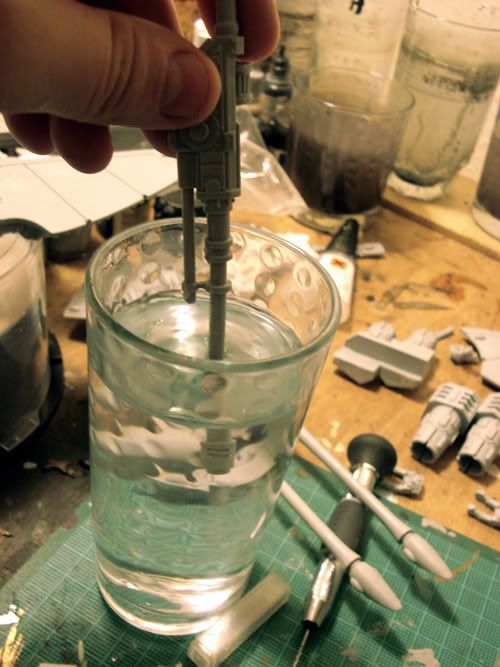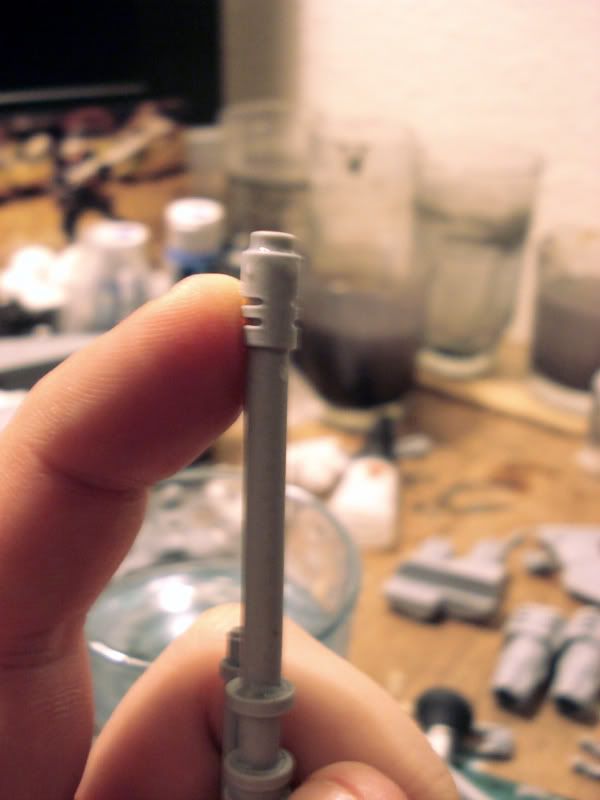 DO NOT FORCE
and voila you have a straight gun!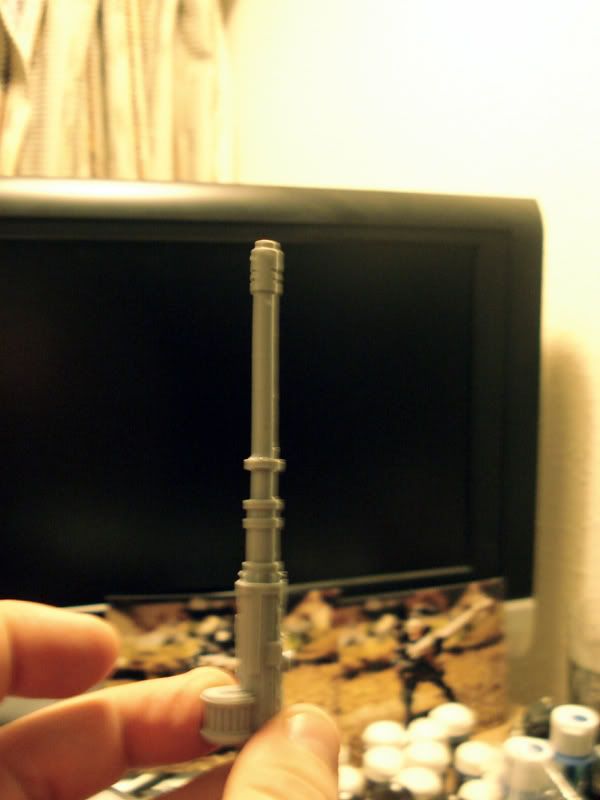 5. Gluing and pinning
You need to glue FW resin with super glue not poly cement. You also need to consider the fact it is a good idea to pin for a secure fit. I do not recommend this if this is the first time you have attempted this, practice on less important things using the below technique.
First of you need to work out what your pinning you can do this by dry fitting and look at bits that are big and heavy or have small contact areas. Some bigger bits will need two pins.
Start by drilling a hole centrally in one of your components you are pinning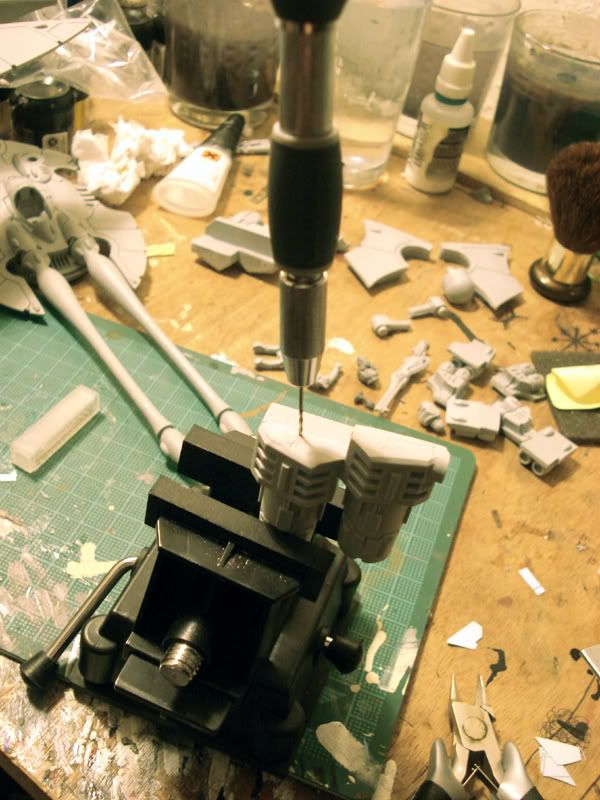 then snip a bit of wire so that it's length only just poke out of the top of the hole you just made. (I am using floristry wire, but you can use paper clips)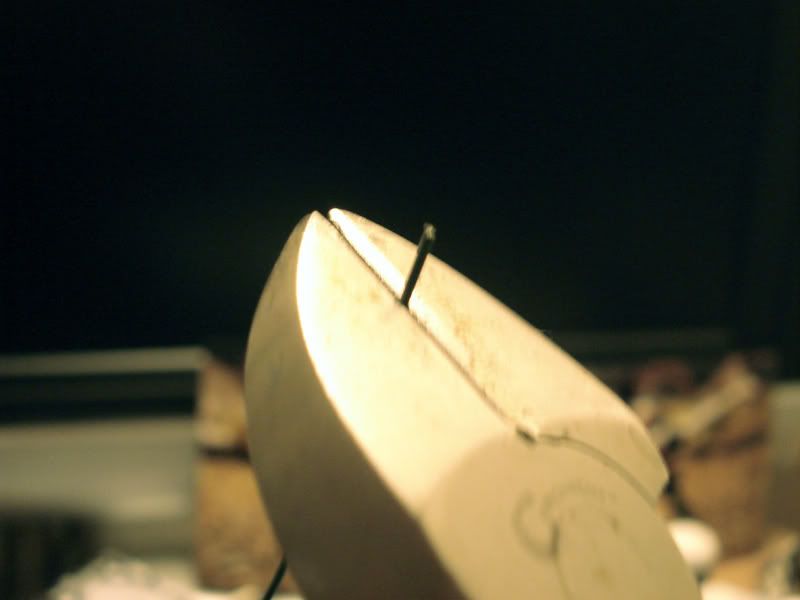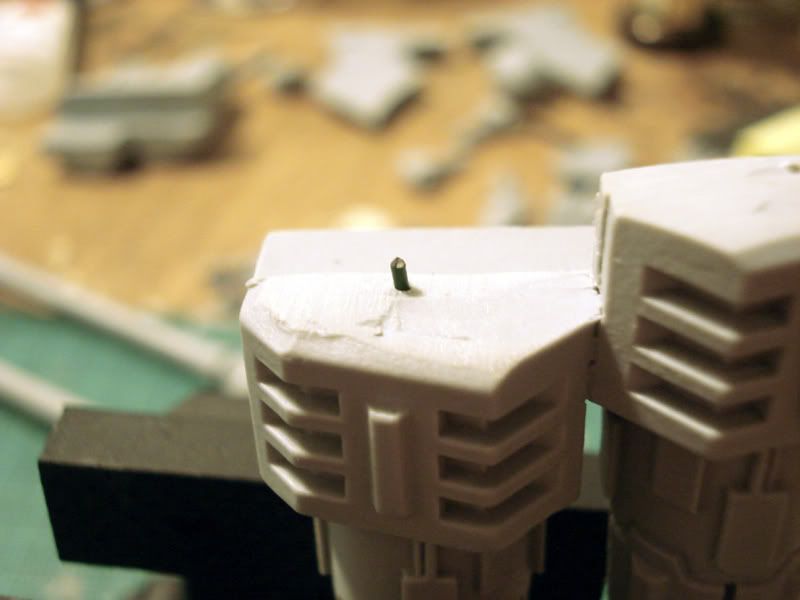 Then dot a bit of paint on the end
Now dry fit the components together. This is why it important to have short amount of wire showing so you can get an accurate fit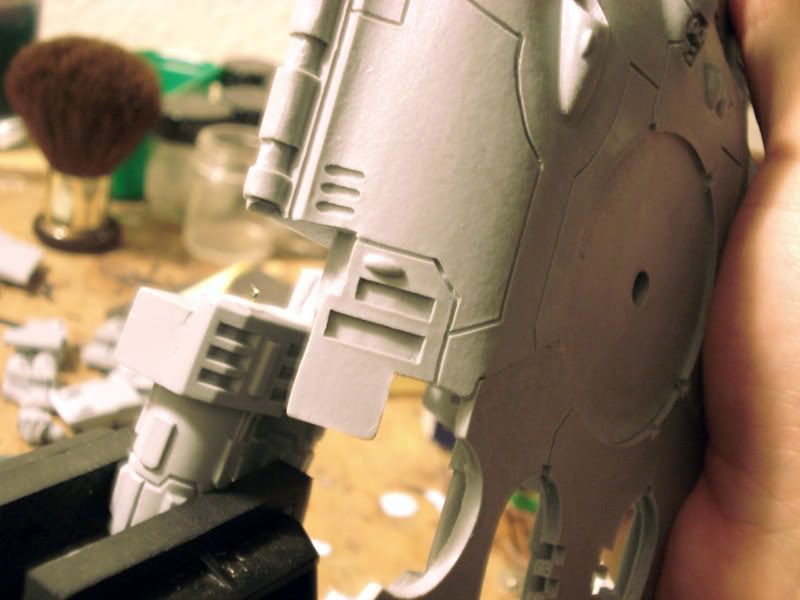 you will end up with a dot of where to drill. Start by making a nick with your craft knife, and then drill.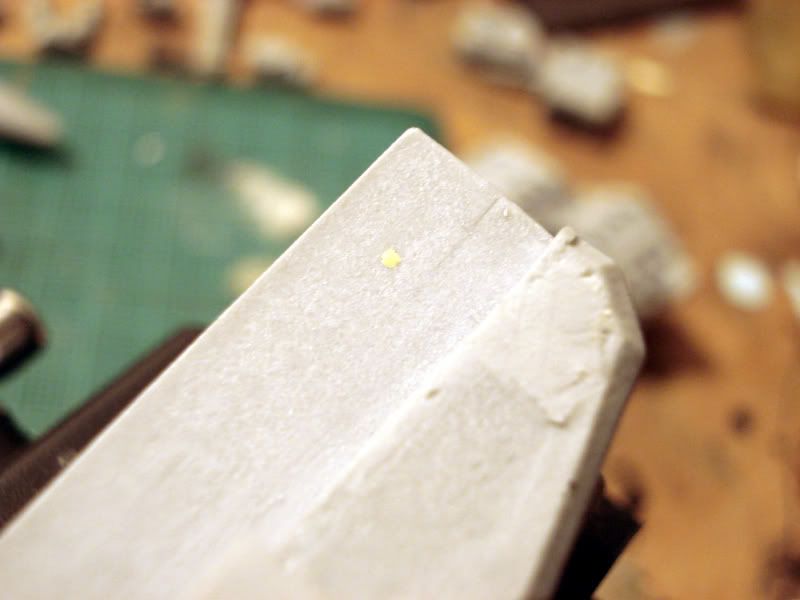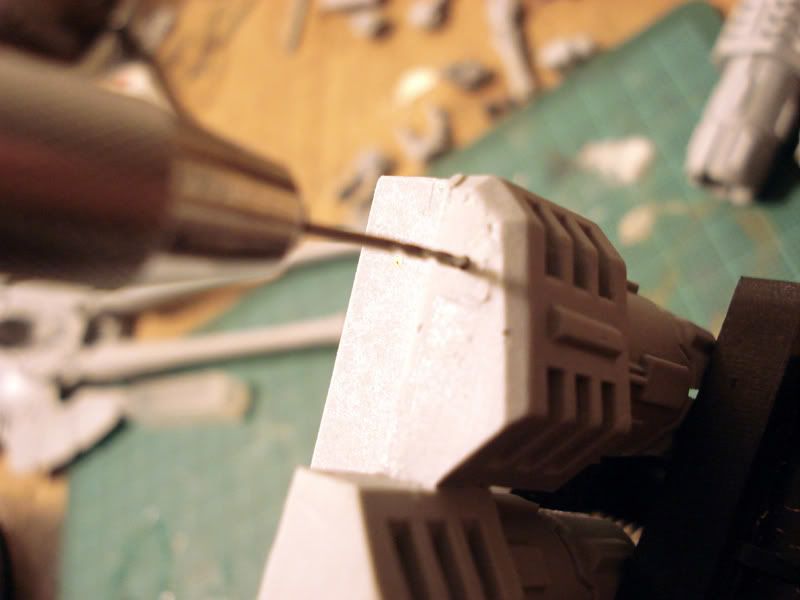 Remove the shorter piece of wire you put the paint dot on and cut some longer pieces of wire so they fit the holes. Dry fit first to make sure you have the pins in the correct place and the length is right for the holes. Make sure you get the holes as deep as you can and fill them with the right pin size. Then glue.
6. Prepping resin for paint
You need to use Car Primer to seal the resin. You can get it in black, but mine is a grey primer, simple because they didn't have any black when I went. This is important.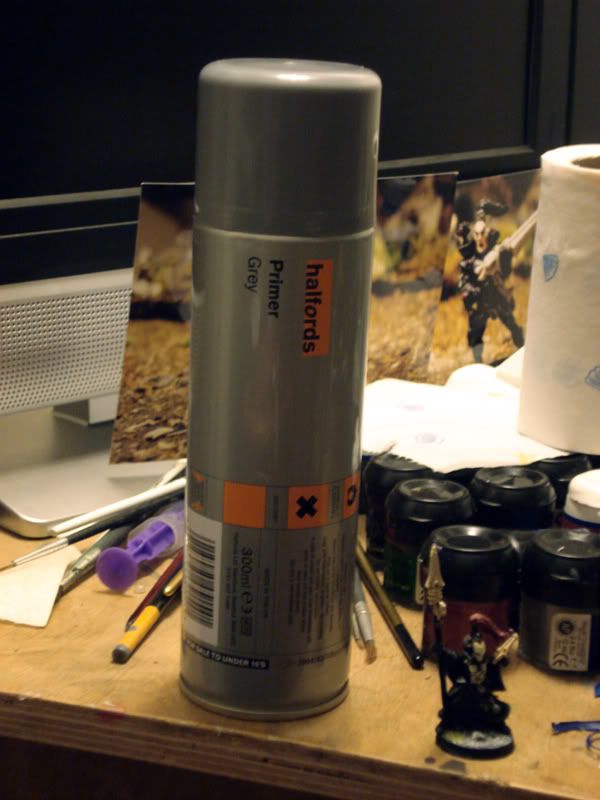 and then spray as you normally would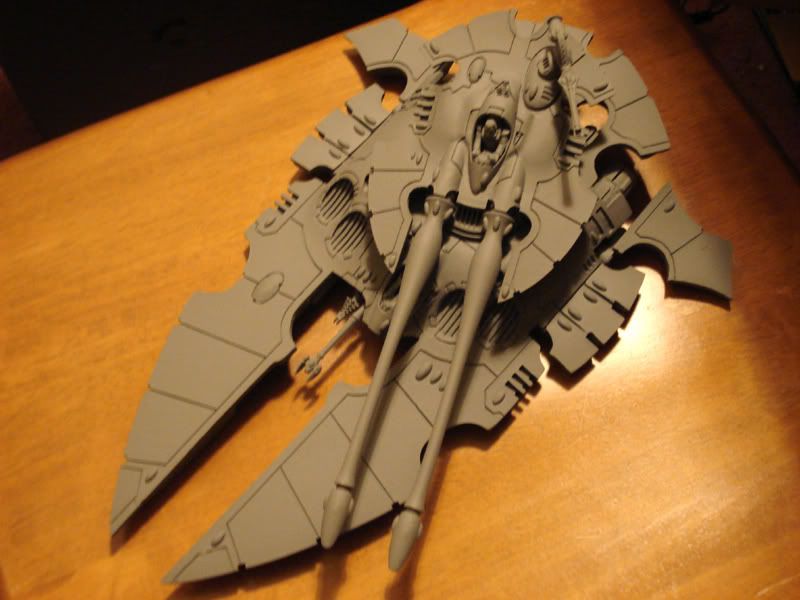 This doesent look like I have sprayed it but I assure you I have!!
Then it's business as usual, you can undercoat it with GW stuff or what ever you normally do with your mini's
Hope that was helpful, please ask if you have any questions
---
if you bought the black car primer do you have to re-prime it with the gw black?
---
No you should be able to paint over the car primer just fine, the only thing you need is smooth coverage which you can get with almost any primer. I actually use a flat black paint for my stuff at times (mainly plastic, it tends to wear from pewter to easy).
---
so whats up with using normal GW spay as a primer?
---
Let the Galaxy Burn.
---
Quote:
I would like to know if there is any issue using GW white primer also?
There is no difference between the primer colors (white, gray, black). It's really all about preference. Some people like to use white prime for bright coloured armies such as Blood Angels or Imperial Fists, as bright colours tend to blend in better on a white model.
Some people like using gray primer on vehicles. The idea is that if paint chips/flakes off, then you'll have a gray 'car primer' undercoat type effect.
Black is usually used by darker colored armies or if you want to "paint around" it. Essentially whatever parts are supposed to be black (knee joints, guns, panels) are already black and so you just paint around them and leave them as is.
I've read on several Pro Painter websites that for the most part they always use black, regardless of the colour they are going to paint.
---
He who fights by my side, shall be my Brother!
Knights of Terra
- Sternguard Ork Hunters
Space Wolves
- SM Special Ops Squad
Metal Wash
- Picture Gallery
---
What kind of soap do you recommend for washing the release agent?
---
Warm beer is infinitely colder than no beer.
Lower Navigation
Resin Model Preparation