---
I have a question: What if somebody did use like 2 or 3 bottles of super glue
?
I recently acquired a tech-adept that was barely identifiable due to the large amount of glue used. I have already done step one (boiling) and his axe came off great but the servo arm....not so great. I don't want to break the delicate pieces...so what do I do?
Thisn't THE model but this is what it is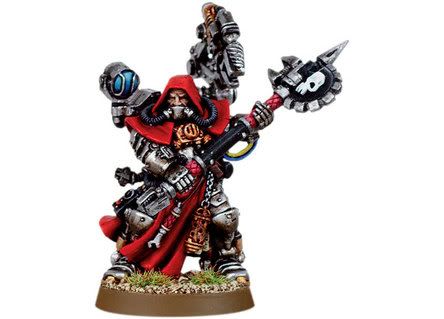 ---
Crozius Arcanum: Because nothing delivers the word of the Emperor like blunt trauma to the head. (Of course....a power fist helps too XD)
Arkio was
framed
!!!!
Space marine lore:
http://wh40k.lexicanum.com/wiki
Horus!!! You threw off the Emperor's groove!!
Quote:
Nope, not really.
Tycho is a big bag of suck wrapped up in shiny gold Nipple-Plate
---
Uhm stick to Acetone?
Metal models are damn easily stripped with Acetone, just toss em in a can, cover the model(s) in fluid and put a lid on it a little while. Then pick them up part by part and use an old toothbrush to remove the paint.
Acetone will kill superglue too. I've never "deconstructed models" before tossing em in Acetone as the liquid will do that for you
Do mind the vapours of Acetone, dont use it in badly ventilated areas, your hands will look scrumpy afterwards and yea if you have small wounds on the fingers it wont feel awsome
---
Win/Draw/Loss(5th ed results)
EC: 45/2/12
Tau: 28/3/7
Quote:
Common sense and wargamers are like oil and water
Quote:
'Alessio is to 40k what impotence is to rape.' - Jezlad
Join Date: May 2009
Posts: 24
---
I have bought several various vehicles for looted wagon conversions. They were all painted particularly badly. A litre of dettol in a bucket, throw in the vehicles and add water till they are covered, with a weight (brick) to keep them under. I left mine for a week or so and the paint turned into a greasy sludge that was nigh impossible to clean off with water and clogged any brush that touched it. But I did find that it was easy enough to use a brush in the actual solution to get the goop off.
The dettol had no effect at all on the plastic apart from leaving a very pleasant smell.
For metal minis, I couldnt agree more with the brake fluid approach. Dont disassemble, just put them in a cup and top it up over their head.
Ive also tried dettol in an ultrasonic parts cleaner with good effect on plastic models. But by no means put a metal figure in a lapidary tumbler :-D Unless you want a shiny blob shaped piece of metal.
Junior Member
Join Date: May 2009
Posts: 22
Reputation: 1

---
ok so im in the uk and need a paint stripper i can get over here. the products you mentioned i can not find bar online and the prices make it worthless. i need to strip a fair chunk of an army down and need to do it soon so i need something that works witing a matter of hours though preferably minuets and the chemical must be fine to use of plastic minys!

Thank you for reading
---
Imperial Guard 7th Regiment of the Etam
W2 D2 L5
and now prowed owner of a cuswtoum made vanquisher
Join Date: Sep 2009
Posts: 16
---
Great guide, good to know there are things I can use which don't smell horrific and are a bit friendlier. I'm about to attack some old tyranid models so I can repaint them. In the past I've just soaked models in paint stripper then given them a good scrub, it does work to a point but the stubborn paint still remains.
---
i can't see the pictures D:
---
what about for us aussies? more specifically for plastic models
---
Heresy Death Guard blog
Quote:
I am quite confident that wh40k would win by far.

They got so much manpower that they could kill the sw galaxy by dropping naked men from orbit.
---
The best thing you can do with paint from plastic models is putting them in some small container with car's break system oil called DOT. After 6-12 hour take them out and use tooth brush to remove the paint and then wash models in water to remove oil from model, and before painting wash them in water with soap (not the liquid soap).
It worked for me. You can even use the rest of oil again, but sometimes it's better to buy new.

I'm sorry, if it's unable to understand, my english got bad lately.
---
does simple green work with plastic models too?
Lower Navigation
Stripping Paint with Simple Green