[SPOILER ALERT!] Only enter IF YOU'VE SEEN Star Wars Episode 7
---
Due to the title of this thread, I don't plan on using spoiler tags. If you haven't seen the film DO NOT read on. You have been warned...
.
I Saw Episode 7 last night and have mixed feelings. I'm curious, how the rest of you who've seen it feel about the film?
Things J.J./Episode 7 DID RIGHT
(IMO)
:
1- Jar Jar wasn't anywhere in this film
2- The non light saber action sequences were out of this world. The lightsaber sequences weren't bad, they were just done by primarily untrained individuals (i.e. Finn and Rey). As such, there's no way they would be as fantastic as Obi-wan -v- Anakin in Episode 3.
3- Making the film have an "old school feel," while being filmed with the latest technology/special effects. I felt they pulled this off seamlessly. I loved the fact that they used the old quad gun targeting display on the Falcon, and I also loved BB-8 projecting an updated technology holo-map.
4- The acting was SO MUCH BETTER than Episodes 1, 2, & 3
5- Leaving Luke out of the film until the end certainly leaves WAY more story to tell (i.e. looking forward to Episodes 8 & 9)... I mean they didn't even give him a line.
6- I enjoyed much of the humor and playfulness of the film (especially when Han and Chewy were involved). BB-8 giving Finn a thumbs up was hilarious. Rey's first use of force persuasion on the stormtrooper guarding her was great too. There were many other great moments as well.
7- BB-8. What can I say, I love this guy. Who thought they could pull off a droid as classic as R2D2? Well, they did.
8- Making sure the Millennium Falcon, Han, and Chewy featured heavily in this film. This was a great move, especially since they killed Han. If they had killed him an not given him a ton of screen time, that would have been so wrong.
9- First Order (FO) stormtoopers, landing craft, tie fighters, and new star destroyer. Overall I really liked the feel of the "new empire." The only thing I didn't like was the style of hats that the officers wore.
10- Making Supreme Leader Snoke a giant hologram and not actually a giant. I got a little worried there for a second,
and was super relieved he wasn't a giant, but just a hologram.
11- Rey and Finn. Overall I really liked both these characters, especially Rey. I have some problems with Finn, but not because of John Boyega's acting. I feel J.J. didn't provide enough of the story behind why he leaves the FO. More on this later, and to be fair, this might be come out in later films.
12- Making Kylo Ren be a Solo. Also, having him be named Ben Solo was also a nice touch.
Things J.J./Episode 7 DIDN'T DO RIGHT
(again IMO)
:
1- Making Kylo Ren so childish. At first the childish tantrum with the lightsaber -vs- just killing the FO officer that told him bad news was funny. But as his character continued to be developed, I really grew tired of it. Honestly it felt a little Hayden Christensen-esk, which I did't find appealing. I get that he's young, but as the primary villain of the film I felt a little disappointed.
2- Making Kylo Ren strong, but then also at other times weak. When he stopped Poe's laser bolt mid air, or when he pinned Rey immobile outside of Maz Kanata's watering hole I was like "yes!" Then at other times he seemed so childish and weak. I get that he's probably supposed to be an 18 or 19 year old padawan in the film (approx. the same age as as Luke in Episode IV). I also get that he was in the process of being trained by Luke when he went dark side (i.e. that his training isn't complete--something supreme leader Snoke states directly at the end of the film), however... I prefer my villains to be strong. For me, if they're not a significant threat, then I just don't find them interesting. Rey, with zero training beats him mentally when Kylo tries to extract information from her, she beats him in force pull contest when trying to grab Anakin/Luke's lightsaber out of the snow, and she beats him (pretty soundly) in a lightsaber duel. Maybe I'm wrong here, but it looks like the only reason he survives the duel is because the weapon planet fortuitously splits he and Rey apart. To be fair, I do need to take into account that he was wounded by a laser blast prior to the duel... however, he still should have been way ahead of Rey who had zero training. I also get that Rey might be way more powerful in the force than him, and who knows, maybe this will come out in future films. Whatever the case, I feel a main villain needs to be powerful. I felt Kylo Ren almost met that requirement, but not quite.
3- General Hux & Captain Phasma. I'll start with Hux. In my mind he fits the role of a Tarkin like character. Just like Tarkin and Vader in Episode 4, Hux isn't really over Kylo and vise versa. But unlike Tarkin, he had way less of a part to play and much less character development. Also, I'm not 100% sure why (I'd need to see the film again), but Tarkin exuded so much more power than Hux. I think it was a combination of Hux's lack of lines and perhaps just superior acting on Peter Chushing's part. Whatever the case, Hux fell short of expectations. However, however much Hux fell short, Phasma was much worse. So much build up in the pre-film hype and with toys, etc. and she was hardly in this film. I'm not sure if she died with the super weapon's destruction, but if she lived, perhaps she'll play a bigger role in future films. Whatever the case, in this film she fell vastly short of my expectations.
4- Leaving so many unanswered questions. It's not that I hate questions. For example, I like that we still don't know much about Rey or Finn's past. I like the fact that Luke wasn't (for the most part) in the film, and that we know little of what happened to cause Ben Solo to became Kylo Ren. I also like the fact that we really don't know who supreme leader Snoke is, etc. All this adds to the excitement of future films, not to mention many more hours of fan speculation.
For me it was the number of plot holes in the film. For example, why did Finn decide to defect? I get that he was traumatized by the death of his friend and by being ordered to kill unarmed civilians, but all the sudden he's like, "hey Poe, I'm here to rescue you." What? All of the sudden he's willing to risk all and get off that ship, and it felt like I missed something. If I would have been given something more here, I think the whole thing would have been much more believable for me. For example, I get why Finn and Rey left Jakku. That part made perfect sense to me, and was a good example of creative well thought out story telling.
Another major plot question I had was what happened after Endor? I get that the battle of Jakku was part of this, but how (note: I'm not a video gaming console guy, and think there might be more information on this in Battlefront but am not sure what that is)? I also get that the FO and then the resistance come out of that time, but I don't completely get why? The FO makes a little more sense as they're clearly the remnants of the old Empire, but why the Resistance? Doesn't the new Republic have their own armed forces? General Hux talks about the Republic and makes mention of their sympathy towards the Resistance during his speech before firing the super weapon, but that's all we get. We simply have no clue how we got from throwing the Emperor down the Death Star shaft/post Endor celebration to where we are in Episode 7. The opening text scroll gives us the basics which is fine, but more in movie dialogue would have been nice.
Take Episode 4 as an example. It set the president for the classic opening movie text scroll, but unlike Episode 7 had several key moments of dialogue that told us what was going on (i.e. Vader and Captain Antilles/Leia's conversation when the Tantaive IV is first captured and boarded, the meeting of top Empire brass on the death star, obi-wan talking with Luke in his home on Tatooine, Obi-wan teaching Luke about the Force on the Millennium Falcon, etc.). That cleverly placed dialogue throughout the film really helped us understand what's going on. Episode 7 didn't really have that.
Other smaller but intriguing questions are why was R2D2 on low power mode since Luke left (to figure out where he went? waiting for the missing map piece? Other?), or why did C3PO have a red arm, or why what makes Kylo Ren's lightsaber more ragged, or what exactly is the Resistance (again, doesn't the new republic have it's own military), or why is Leia a general (she doesn't strike me as the general type), and was that Admiral Akbar in the control room or another Mon Calamari, etc.?
5- Essentially redoing the exact same plot of Episode 4 and 6. Another giant super weapon attacked by fighters? Don't get me wrong, I liked the super weapon being essentially a planet this time, that Rey, Finn, Han, and Chewy had to help blow it up (especially their getting past the facilities shields via light speed), the super weapon getting it's power by draining a sun, etc. ...but honestly, it's the exact same plot just on a larger scale (i.e. the first Death Star was the size of a small moon, the Death Star II was a size of a much larger moon, and Starkiller the size of a planet). What's next, will Episode 8 be called "the First Order Strikes Back" and will Episode 9 have a Starkiller II in it (this time the size of a gas giant that requires two suns to charge)?
6- Leia. While Han, Chewy, & C3PO did a great job, and Luke and R2D2 were (for the most part) not in the film, I wasn't impressed with Leia. Even though Han was older, it still felt like him. This didn't feel like Leia, even an older Leia. For me Carrie Fisher's acting just wasn't on par with Ford's. I know I'm being nit picky, but I just didn't find her believable... especially when it came to discussing their fallen son or when Rey returned and it was obvious Han didn't make it.
.
What are your guys thoughts on the film? The good? The bad? What are you looking forward to in the next films?
---
I've seen the film once and I'm not convinced that Han is dead.

Han falls off the platform, Chewie shoots Ren and then runs off somewhere. Chewie then later arrives with the Falcon to pick up Rey and injured Finn.

Who was taken out of the Falcon at the end while somebody says "he's still alive" or something similar? I know we are supposed to think its Finn but as far as I recall he's lying at a weird angle and you don't see his face or his body really as there are a lot of people in the way.

The only reason for not seeing his face would be because its Han.

I might be wrong and Finn could have been shown and I missed it. I will be paying close attention next time I watch the film.

Harrison Ford is also confirmed as returning in Episode VIII......
---
On the whole I enjoyed it, but wasn't blown away by it. They got the cast pretty much spot on, except for Gleeson as the General. He just didn't have the gravitas for the role, and hammed up the bad guy shtick quite a bit. He is no Peter Cushing, that's for sure.

I'm going to call it and say Rey is Luke's daughter. It would explain her power being at least on a par with Renn's. I know they've written off the expanded universe, but the fact they left in the bit about Han and Leia's son going to the dark side means it's still a possibility.
I agree about Phasma. From all the marketing you'd think she was a major player in the movie. I'd say we haven't seen the last of her though.
---
wired
or
Cinema Blend
, etc). I think J.J. gave Ford what he wanted in Force Awakens.
IMDb doesn't have Ford listed for Episode VIII
, where as it does have Hamill. Do you remember where you heard that?
Even if Ford was cast for the film, I wouldn't put too much stock in it. Mark Hamill and Gwendoline Christie were confirmed as being cast in Episode VII, and we heard Christie speak what, 2-3 lines, and Hamill didn't even get a line. At this point, for all we know Ford could be cast for a flashback scene that's meant to fill in a missing part of the story.
.
I think Finn will continually be hunted by the FO for defecting and playing a key role in the destruction of Starkiller. No self respecting Captain could put up with a man under her command defecting, forcing her at gun point to lower the shields, putting her in a trash compactor, and then helping to blow up the FO's giant super weapon. As such, I think Phasma will lead the charge to get revenge on Finn.
---
Last edited by Uber Ork; 12-19-15 at

08:29 PM

.
---
Quote:
I donít know, I feel like J.J. killed Han off for good. For years there was talk about how Harrison Ford thought Han Solo should have been killed off. He discussed it not too long ago on Jimmy Kimmel Live (you can read about it on
wired
or
Cinema Blend
, etc). I think J.J. gave Ford what he wanted in Force Awakens.
That would be cool.
IMDb doesnít have Ford listed for Episode VIII
, where as it does have Hamill. Do you remember where you heard that?
Even if Ford was cast for the film, I wouldnít put too much stock in it. Mark Hamill and Gwendoline Christie were confirmed as being cast in Episode VII, and we heard Christie speak what, 2-3 lines, and Hamill didnít even get a line. At this point, for all we know Ford could be cast for a flashback scene thatís meant to fill in a missing part of the story.
Harrison Ford is listed on the Disney casting calls for Episode VIII
http://www.moviecastingcall.org/2015...ead-roles.html
Kathleen Kennedy has also confirmed it, apparently.
http://www.dailymail.co.uk/tvshowbiz...sode-VIII.html
Now he may come back for flashbacks or whatever but if it is the case that it is not possible to tell who was stretchered off the Falcon then I'm calling it, Solo lives. The other reason I think he's alive is because we didn't get to see Han and Luke together again, which I think is surprising.
If the shot does include Finn (and it might, I need to see it again) then Han's dead. I think.
As for the film, I enjoyed it but I thought there could have been more originality. I'm looking forward to the next one.
---
Quote:
Now he may come back for flashbacks or whatever but if it is the case that it is not possible to tell who was stretchered off the Falcon then I'm calling it, Solo lives. The other reason I think he's alive is because we didn't get to see Han and Luke together again, which I think is surprising.

If the shot does include Finn (and it might, I need to see it again) then Han's dead. I think.
Thanks for the links!
I'm glad that Ford is back, for flashbacks or for real.
I suppose if Darth Maul can survive being cut in half and falling down a deep shaft on Naboo, Han can survive being run through (was hard to tell, but didn't look like through the heart) and falling down a shaft at Starkiller.
Chewy is definitely unaccounted for (at least from what I can remember, I'll need to see the film again) while Finn and Rey are out battling Kylo Ren in the snow. So... who knows. I do know Chewy didn't look nearly as sad as I thought he would when he and Rey take off at the end of the film to go find Luke. Maybe it's because Wookiees are ultra fast mourners, or maybe it's because you're right and Han isn't dead.
Come to think of it, Leia doesn't look nearly as upset as I thought she would either. When the Falcon lands and Rey comes down the ramp, Leia hugs her like a daughter who's had a really bad day, not like a woman who just lost her x-husband because her son just killed him unarmed and in cold blood.
It sure is intriguing to think about. At this point though, I kind of hope Han is dead. As a general rule, I'm not a fan of characters being killed off and brought back with a "wait, I'm not dead" lets flashback to how it
really
happened scene.
Personally, I would have liked to see something like this...
Han dies (although with a little better dialogue between father and son than we got in the film), and then Chewy goes on a rampage (again, a little better than the rampage we got in the film). After wounding Kylo with his bowcaster, I'd have liked to see him try like crazy to get down there and get personal with him (this would be sort of like the blind rage he exhibited in cloud city when Han was getting frozen in carbonite). With FO stormtroopers crawling all over the place and shooting his way, I'd have liked to have seen Kylo Ren escape his grasp by withdraw back through the oncoming stormtroopers. Finally as Kylo makes it out the door, Chewy, wounded, unable to escape, and having taken several blaster wounds, lets out a roar that will be remembered for a thousand years, hit the bomb trigger, and blow himself, a gaggle of stormtroopers, and the entire facility up in one last act of defiance. *insert wookiee roar here*
Then after Chewy and Han bring down Starkiller, I'd move the film outside to where Ren and Finn, encounter each other/have the film play out from there...
---
Something else that struck me. If any of you have been watching the cartoon series
Rebels
, you'll be familiar with this guy.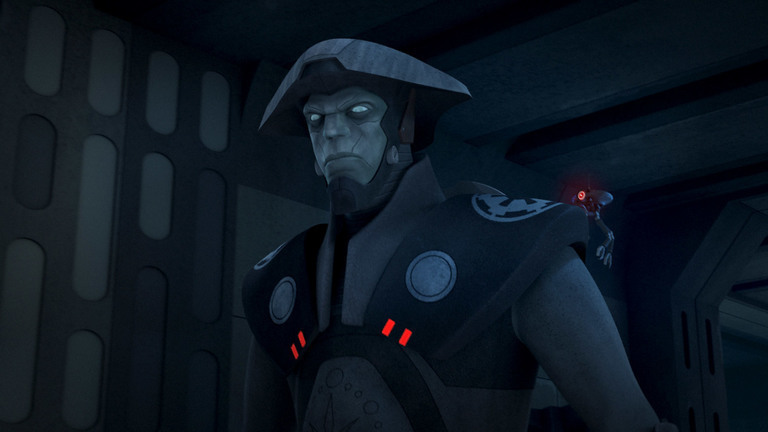 In the flashback that Rey experienced when she touched the light saber, did anyone else think the first of the attackers killed by Luke had the same profile? It would be interesting if they tied in to the series, even if there's about 35 years between them in the timeline.
---
han solo will return in ep8, kathlean kennedy confirmed it the other day, all principle cast will be back shooting in the new year, hamil has already started filming as has daisy riddley.
i loved it, need to go see it a second time, personally i think JJ and Kasdan have got everything right. if i could find fault it was that it was too short, i think it needed a bit longer to really flesh some things out but by the same token im glad i dont know everything yet, giving skywalker the last scene with no dialogue was genius. i think Kylo rens powers seeming a little random was done on purpose to show his struggle with the dark and the light side and possibly the force awakening in others, think about it, if non force users suddenly find they have skills what happens to those who already had developed some?
i loved the idea of star killer base, sucking a sun from existance and then spitting out death on an entire system, okay its another "death star" but by god its really exeeding its brief, i have seen some critics panning it over the similarities but we loved the originals and lets be fair , the originals borrowed heavily from other stories/movies/books, people didnt like the prequels because they were not star wars enough, but when you give people a squel with some borrowed elements from star wars people also find fault? disney couldnt really win(A bit like GW lol)
3 days to go before i find out if the wife got me a bb8 or not!!
Never pay again for live sex! | Hot girls doing naughty stuff for free! | Chat for free!
---
HUGE BITZ RESTOCK NOW ON
---
Simple question. Is 'Snoke' actually Plageus? The scar, apparent age, and race are all pointers to this. Just an idea I've seen floating round the internet since seeing the film.
---
Went to see the film with the kids and was looking forward to it. Half-empty cinema though.. on the fourth day!
Also, several people walked out half-way through. I have never seen that before.
We did not care if he defected after that as he would not be much use to the rebels. He turned out OK in the end I suppose
.
---
"Death occurs when a lethal projectile comes together in time and space with a suitable target, in the absence of appropriate armour or protectionĒ
Check out my 40K 'Epic' about the Hunted verses the Inquisition:
https://www.heresy-online.net/forums/...98#post2184698
Lower Navigation
[SPOILER ALERT!] Only enter IF YOU'VE SEEN Star Wars Episode 7