Powered by Squig Tea
Join Date: Jan 2007
Location: In da Toolz cupboard in da Mekshop
Posts: 7,589
Reputation: 53

Heresy Online Sprue Database
---
We have decided to build a database of sprues
and
metal mini parts for members to browse through and search for conversion parts.
We think this will prove to be a useful tool for members and will be an asset to Heresy.
Jezlad set up a system for the database that is cunningly based on the Miniature Gallery we have already and now after some final adjustments and testing it is ready.
Problem is there is only so many unassembled kits in the staff's cupboards, this is where you all come in.
Here is a guide to help explain what we are after......
Quote:
Heresy Online Sprue Database Guide.
Submitting Sprue Images.
The Heresy Sprue Database has a section especially for new images called unsurprisingly enough
Sprue Image Submissions
.
Images submitted will not actually show up in this section as a picture but will display their statistics and description.
Only when they have been approved will you be able to see your picture, it is also at this point that your entry will move to it's correct category.
In the case of sprues that appear in multiple kits we want them to appear in each kit, rhino hull being a prime example. In the title please put it as Immolator Rhino hull.... if it is for the Immolater or whichever kit it needs to be.
You will also notice that the Marine Chapters offer the chance to repeat a kit in each Chapter, this is fine but it is critical that you put the initials of the Chapter at the start of the title ie SW Rhino.....
We do not want Box Art or Sprue Images taken from any GW Publications these are all subject to copyright.
When submitting Images you may notice that there is not a Sub-Category for the box set you are submitting. Don't worry we still want it and will create a Sub-Category for it when we move it from the Submissions section. You may get a PM asking for what it is etc ,but it will get sorted.
Just submit your Pictures in the DataBase Submissions section, We will check it and move it to the appropriate place if it fills all the requirements. Nice and easy.
Image size and qualities.
Backgrounds to the pictures must be white, it helps display the sprue clearly and it also keeps a tidy look to the database.
We require images of both sides of each sprue. A part may look perfect for that killer conversion from one side may turn out to be unusable when the back is seen.
The images have to be a decent size so it is possible to see individual part details pretty clearly.
1600 by 1100 Pixels is the mark that seems to work best, 50 pixels either way will be fine. (In the case of extra Large sprues such as the Bane Blade this may well have to be bigger.)
Any smaller than 1200 x 900 does not work.
The images we are looking for must have a reasonable level of detail.
Use Macro, (the symbol that looks like a tulip) on your camera.
Use all the frame, fill the image with the sprue. I find this easiest to do in paint by cropping off surplus image and stretching up to the size required. Other programs exist for cropping and resizing images that may suit you better.
This image is approximately 50% the Required size when viewed at full size.
This image is approximately 50% the Required size when viewed at full size.
Information.
Without it, all we have is pictures of plastic, resin and metal.
We want a standard layout to keep the Database easy to use and search.
Image Title.
What's on the front of the box normally, but you can drop the race name as the Category title already includes this information.
What sprue? Normally a sprue will be known as Command, Heavy Weapons, bodies, legs or some such, if you are not sure just number each sprue1, 2, 3 etc.
Also include [Front] or [Back] in the Image Title.
Which is Front or Back?
For the database we need to define a front and a back of each sprue.
The back is the lumpy side of the sprue.
The front of a sprue is the flatter side, normally with some numbers on (see picture Below).
Description.
Sprue Title The Race Name and then the same as the Image Title .
Sprue View. Front View or Back View.
Sprue Date:This can be found on at least one sprue in a box, if this is the case use the same date for all the sprue images from the box.
Newer/Older sprues are sometimes included in the same box so don't be surprised if you have more than one date.
Sprue Code: = This is a part number. See Sprue Date above.
Out of Production: = Is the item out of production? If it is say so, if it is still in production you can skip this bit all together.
Keywords.
The more words that apply to the sprue in this box the more chance of it showing in a search.
Common mis-spellings are also worth putting in here.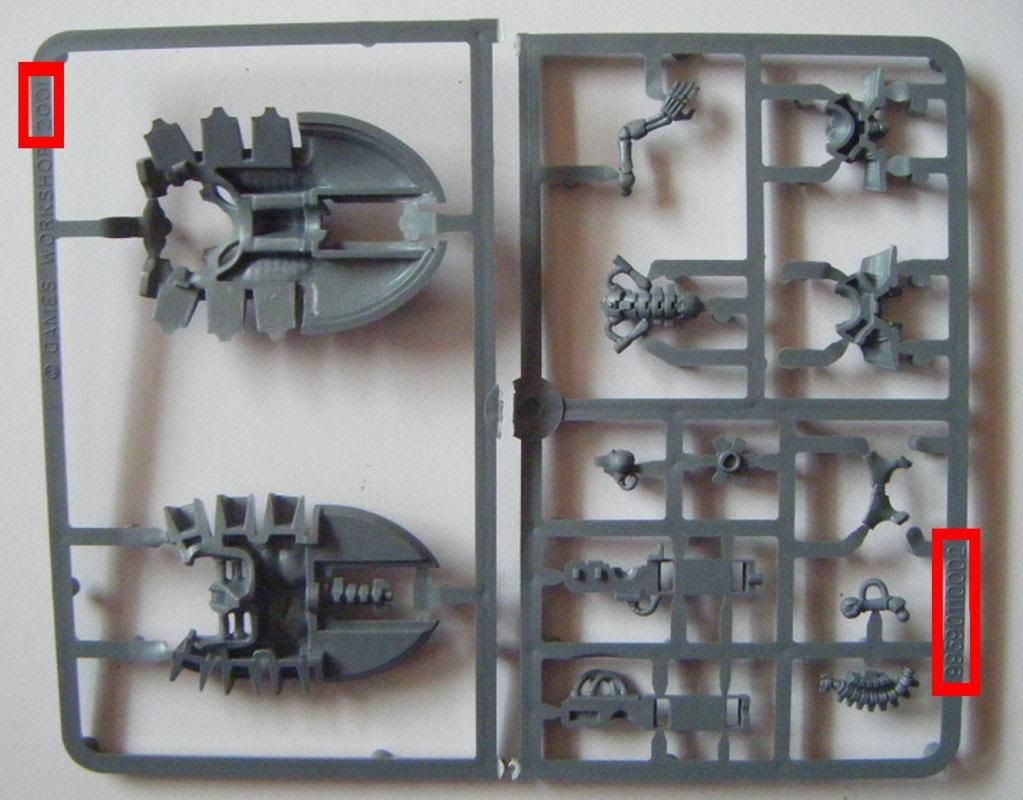 This image is approximately 50% the Required size when viewed at full size.
So for the picture above we would get.
Image Title=
Destroyer Body Sprue [Front]
Description =
Necron Destroyer Body sprue.
Front View.
Sprue Date: 2001
Sprue Code: 9939011002
Keywords=
Necron Destroyer sprue sprew
In the Data base this example actually looks like
THIS.
Un-coloured Clear Components .
Plain Clear Sprues do not show up well on a white background, because of this we would like such things a flying stands to be Photographed on a black non reflective background.
Coloured Clear Sprues such as the Necron Green Rods still look best on White background though.
Metal/Finecast Miniatures.
Yes we want them as well.
Metal Minis bring their own set of issues.
When you are taking a picture of metals you may not need to make the image as large as you do for sprues, lets face it we don't need a 1600x1100 pixel image of a single mini or a small group. as long as everything is nice and clear to the eye it's cool.
We do still need front and back images.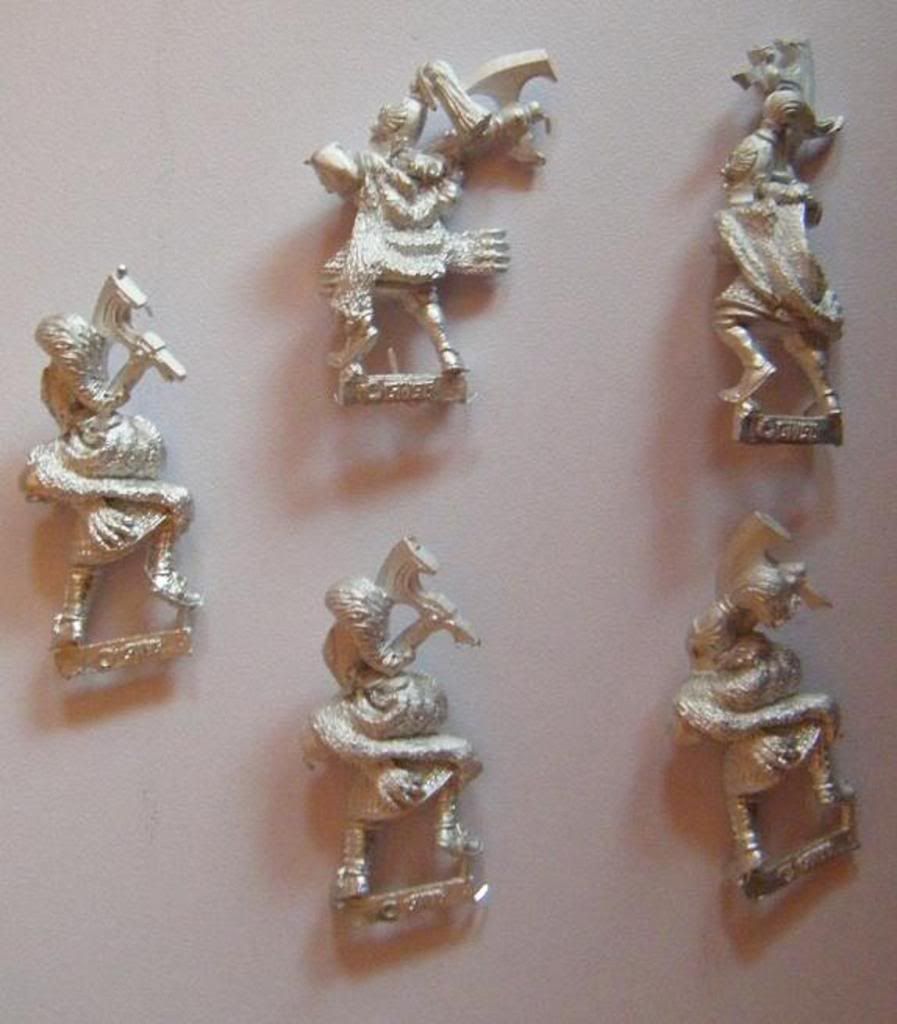 Metal reflects light ( he says stating the bleeding obvious), the best way to get a good clear shot of them is to give them a diluted Badab Black wash.
All Heresy Online's Forum rules also apply in the Heresy Sprues Database.
We have also come up with an Award for those that help us with this project as an extra incentive.
Quote:
Originally Posted by Viscount Vash
Sigil of the Scarab
Exceptional contributors to the Heresy Sprue Database earn this accolade.

Those that fill the Sprue Database with a substantial quantity of usable submissions will gain this Award.
Many thanks go out ThatOtherGuy for being able to take my nasty scribble sketch and turn it into a nice new shiny award, Wolf_Lord_Skoll and Cypher871 for their work approving and moving submitted images.
The location of the Database button can be seen in the image below.
---
Last edited by Viscount Vash; 06-18-11 at

07:15 PM

.
---
Thank you for the credit Vash. Always welcome to help.
---
---
Quote:
Thank you for the credit Vash. Always welcome to help.
nice job on the medal, brother! Almost as good as mine have been!
CP
---
Quote:
Originally Posted by
Commissar Ploss
View Post
nice job on the medal, brother! Almost as good as mine have been!
CP
Your just jealous of my amazing skills.
---
---
Quote:
Your just jealous of my amazing skills.
lol probably.
Great job though. I'll gladly step aside again to have you make another one.
CP
Powered by Squig Tea
Join Date: Jan 2007
Location: In da Toolz cupboard in da Mekshop
Posts: 7,589
Reputation: 53

---
Quote:
So if we were to submit a sprue, it would be as a picture attachment on this page? My stupidity is kicking in as I seem to not understand the uploading concept.
The image would be uploaded from your PC to the database itself rather than in this thread.
The Database itself is a gallery feature.
https://www.heresy-online.net/forums/sprues/index.php
Lower Navigation
Heresy Online Sprue Database