Scratchbuilt BFG Defiant
---
hi again,
i always find it hard to get my hands on ships of that class. so i decided to build one myself. i used a style a bit different from the original one but think it worked out just fine. it's freshly painted now and i'm quite happy with the overall result.
pic from the assembled unpainted modell. all spare parts exept for the prow which i sculpted in some putty.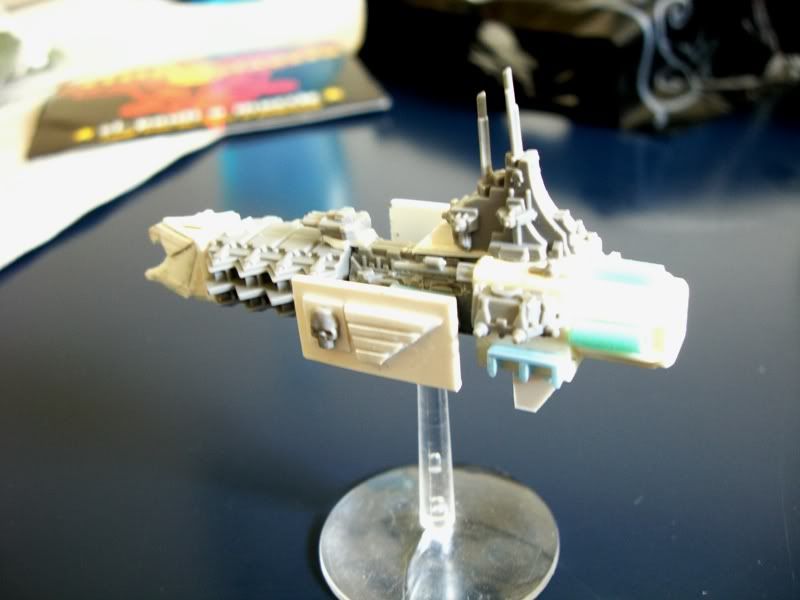 painted: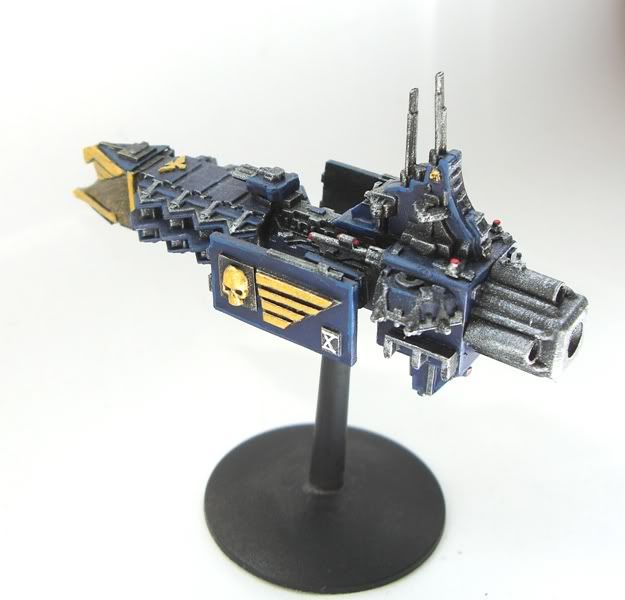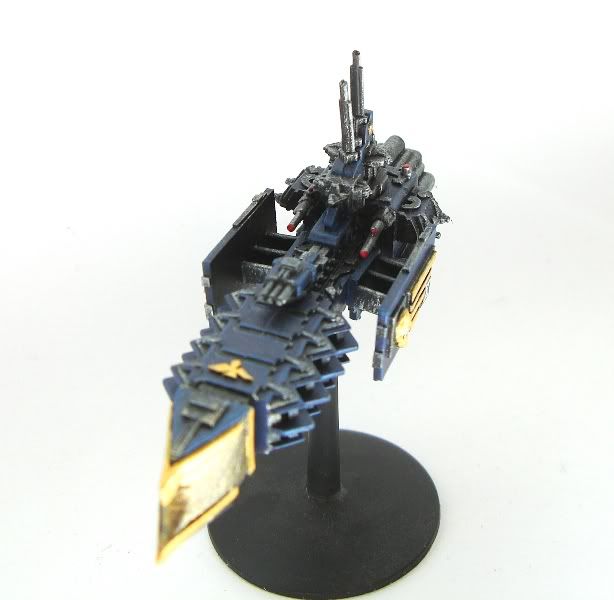 ---
Nice work there Graf Spee! A really crisp conversion
---
I agree. GW could not have made a better model!
---
you're all welcome to battle me one day. and die in hard vacuum
thanks for the rep jb..
---
one of my favorite ships done very well, a guide would indeed be nice.

have you attempted to make the other 2 sister classes as well yet?

and for the first time in a very long time +rep, because I love the defiant
---
---
mhmm, a guide for scratchbuilding bfg stuff? it's not that hard really. simply do not rush. wait for all parts to be at hand. only build small sections at a time. go for detail. that's it
well, i will think about something. maybe when i build my next planet or station.
i will post some pics of terrain i've already built, most of it is self-explanatory.
as for stellas question, no i haven't built any of the other variants. and actually have no intention to do so.
i normally use the defiant with a falchion squad in escort scenarios. they get busted 4 times out of 5, but it's very stylish in my opinion and i love the look of them together.
at the moment i'm in a civilian ship buliding frenzy. as i like those planetary raid scenarios, it always annoyed me that there is such a lack of unarmed vessels in bfg, since populated systems should be crowded with them. i like the idea of a raiders pack wreaking havok among the flocks of merchants, cargo haulers, piloting vessels, cutters, etc. so i'm going to build some tiny ships.
thanks squeek and stella for repping.
Powered by Squig Tea
Join Date: Jan 2007
Location: In da Toolz cupboard in da Mekshop
Posts: 7,589
Reputation: 53

---
Great bit of work.
A step by step build Tut would be great for the boards Graf. And Im sure you could always make use of more. lol.
Scenery and civvy ships guides would be great as well and BFG could do with some love in the Tutorials as well as Epic.
---
here is a pic of the defiant escorting a convoi of transports and merchants past a lonely moon. some scratchbuilt models included: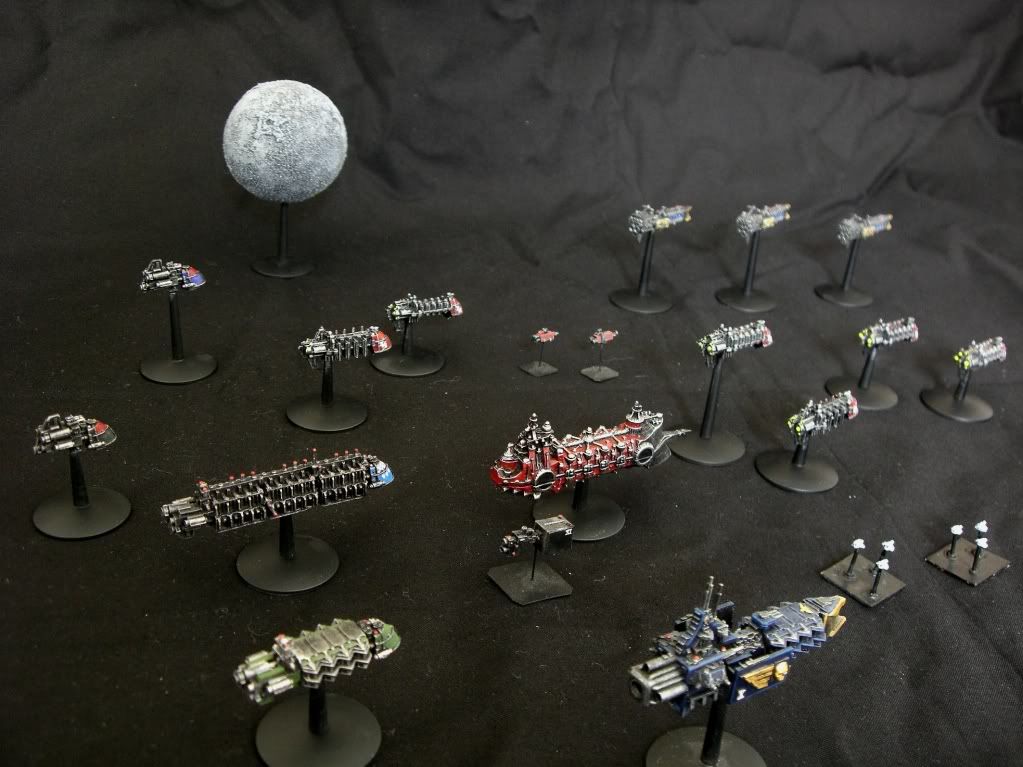 and just for fun.. an adeptus mechanicus research base deeply hidden in an asteroid field with some supplyships approaching cautiously through narrow gap. the base is protected by three asteriods which have been modified to house weapons.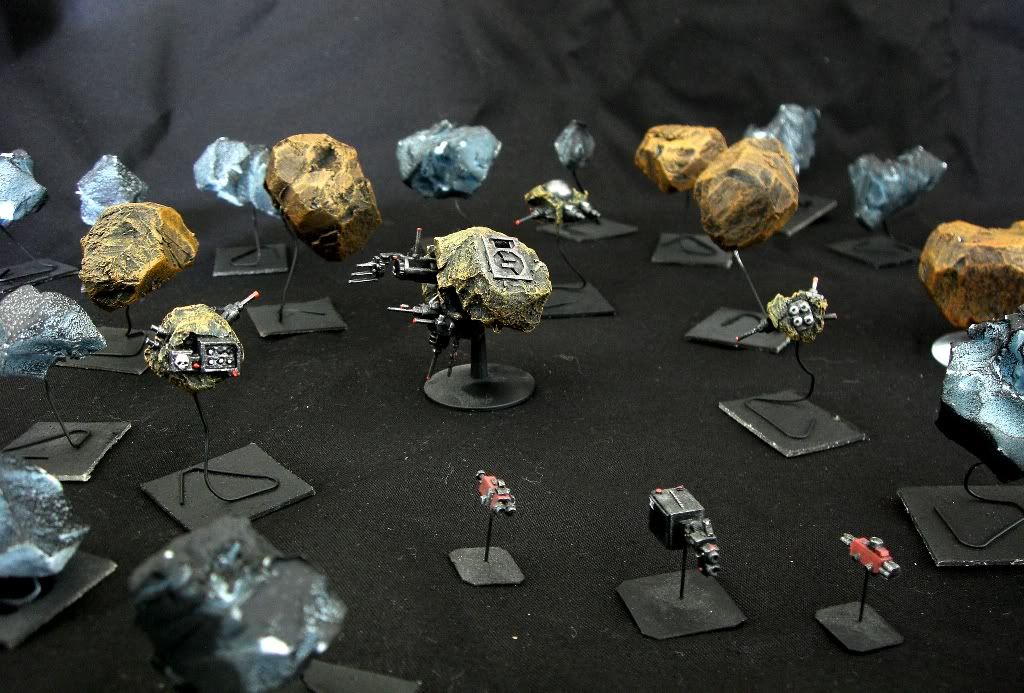 and a planet with hive superstructures.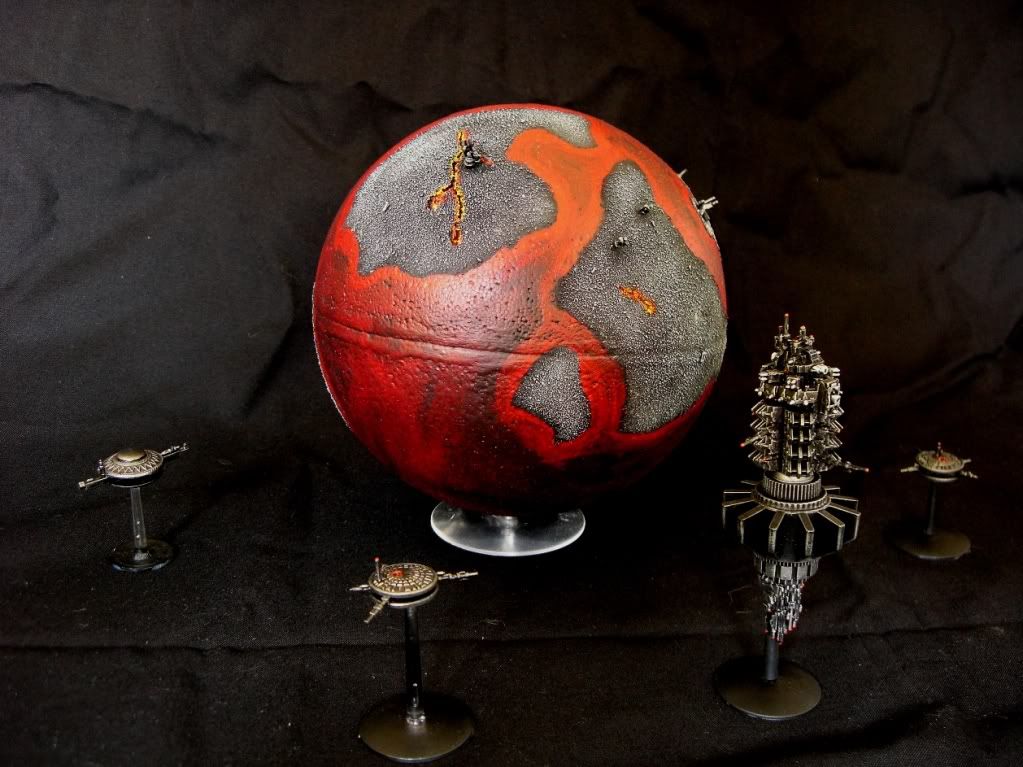 this is a nice example how things look when you forgot to sand the putty, which you used to fill the rim of the connecting halves of the planet.
will put up some more pics to the gallery later.
Lower Navigation
Scratchbuilt BFG Defiant