Scratch building Black Reach terrain - challenge!
---
Hi guys, along with the other threads on this topic (for a summary, see
here
- you may have to go to page 2), I'm going to ask if anyone has any specific but fairly simple techniques for scratch building the 'Black Reach terrain' - this includes:
1 - two craters, approx 6" across;
2 - a stand of (dead?) trees;
3 - a hill, about 18" long, 15" wide, with 2 levels;
4 - three small ruined Imperial buildings, about 4" by 6", with different levels;
5 - two 'barricade' structures, less than 1" high and about 4" long;
6 - a rubble pile, about 2"x4", up to 3" high.
These can I think all be bought from GW, but the point here is to make our own.
Please post piccies and a brief description of technique here, thanks awfully!
:very grateful cyclops:
---
"Well it's Forty-one Thousand Nine Hundred Sixty-nine OK -
Gotta war across the Milky Way - "
Iggius Popiscus and the Stoogii, "41,969"
---
Not sure if this is what you are after but here's a really quick tut on trees.
Cut an organic, rounded shape from really thick card for your base. Cut two and glue them together with PVA for a more solid base. Bevel the edge with a *sharp* craft knife. Slap some polyfilla on it to texture the ground a bit (this could be skipped if you are not a perfectionist), when dry paint it with a watery wash of Cadian Green. You should end up with something that looks like this: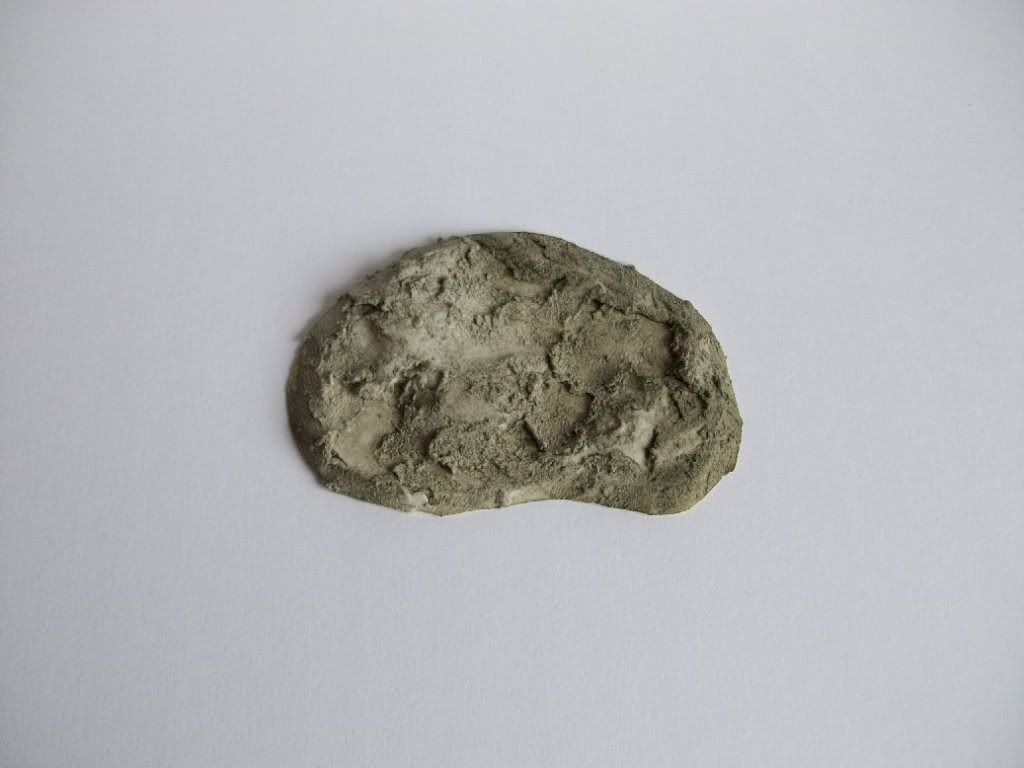 Then pick a piece of foliage from your ridiculously huge box of plants, which may include aquarium plants, seed pods, large bits of stuff from pot pourri, or those wooden plants that middle aged people like me think look good as an acceptable alternative to fresh flowers in a vase.* Your box of plants should look like this: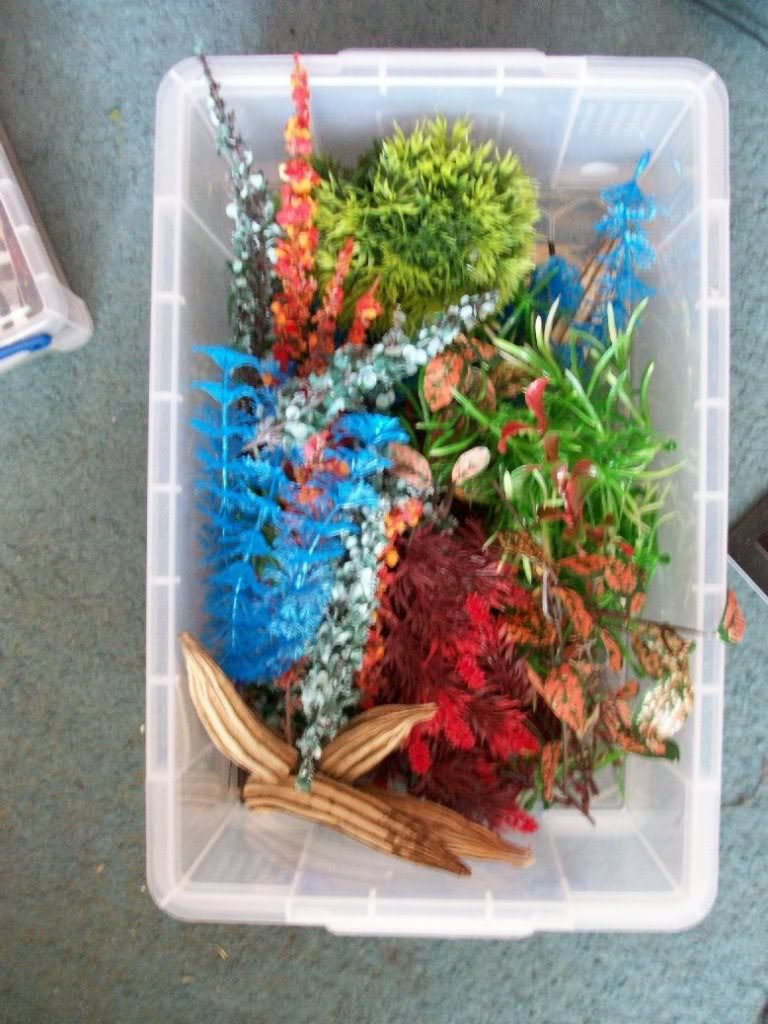 Using green stuff, affix the plant to the base. Repeat until you are happy with the effect: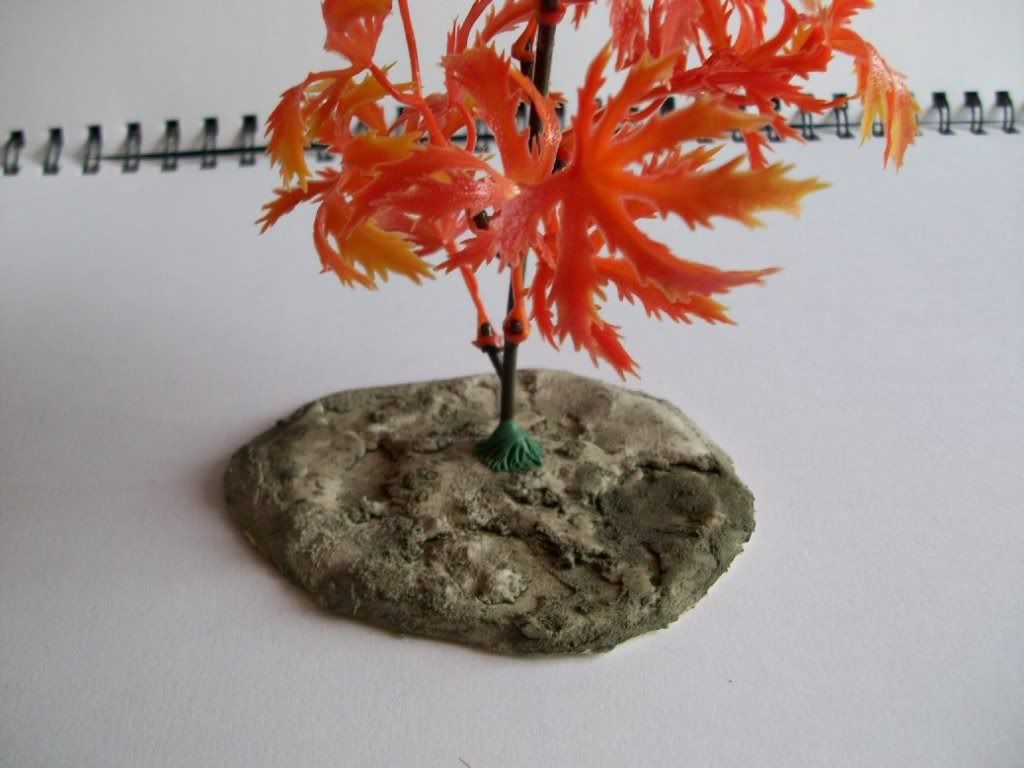 Then flock or static grass the base. If you have used a bit of imagination and different types of plants then it should look a bit like this: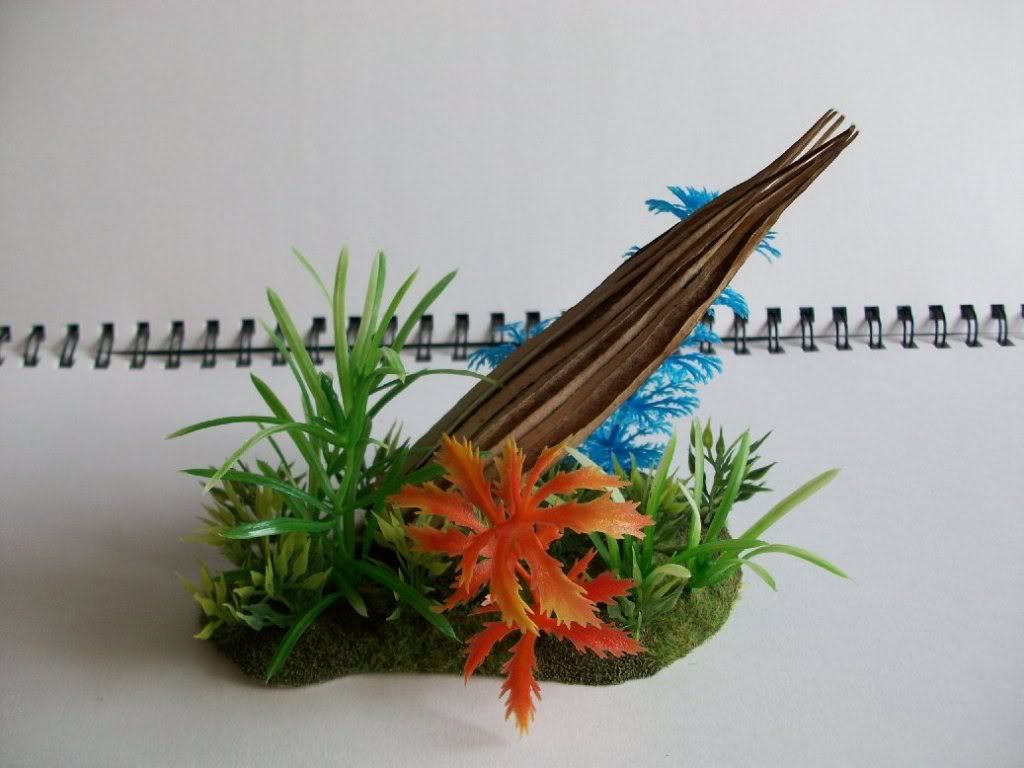 Try and get plants of different heights to make it look good.
Well, that's how I do it. Its an expensive way to do it with bought plants, but it's quick and I think it looks good. If you wanted to do a crater you could just use the polyfilla'd base with a little sculpting. Haven't tried it myself, but it should look alright.
HTH.
Jpunk (who should be revising but is painting a land-raider and listening to the creepshow. Whoops.)
*Disclaimer, I am merely middle aged, I don't like wooden plants as a form of interior decoration.
---
Last edited by jpunk; 04-23-09 at

01:02 PM

.
---
i posted a tutorial i'd tried for a crater, over in the tutorial section. mine is still sitting primed, and not yet painted
i've been too busy. i have 5 termies, 4 raptors, and a dreadnought(still need to finish the chaos conversion) to paint by the end of may for my son's 10th birthday.
---
I use leftover aluminium pie trays for making craters.
I turn them over and cave in the 'base' of them, then glue them to an old cd (AOL cds are perfect - I still have a stack of them). Paint them brown/sand or black/grey and flock/add gravel and they work well.

Larger (family sized) pie trays work well for larger craters. I used to do the foam wedge with polyfiller, but these are easier.
---
Hey! Where'd ... Everybody ... go?

---
Thanks chromedog - I saw a 'very similar' post in the 'Cheap Terrain thread' the other day and I meant to PM you to ask if I could 'borrow' it... don't suppose you've got any pictures? If you have that would great (even if you haven't, thanks for the tip!)

Kitsunex, I'll check out the tutorial; thanks for the info. Hope you get your stuff sorted for your lad's birthday, I'm sure he'll be well impressed.

Jpunk: brilliant tutorial, you win Star of the Week! Thanks muchly for that, I really appreciate it.

:thankful cyclops:
---
"Well it's Forty-one Thousand Nine Hundred Sixty-nine OK -
Gotta war across the Milky Way - "
Iggius Popiscus and the Stoogii, "41,969"
---
I'll get some pics up this weekend sometime.
I made two of each (brown/sandy and green black/grey) for a club tourney last year (they never got used _ sniff!)

Mind you - ALL of the rest of my terrain was used, so it wasn't too bad. :D

I learned much of my terrain know-wots from mates who are model railway enthusiasts who either also wargamed, or were SFX people (some worked on Farscape).
---
Hey! Where'd ... Everybody ... go?

---
I still think the easiest way to do piles of rubble are to cut up the sprues from your various models (Never throw this useful plastic away) into various lengths. This I usually due with either my sprue cutters or even some tiun snips. Then I mix that along with a healthy dose of heavier grade or a mixture of sand/flock and white glue until I have a nice thick mess. I usually mix this actually in the aluminum pie tins used for craters below. I then turn it out onto a precut bit of mdf or other handy base material, throw in some odds and end pieces of recognizable bits, such as doors, armor, legs, guns, lights etc. I kind of move things around while the rubble goo is still wet until I like the look of it then I let it all dry. A bit of painting and dry brushing later and you have a nice pile of rubble. I will try and post up some pics soon, never thought to take any of this. Hope this helps.
---
I tried doing the sprue rubble thing many years ago (way before CoD), but it was VERY time intensive. Several hours work for a cupful (my dad DID have one of those manual cast-iron meat grinders, but it was used by him to make his own mince and sausages, and he'd have skinned me if I'd used it - back then, the electric ones were rare, and no-one threw out the metal ones.)

That said, If I had one today, then I'd use it, but it's harder to find them here than it would seem. It's a good idea, but it may not be worth the effort of hunting one down.
---
Hey! Where'd ... Everybody ... go?

Join Date: Nov 2008
Posts: 173
---
For rubble Just cast a large flat peice of plaster (think its known as plaster of paris in the uk?) and just break it up into random peices. Glue it to plasticard and off you pop.
---
I don't know that I would consider it very time intensive making the rubble from sprues, as I have never considered it to be that difficult. I usually will clip the sprues up while I am sitting around watching TV and if you purchase a decent number of figures the plastic sprues you end up with produce a substantial amount of rubble. I could really not be bothered putting sprues through a meat grinder as doing it manually I can end up with about 4-5 cups of rubble while watching a half hour of television.

The plaster is a good idea too, maybe I will give that a try. I presume you must coat the plaster with some glue or something to keep the plaster from absorbing your paints and also to keep it from crumbling as it ages and is handled/stored.
Lower Navigation
Scratch building Black Reach terrain - challenge!