CircularGroupDisplayBases
---
Hey guys,
Not one of my better threads but still worth a little looksey. I thought I'd need some Display bases for when I wanna present in a showcase kinda way.
Basically round bases with a larger base to group them.
Firstly, 2-Up. Little steps in the middle, magnet too. So this is more for displaying in pairs, like a Verses Stage.
With the other base bits.
Some guys to give you an idea of size.
Ok boring I know sorry. Next, 3-Up.
What a mess. So those tank stoppers, getting sand bagged in. Ran out of bags, had to sculpt my own (which I think look better and more in scale). Will be adding barbed wire towards the end.
So they can be swapped over, rotated, or be on they're own. Just adaptable base units to help display future works. I'll do different ones at some point (Creators, ruins, rubble pile etc, and also just a couple of plain ones). Perhaps beginning's of a new game board for me and the Mrs.
Dusty
---
Hmm this is definately a cool idea, i may have try this out
---
True but i was planning on making the circle cut out's the size of my models bases, so that when they're on the shelf they look built into the terrain but when i need to use them i can just pick them up
---
Dusty's ill at the moment... we don't really have the space for a terrain board..and we are reluclant to spend money on terrain boards and would rather spend it on models.
The two-up piece, as mentioned before, is more of a diorama setting. And also by having holes on them you can store them on a peg.

LadyDusty
---
Looks neat so far Dusty. Looking forward to seeing these employed soon.
Join Date: Nov 2007
Posts: 113
---
not a bad idea. i do prefer to make bases and displays as i need then though. you know, custom.
---
Hi guys,
Pretty much done the 2-Up. Needs painting. Here's with just plain inserts. So to display larger stuff of just without fluff.
Here's with the Vs stands
Now with some fellas
Round 1....Fight
Needs a Ref to stand on the steps at the back. Shoulda' used Gandalf!
Now a shot as a seperate stand-alone base if required.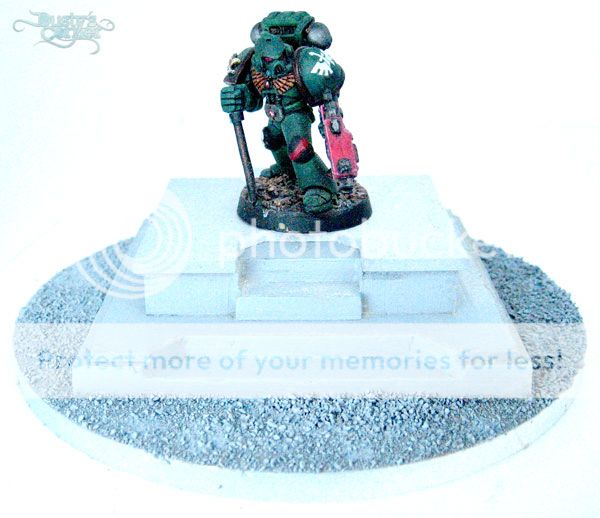 Now the 3-Up. Been slowly adding nic-nacks, got some guns resting. Some ammo boxes. Need to add some bullets and a little more sand. Added the wire too. Looks pretty barbed up now. Got stabbed a few times (if your diabetic and do finger-pricking, ya ain't gonna care much - opportunity for a blood test).
Well, still need to do a centre piece and plain inserts for the 3-Up.
So hopefully these displays and in all it's variations will pop up in pics to help jazz things up a bit sometimes. Don't worry I'll try not to go over the top, I'm sure people will get quickly bored seeing the same display stands. But just don't be surprised if I find a model that's suits a stand.
Anyhoo.
All the best,
Dusty
---
Last edited by Dusty's Corner; 04-16-09 at

03:35 PM

.
---
Hi guys & gals,
Started to paint the 2-Up. Pretty much done. Need to drybrush the surround part a little more, but the insert parts are done. Just the lower rim to tidy up.
Without the stand-inserts;
Now playing around with some bits. The little silver/shinny thing is that little pet creature that comes with that Chaos character who has a (flamer?) in his palm. (shoot, I don't know the name - it's one of LadyD's). But in terms of display, using 1 plain and 1 stand-insert - variations.
Got some more things planned for this. Oh and they'll lead/tie into Red Orc base request hopefully. BTW Red, not sure if these themselves would be of use to you. Maybe they're a little large for objective counters/markers?
Moving on....3-Up
Added bullets, some more dirt, and a flag pole. A little unique - semiflex and removable. The Angel icon at top has had it's feathers (You know what I mean) cut out. Still undecided whether to put an actual flag on or not.
Here's the other one. Although looks very similar, this one has no guns instead ammo boxes and some larger shells which look rather....well...
So they're about ready to get painted properly. The surround still needs more work. I might leave the centre hole blank - put one of those plain one's in. When I get some time, I might put a weapons platform there.
Adios amigos, got heavy sanding to do.
All the best,
Dusty
---
Hi all,
Sorry it's been a while. Ok straight to it.
This pic is for the 2-Up, basically grouping regular 25mm bases. I was thinking grave stones mainly but could put pretty much anything/squads on there. Need to do plain inserts for these (14 of them...thinking about it 7 plain, 7 with various stuff - Red Orc, beginning to cross over to objective counters.
Now the 3-Up (btw the 'Up' term is a print industry term).
Lots of painting to still do, so I better get to it.
Adios guys,
Dusty
Lower Navigation
CircularGroupDisplayBases