---
Quote:
yes getting grass right is quite difficult...but with a bit of terrain of it you can hide most of it, and the bits you cant actually fits quite well.
Agreed, grass is a pain. It falls off in clumps, sticks to models, makes a damn mess and still doesn't look good. This is why I'm going for a new rocky approach, similar to the photo i posted. Easier to maintain and still looking awesome.
---
Base in grey, buy some cheap black acrylic and water it down and wash the board heavily then dry brush up. The rest of what others have said is very true, 4 in brush to wash and dry brush. Cheap paint. Don't go for to many colors.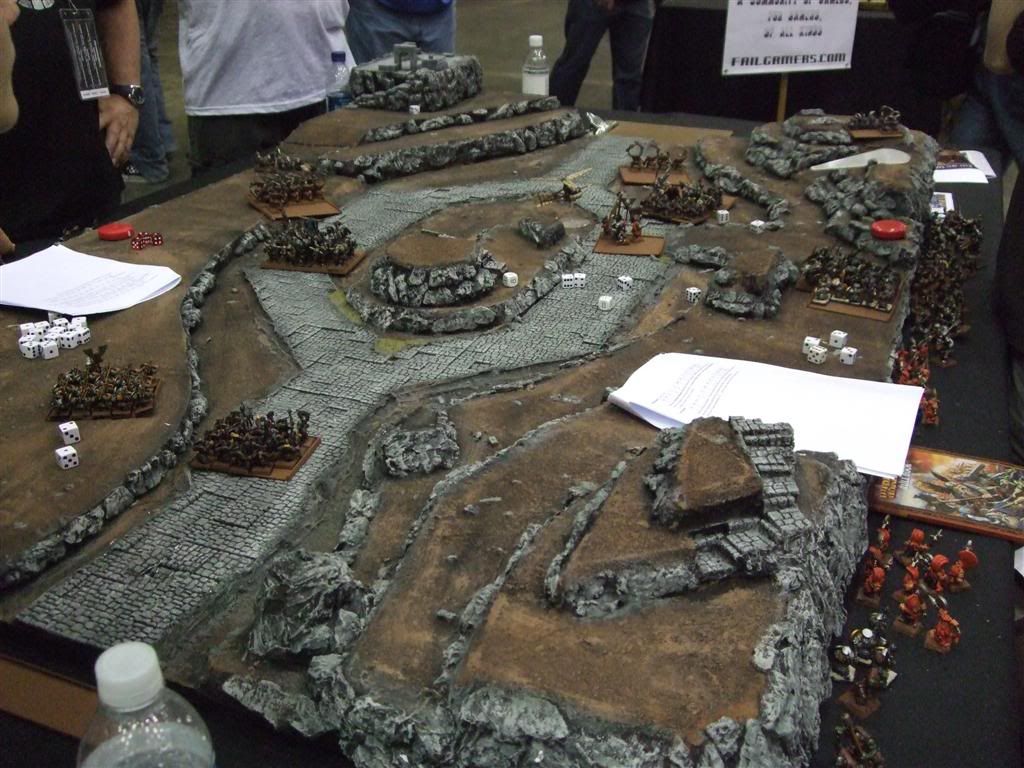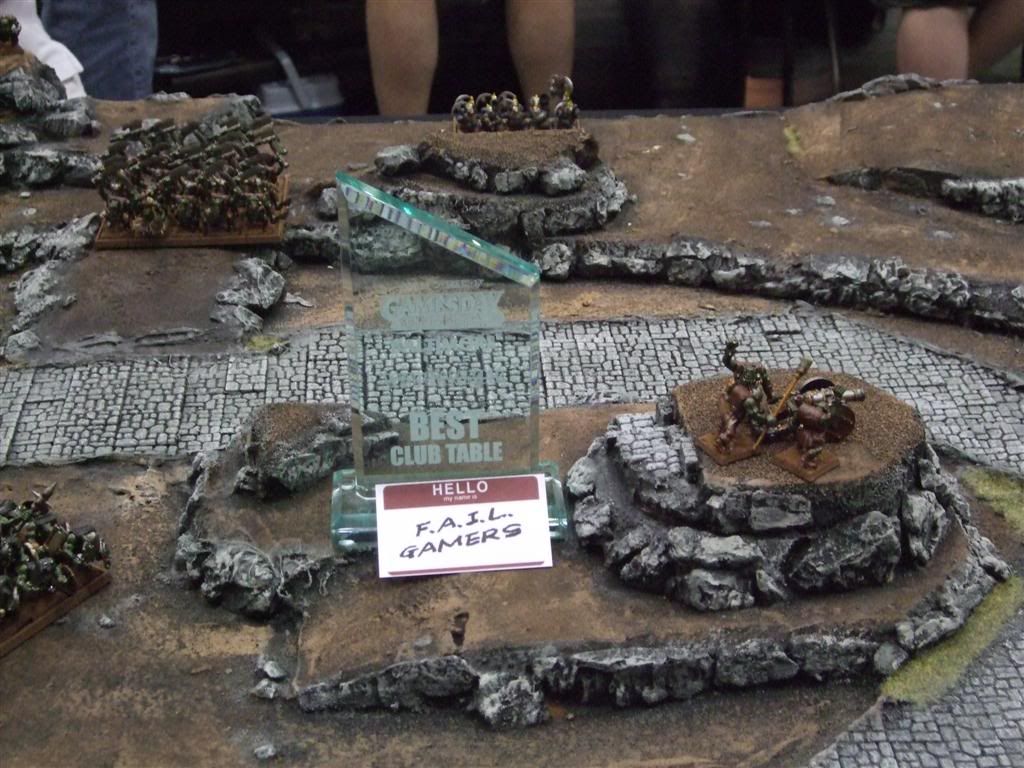 ---
Last edited by Djinn24; 07-05-13 at

05:51 AM

.
---
So I finally got around to getting this one done, and I wanted to thank you for all your advice by showing the finished result.
This was all done today, including the terrain (building and blockades have only gotten metal and wash so far - Everything else is as it should be.
A little tip for those of you considering the same, and want to get rid of the grass; Just shower the plates in hot water. You can practically wipe the grass off with your bare hands!
Once again thanks to everyone who contributed here in this thread. I used a little from each one of you for this little project and it looks ace!
---
Looking good! Thanks for the tip, one day it will come in handy I am sure,
---
Since a few people have asked for a step-by-step guide to do this, I thought I would share this with everyone.
It's alot of "measure by eyesight" though, so it might end up a patch different when you do it - But it should be almost the same.
Tools used:
1 x 25 cl Black acrylic paint
(Bought in a hobby store)
1 x 25 cl White acrylic paint
(Bought in a hobby store)
1 x 25 cl Dark brown (burned umber) acrylic paint
(Bought in a hobby store)
1 x Light brown
(either buy this along the others or use the one in the scenery pack from GW. I used the one in the scenery pack)
2 x Black primer
(GW/Armypainter/equvalent)
1 x Sealer spray
(Armypainter matt)
1 x large brush
(roughly 10 cms in width)
1 x medium brush
(roughly 6-7 cms in width)

1 x patience
Method:
1) Prime the board in the black primers. You should be able to prime roughly 3 squares per primer bought in the standard size, including the sides of each square.
(Good tip; Don't try to paint the raw surface with standard acrylic paint, as it will slide off and not cover. It's a mess)
2) Once they are all primed, put the board down all together. Now the mixing begins.
3) Start off with a very dark grey - I believe I did something along the lines of 1/5 white/black. Drybrush the entire board with the large brush. Now you have a very dark board, with a few texture marks.
4) Add a bit more white to the solution, so you have a 2/5 white/black mix. Now you drybrush, using the same large brush, the edges of the mountains, the cracks on the ground and the stone paths. Drybrush a large area around them, and don't be stingy. If done right, you will notice that it doesn't spring out too much, but you got some attention on the areas from a few feet away.
Important tip; Never go to the edge of a square with this grey or any of the lighter ones. The goal is to have all edges the dark grey, as then you can put the board together in any way you wish, without having some funky transitions between colors. The only exceptions to this are the mountains, which is the reason why you put down the board before you start painting.
5) Repeat step 4, 2 more times, adding 1/5 white more to the solution, and covering a smaller and smaller area on the highlighted parts. You should end up with a near 4/5 white/black mix, making it quite light.
6) Final grey step, add 2/5 white, so you end up at a 6/5 white/dark ratio. Take the medium brush and drybrush the edges very (!) lightly with extremely little paint on your brush. This will give the grey areas on the board the final sunlight touch.
7) Now, unto the brown parts. Don't worry, this one is quite easy compared to the grey.
8) Take the dark brown, and depending on the color and darkness of it, add a little black. Not too much though.
You will notice, before you begin drybrushing with the large brush, that if you step away a few feet from the table now, there are large spots where only the very first dark grey are present. The board probably looks a little... blochy by now. See where there are large dark grey spots; These are the places where you will place your dark brown.
Drybrush large patches of the dark brown, where they will fit. Once again, be carefull that you don't hit the edge of the board. Stretch them out a bit, not making them entirely square or round, but rather likes streaks.
If you're terrified of this stage, look at my board for inspiration as to where to place these spots.
7) Once this is done, mix the lighter brown into the dark. go for a 50/50 mix, so you get a much more leathery look from the brown. Drybrush the large spots in the middle, covering roughly half of the spot from the middle and out.
8) Let the paint dry, while you take a smoke/eat/whatever
9) Seal the board with the matt sealer and enjoy your new gaming board
I would love to see everyone elses boards, if nothing else, then for inspiration.
Enjoy!
---
@
Jangalak
Here's some ideas !
Great thread btw. looking at making more cover myself
---
Great write up @
Nordicus
. I will certainly be referring to this when I do my own battle board in the not too distant future.
On this I personally intend to do is to put something on the hill slopes. Even after painting I can still envisage figures sliding down the hills.
---
Your toast has been burnt and no amount of scraping will get rid of the black bits.

---
Thanks! I'm glad you could use it
Perhaps I should add this to the beginners guides as well, that we're collecring tutorials for.
---
I would certainly add this to beginners. Its simple and straightforward. Well done. can't remember if i reped you for this or not so here is some more ;)
---

---
---
Check out my IG painting blog
The Emporers Feth
Check out Hocky's IG Project Log
here
(The Emperor's Feth 2)
Lower Navigation
Tips and guides from painters needed: Battleboard!