Junior Member
Join Date: May 2013
Posts: 7
Reputation: 1

How to Cut MDF for Scenery base?
---
Hi all, this is my first post ever, hope someone could help my question, would be really appreciated. As title, I am planning to build some scenery based on MDF irregular round base. I can get some 5.5mm MDF from my friends's factory, but have difficutly cutting it out, what kind of tools is best used on this kind of work? Thank you!
---
First up, welcome to the forum! Hope you you like it here.
Right down to business. The best tool I would say is a jigsaw. Looks like this:
You can pick up a cheap one from your local hardware store for probably about 20-50 bucks. Its basically a fast saw on a vertical angle that you can control the path of the cut by where you move the tool. Pretty simple and idiot proof unless you like using it in your lap.
Depending on how much you are cutting and your budget you could use a Dremel. This isn't what they are designed for but I did use mine to cut some MDF about that thickness yesterday when I was making my kitchen skaven proof. A Dremel is this:
and it will soon become your best friend for minis. I use mine sooo much. It's like a drill but instead of using torque they use speed. Most commonly used for grinding and engraving they are actually an amazingly multi purpose tool. They are expensive (Mine retails at about 200 NZD) but my god it's worth it. They take a varity of attachments or "bits" and to cut the MDF you want the cutting disk attachment.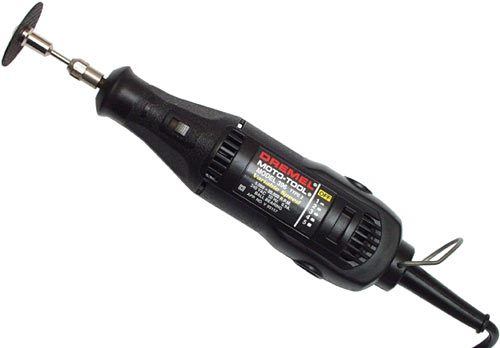 Cut the basic path you want and then I used one of the those ever sharp serated kitchen knives to finish the job. You could use the Dremel but I didn't because I'm running low of blades. It's not as clean a job as you would get with a jigsaw but if you have a choice of only one tool to buy out of either a jigsaw or a Dremel I'd take the Dremel.
Hope that helps.
Junior Member
Join Date: May 2013
Posts: 7
Reputation: 1

---
Thank you Jacobite! your answer is great helpful for me, I am probably going to try out a jigsaw first. I have one more question though, how may I chip the edge for that slope angle? Can a jigsaw achieve that or I have to get another specific tool? thx mate!
---
Sure thing. You
could
do it a jigsaw. I wouldn't though, sounds like a recipe for it ending up in some body part just because it might flick up or something. You could use sand paper... but thats the hard way. You could use an angle grinder with a sanding pad or a belt sander.... but thats another tool to buy and it'll through nasty ass saw dust everywhere.
What you want is one of these:
It's a rasp that specially designed to work on MDF but any rasp will do. You scrape that along the edges at the angle you want.
Junior Member
Join Date: May 2013
Posts: 7
Reputation: 1

---
Cool! seems a lot easier (and cheaper) than using a jigsaw, thx mate!
---
Sorry, you'd still need the jigsaw to cut the MDF to shape but the rasp would do the job of getting the angled edges.
---
You can adjust most jigsaws to cut at angles.

Also clamps would be a good idea to secure the workpiece to a bench.
You can also use clamps to add a guide rail to keep cuts striaght.

A dust mask will also help protect you from dust. MDF dust is pretty bad for you.

Before you cut, check nothing is in the path of the jigsaw blade. Clamps and power cable and bench itself must be clear!
Make sure you're using the right kind of blade to cut MDF/wood. There are also blades for cutting metal or plastic. It can be a good idea to buy special blades which might cost more but make the job so much easier (works out cheaper in the long run anyway).

Jig saws are tiny beasts, so make sure you have a good hold on it, and cut slowly and keep it on the surface of the material being cut. Don't lift up during cutting otherwise you'll bend the blade and the jigsaw will jump around in your hand and scare the s**t outta you.
Keep focused, don't allow the noise or vibrations to distract you and you'll have good cuts.

If you want fancy edges, you'll need a router will router bits. But you'll still need striaght flat edges for the router to work along.
---
Last edited by Dusty's Corner; 05-16-13 at

10:12 AM

.
---
---
HUGE BITZ RESTOCK NOW ON
Junior Member
Join Date: May 2013
Posts: 7
Reputation: 1

---
Thank you for all the advises, I am really appreciated! very kind of you guys.
For Da Boss
Join Date: May 2008
Location: new zealand, the land of the long white cloud
Posts: 2,156
Reputation: 4

---
with the right amount of control, or templates, you cant go past a router.
plunge routers are best, and you can get all sorts of different cutters for them, rounded edge, 45 degree etc etc etc.
theyre great for making 1 foot squares too, using a guide and a straight cut bit is ridiculously easy, and safer than table saw, like so:
---
omgitsduane's # 1 Fan
Russian Winter Guard Thread
---
Last edited by dirty-dog-; 05-20-13 at

08:38 AM

.
Lower Navigation
How to Cut MDF for Scenery base?