---
Here is my vendetta
I just freehanded the teeth pattern - its not as difficult as it looks. If you look at jangalaks guard project log he cut out a template to put the Aquila on his vendetta. I think he shows you exactly how he did it too.
With regard to weathering, as you can see I heavily drybrushed my vendetta and am going to weather it more by painting boltgun on the edges of the wings etc and badab blacking them. This should give the impression it has been up in the air a few times.
With the engines I boltgunned mine and badab washed them. Again jangalak drybrushed his with vermin brown I think to make them look rusty. On the edges of the engines where the burners are I drybrushed chaos black, then kemri brown and washed with Devlan mud to give them a burnt look. This is an older photo and I've improved it a bit now but you get the idea. Hopefully a bit of food for thought anyway as there are plenty of ways to do these things, can't wait to see what you do!
---
The quickest way to a traitors heart is through his ribcage - Commissariat Mantra
Check out my IG Project Log
here
(The Emperor's Feth 2)
Check out Jangalak's IG Project Log
here
(The Emperor's Feth)
---
Last edited by hocky; 10-25-11 at

04:46 PM

.
---
Quote:
Originally Posted by
Angelofdeath690
View Post
@Hocky:
@TKK: Where do you find those templates? It looks interesting to try, if not on this Valkyrie maybe on the next one.


Im also curious how people go about making the engines look more used and like they have been fired up many times?
Just look up 40k aquilla on the internet, put one in word, make it the right size and cut the wings off
---
'Luck is the residue of design.' - John Milton

'Let the world tremble as it senses all you are about to accomplish.' - Luís de Camões
---
@hocky: That pattern looks really nice and its free handed too! Ill try some of those suggestions on the engines and see how they come out. Hopefully it will look good and I won't mess it up.


@TKK: I might use that on my second Valkyrie when i buy it XD thanks!
---
I have been a bit busy and haven't been able to do much painting but I did manage to sort out my shipment of Valhallans I got and arrange some of them into units for an upcoming battle. It shall be their first run and although they are not painted up completely yet and far from finished as I have to remove the paint from the old figures that I received I wanted to post up some of the units heading out into battle in the coming day.
Not all of the can be shown since some of the units are being proxy'd due to me lacking the ability to get ahold of the pieces in time for this fight.
First up will be the Col. Kasteen and her command squad. Major Broklaw is carrying the plasma gun as the rest of the squad forms up along with their command chimera.
Following up the Colonel is the 3rd infantry company lead by Lieutenant Jenit Sulla and Commissar Cain w/ Jurgen.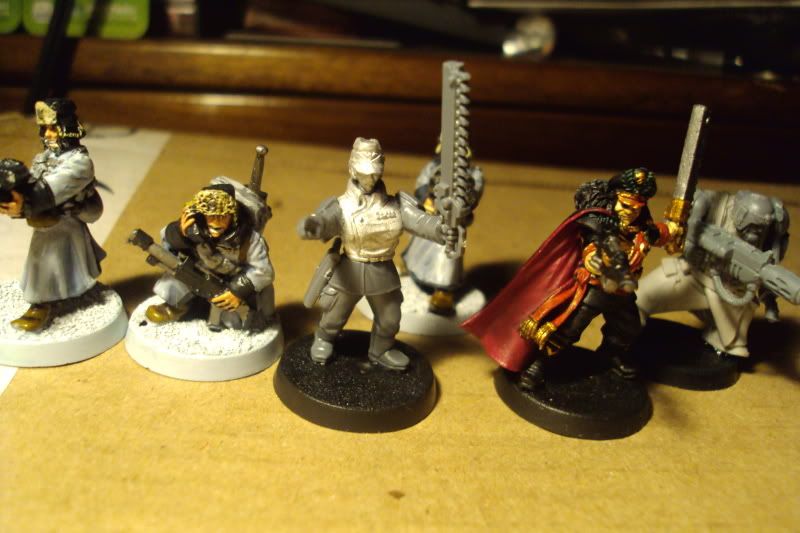 1st squad and 2nd squad are following them up with a special guest figure. My Inquisitor Vail subbing in as a Commisar with a power weapon and bolt pistol.
The company's heavy weapons teams are an assortment of weapons.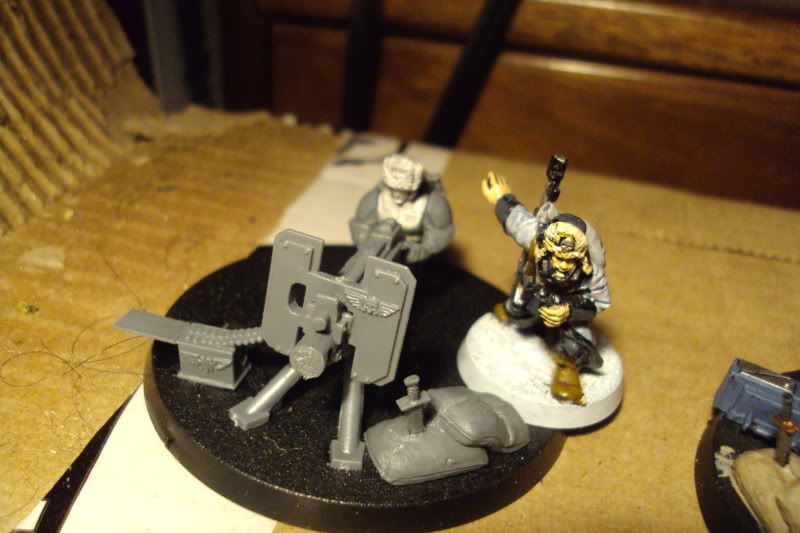 If anyone has any good tips on how to use greenstuff to form the hats I will happily replace all the helmets with them.
I am hoping for a good fight and I will try to take some pictures of the battle and bring a first victory for this army.
---
A bit of an update, after a evening of rough battle the 597th made it out with a victory. I will be putting a battle report up and linking to it here but for now my brain has to soak up what happened. I will say that you can never have enough las-cannons or heavy weapons. Also hot-shot lasguns are so much fun against space marines.
Now for the update itself I have managed to finish up the valkyrie i had started and added some basic decals. I decided to not do a full body decal on this one since its the first and I wanted this one to look 'normal' for lack of a better word.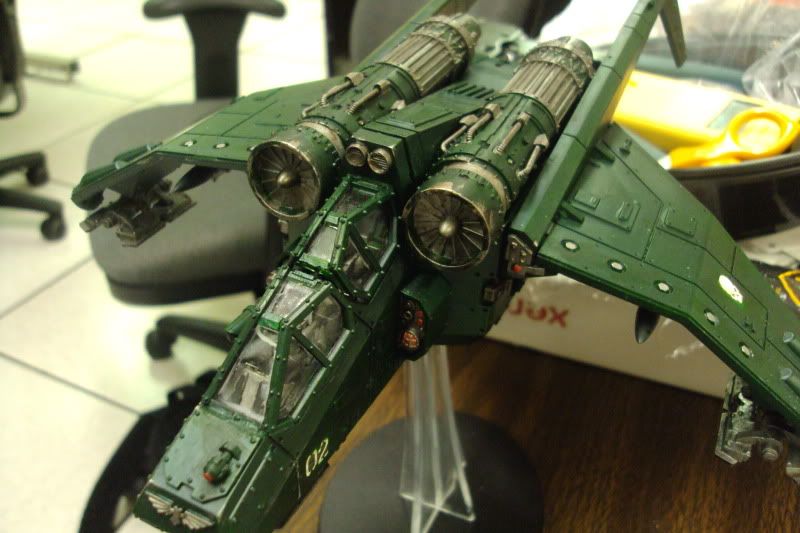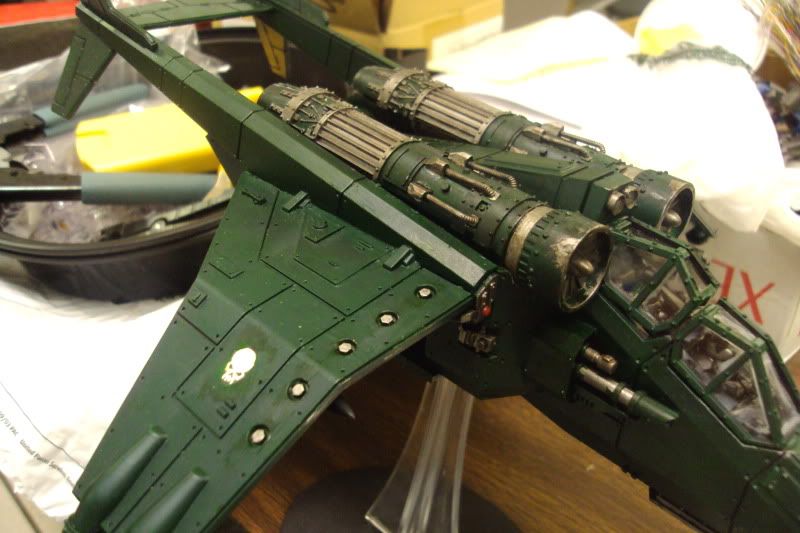 I tried to add a bit more wear to it using some devlan mud and badab black washes to wear down much of the metal shiny. I couldn't get the decals to stick so i ended up using some paint to adhere it to the body. if there is a better way I am willing to hear it. Other than that any C&C is welcome!!
long late update!
---
Its been a while since my last update, I couldn't get enough time to properly do much aside assembly and a couple games that I went mixed ways. But I made sure that I at least did pick up a couple new figures and finished most of the paint job on Amberly Vail.
To start I introduce Inquisitor Amberly Vail: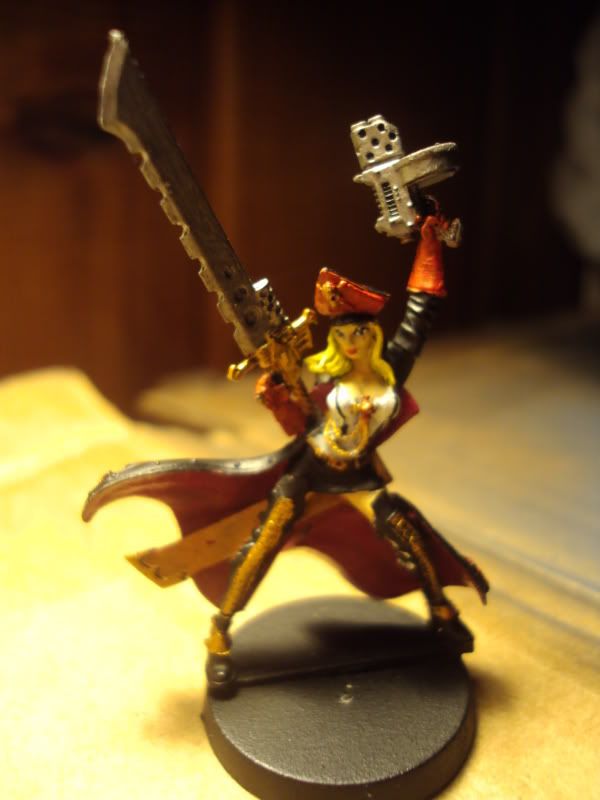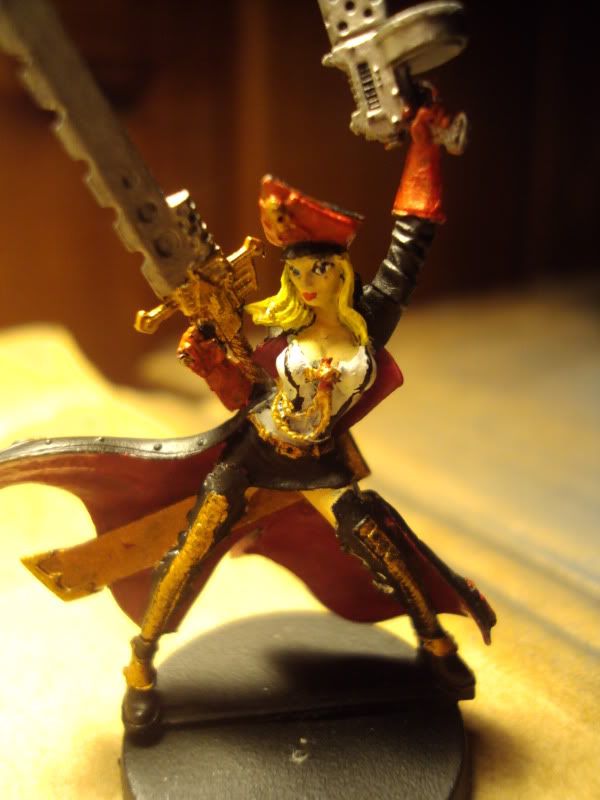 A back view as well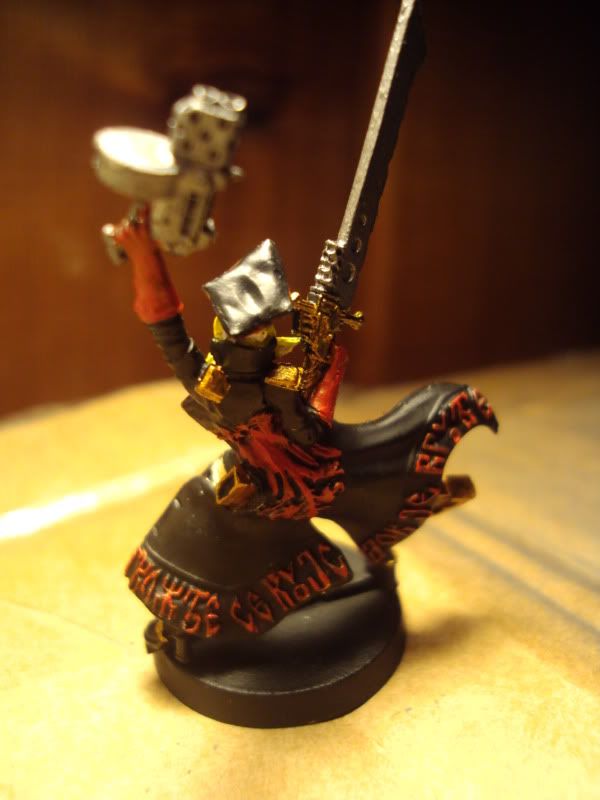 I tried to paint the cross on her chest into a more fitting inquisitor style image and the base for this model escapes me due to the odd raised bar that I couldn't get rid of when i put it together.
As for new figures I picked up an Engiseer and Guardsman Marbo.
The engiseer seen here with some light paint work already in progress will be given a few extra bits hopefully. It might end up going to the second one as this one could become the primary style for my engiseer core.
As for Marbo I am unsure if i want to keep him as the imfamous Marbo or make a special character out of him (still using his rules). For now he will be Marbo and get to fight as seen in this picture with one of my old Carnifex's on a shelf until I am ready to make an attempt on him.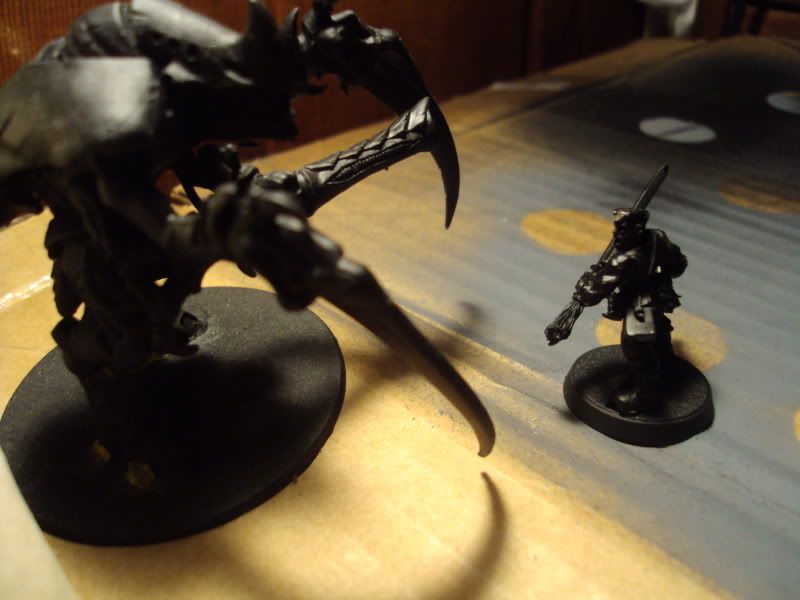 Thats it for now, I am going shopping (yay more tanks!) and will start to test out my new Spray gun + Compressor that I have. I hope to have some pictures of the armored units once they atleast have been base coated if not already painted up!.
As always C&C is welcome!
Senior Member
Join Date: Jul 2010
Location: England
Posts: 192
Reputation: 1

---
To be honest mate id love to give you c and c but I find if really hard on logs like this as its hard to tell what you have completed and what's not.
---
---
Hmm fair enough, I guess I should try to make it clear which are finished and what stuff are just getting started. Is there a good way ( aside making it separate posts) to organize it for easier viewing? My comments on the C&C are mostly for the stuff that has been actually painted a good deal or if there is modifications done to figures to fit a specific design.

Ill try to post in a clearer format from now on to make it easier on the readers.

(Also the first figure of Inquistor Vail is finished aside doing the base)
---
Squad broken!
-Female Commissar arrives
MORALE RESTORED!!!
---
Win/loss record for The Fists of Vengeance- 20 - 1 - 8.
Hive Fleet Kraken- 7 - 2
The Unnamed Clan- 0 - 0 - 0
Senior Member
Join Date: Jul 2010
Location: England
Posts: 192
Reputation: 1

---
Ok well the first comment on Vail is that it looks very nice try and resist the temptation to post completed models without the base done as its a real let down just go the extra mile finish her off so we can see her in all her glory its worth it, and try to take pictures in natural light by a window as I would wouldn't like to comment on the painting to much until I can see it a little better, but all in all she looks a well painted colours go well together anger face looks well detailed. Your vendetta looks pretty cool, have you used it in a game yet?
---
---
Last edited by rich11762; 11-16-11 at

12:00 PM

.
Lower Navigation
597th Valhallans