---
Just a another quick update since i haven't done one in a while and ive been slacking a bit on putting stuff together.  I appologize greatly >_< Thou i dunno if anyone has been keeping up but that being said!
I have been assembling (and disassembling) stuff that I got with my large package and have been putting together weapons teams. I dont have any pictures of them yet but once i ge t them put together (and some paint stripped from  models) ill put them up.  
On to the important things! I recently got the ord er having the bits for making my Jurgen.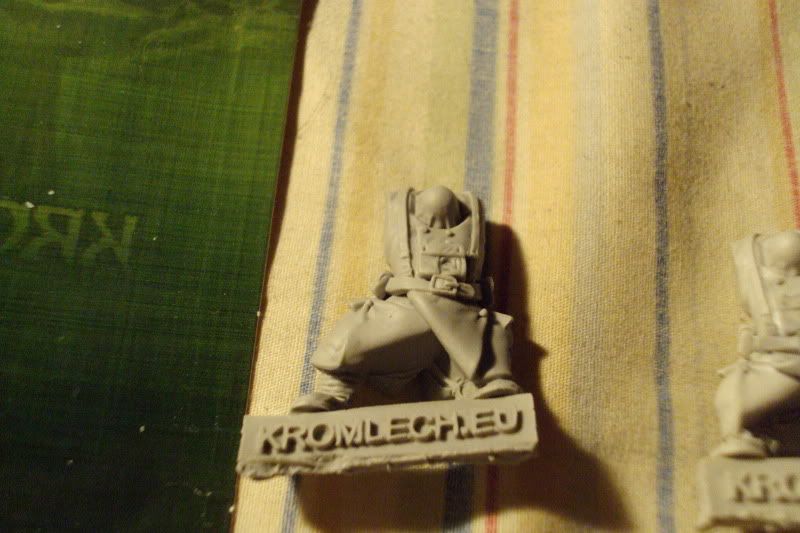 I think they look really good and while looking fo r a kinda larger body frame for him I came across  some ork bodies with coats.  I decided to give the m a shot and they arrived today.  I had debated on  using an ogryn's head with this but i decided aga inst it and with a bit of cutting And some difficu lt hand choices I have introduce Gunner Jurg en!.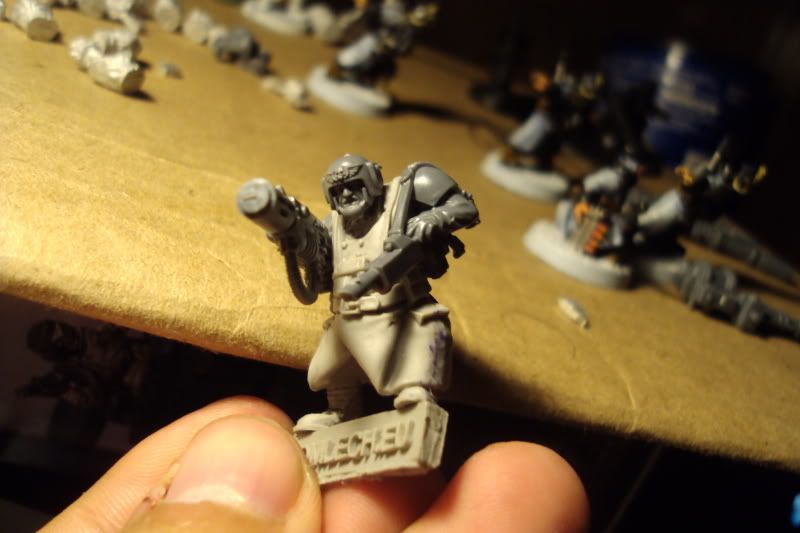 I like the hunched look of it, thou i worried abou t the arm since i couldn't decide between one wher e i green stuff some hanles to make them reach or  go with the lasgun slung one.  I decided on the la sgun but any critic on it is welcome.  Also in the  background you can see some of the staging area f or the weapons teams that haven't been assembled a nd stripped of paint from their old colors.
Thats all for now, hopefully i get the command squ ad done and Jurgen primed and painted so he can jo in Cain as he usually would.  Also does anyo ne know a good place to get a salamander from for a g ood price!XD
((Sorry for the text changing part way through pos t, my language Button turned to different style of  english >_< trying to change it back now!))
---
I'm assuming they are Kromlech's storm coat ork bodies? If so, I gotta say, Jurgen is looking slightly... mutated.
---
They are and actually I wanted him to look slightly mutated. I dunno if i went to far but every one of the stories i read he was either ugly enough to scare most anything in the universe (cain's comment) or considered to be on the level of a nurgling. I felt that he was sorta like a hunchback image so i thought the larger ork frame would do well to represent this but I wanted a coat look to match the Valhallan look.

Would it have been better to use maybe a Valhallan head? lol
---
Hmm, I'm curious since you wanted Jurgen to be shorter than Cain, how does this scale to the Cain pictured earlier?

As for the rest of him--I think the underslung las is fine since Jurgen was always armed, sometimes a bit more than with what Cain was comfortable with.

I do have an issue with the helmet though. I'd strongly consider the Valhallan one (or greenstuff one onto the helmet).
---
Here is a picture of the two side by side, he isn't as short as I wanted but because of the way the head sits he is shorter than Cain.
As for the head issue, i had debated over which head to use. If i want to use a valhallan head but i lack any spares that I could cut off without a better cutting tool. Ive never used greenstuff to try and make a hat. Ill see what i can come up with to make it look better.
---
Well, having them side-by-side does really illustrate the differences in build. I'd have to say that you succeeded with a short, burly Jurgen to Cain's Hero of the Imperium good looks.
---
I like Jurgen being too different. Remember on the table you are gonna have at least 70 models in a decent sized guard army - vehicles included - so if he is different he will stand out that little more so you can recognise him. Well done on the valk, I paint mine with just a brush and know how difficult it is to not get brush marks on the paint. Could do with a little colour to break up the green though it looks a little bland. Maybe some weathering, some boltgun on edges washed with badab or drybrush the edges more with a lighter green?
---
I did this on my valkyrie and im not a good painter by any means
http://s1188.photobucket.com/albums/...IMG_0002-1.jpg
Sorry on phone cant get a pic in
All i did was trace a template i printed off and used electrical tape along the edges to make a straight line
Btw its not rust, its dust Lol. (i get too many 'oh is that rust' comments)
---
'Luck is the residue of design.' - John Milton

'Let the world tremble as it senses all you are about to accomplish.' - Luís de Camões
---
@Hocky: I agree with the thought, i haven't added the decals yet as I can't find my knife to cut them. Are you suggesting something like making it look more worn by putting the bolt gun on the edges?

@TKK: Where do you find those templates? It looks interesting to try, if not on this Valkyrie maybe on the next one.


Im also curious how people go about making the engines look more used and like they have been fired up many times?
---
Nice conversion on Jurgen . Dont forget about mold lines ( Helmet and guns). Damn mold lines , we all hate them !
Lower Navigation
597th Valhallans