---
Da Gorkaforta Part III
First stages of the main tower dryfitted together.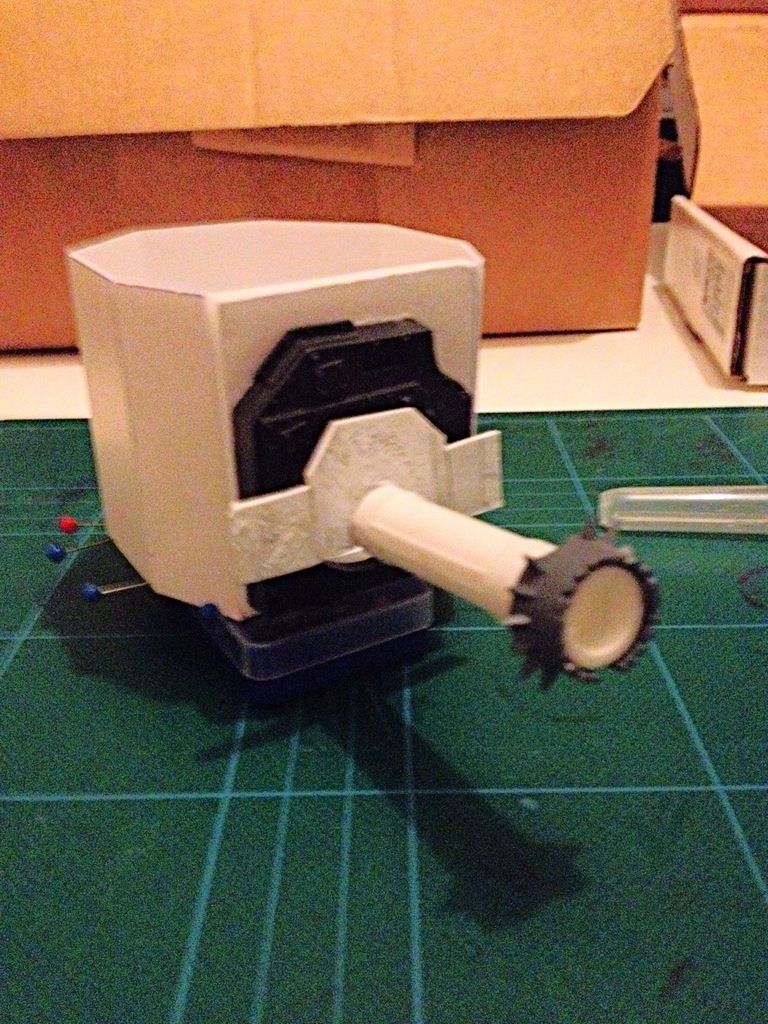 This tower will have a open roof for orks to occupy, some totems and maybe a rokkit or two. Need to work on the main kannon aswell before I assemble the roof.
---
Do you have enough bitz to throw at this thing? Looks like its gonna consume a huge amount of bitz
---
There are no friends in the real world, just less hostile enemies
---
Quote:
Do you have enough bitz to throw at this thing? Looks like its gonna consume a huge amount of bitz
It has it's own bitzbox devoted for this Project. But yeah, don't have near enough. I'll keep my Eyes on tradera for more parts to scavange while I build it. This is just the superstructure I'm building now. Much of it will be covered in plasticard aswell and from that I may be able to produce alot of details, glyphs, plating, rivets, exhaustpipes and you name it. Need to but myself a small gluegun aswell, Karlssons Klister is just to messy to work with.
I'm thinking more and more on writhing my own datasheet for it. Maybe by the the end of the year we can play test it!
Moriouce's workshop (Orks & Eldar)
---
Da Gorkaforta Part IV
Some more work done at the mek-shops.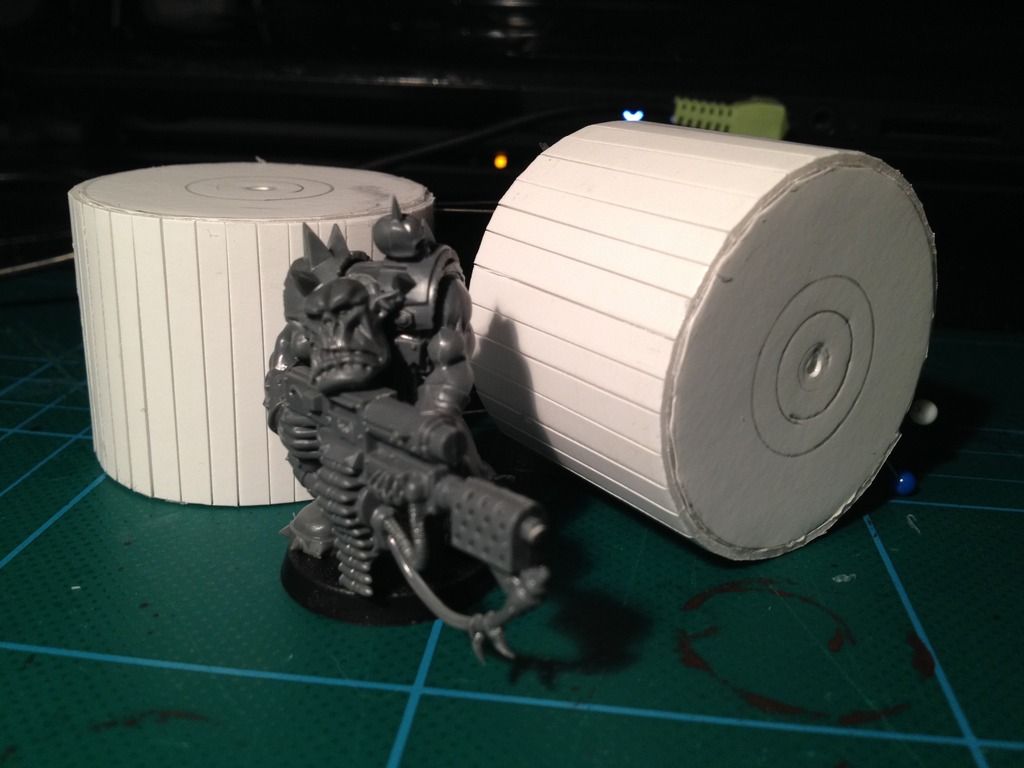 Front wheels has begun to take form. Nob for size comparison. 4.5cm in diameter.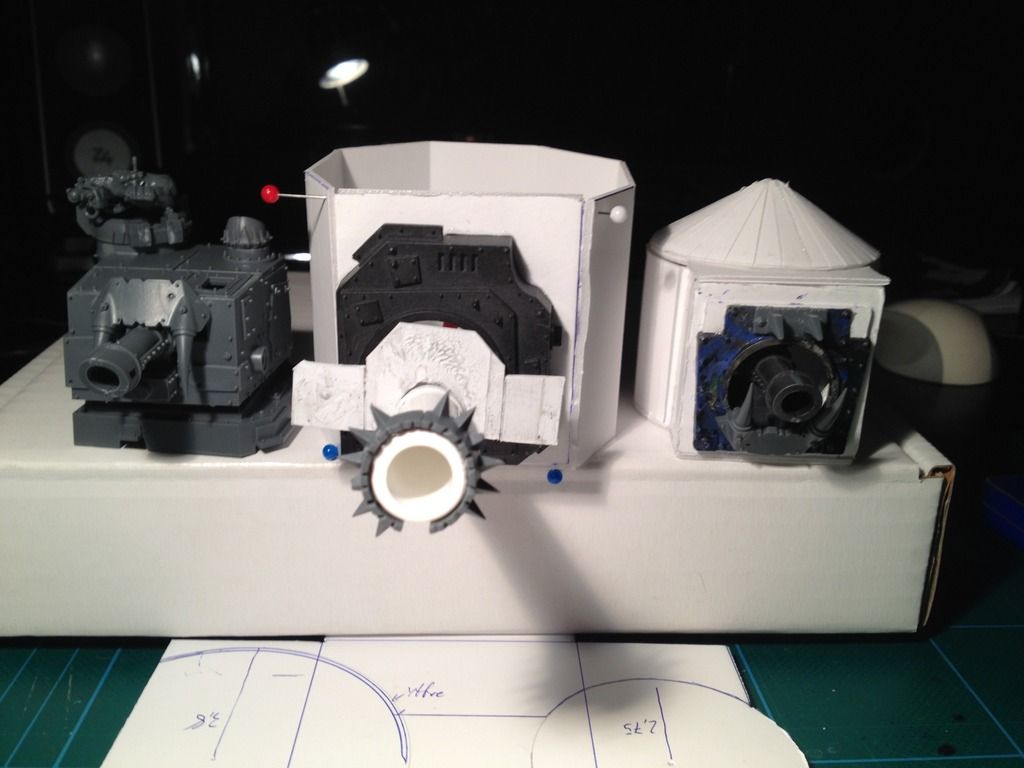 I only have glued the front of the main turret inplace but thought I would share a size comparison shot of all three turrets together.
I have begun calculating the height of this thing. I think it will end somewhere close to 15cm, banners not included.
---
Last edited by Moriouce; 01-14-16 at

07:10 PM

.
---
Quote:
Originally Posted by
Ring Master "Honka"
View Post
ooh this is awesome project cant wait to see it roll out onto the battlefield.

ITS SO DAMN ORKY
Quote:
That is impressive - The scale of it alone baffles me. I wouldn't know where to begin!
Glad to have you onboard and thank you very much! Me too Honka. I'll try to have it playtested when the superstructure is complete, then we can see the orkiness in perspektive with other units all around it. I'll be honest with you Nordicus, I don't know where I should start niether. I just build different Components right now and then we will see in what order I need to assemble the whole thing. I'll call upon @
Blackadder
for some tips if I get stuck.
---
Someone mention my name? I gotta try a Orky project one of these days, they look like fun.

Good work so far.
---
"It is easier to deceive people than it is to convince them that they have been deceived."
---
Da Gorkaforta Part V
Today I began building the front and driver compartment.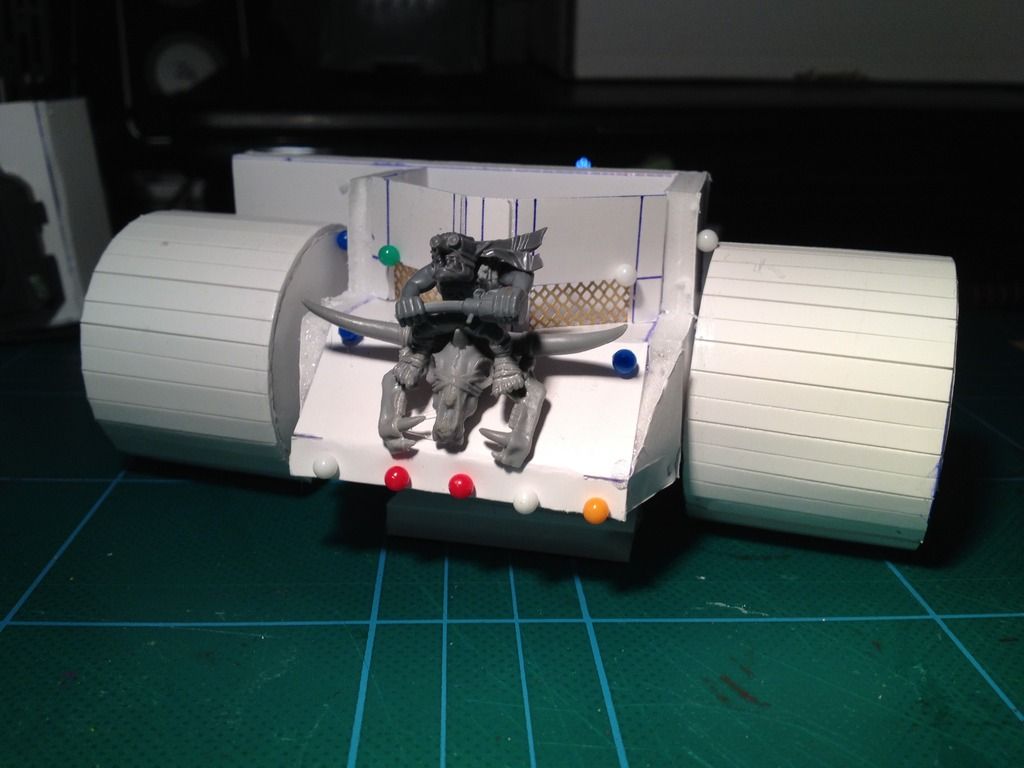 A teaser on where the grot with stickbomb will be in the end. All interior will be sealed of when I complete this project to no details on the inside. Just need to paint it black before I glue all roofs on. Atleast the interiors you might see into otherwise.
Next step will be to build the platforms where to two kanonturrets will be. The tracks after that and then the main turret. Last I will build the parapet that will take most of the space behind and around the main turret. Once the superstructure of foamboard is done I'll begin to add plates and rivets od plasticard along with bitz and other stuff. The more I build the more I realise what a huge project this realy is!!
---
Mmm... Really looking forward to seeing that Gorkaforta finished!
---
Last edited by Saintspirit; 01-25-16 at

08:13 AM

.
Lower Navigation
Moriouce's workshop (Orks & Eldar)