Troy's Eldar Project log
---
Welcome all, this will be my new Project Log for my new Army of Eldar.
Iíve always favored the elder in 40k and many years ago when I started this hobby in 3ed edition I played Eldar, before I gave it up., so Iím pumped to be starting this new army! Updates might come a little slow for this project seeing as I want to try to do the very best I can with every mini, and I still have my Nids to work on.
To kick things off I should let you know what Iíve got right now:
2 war walkers
2 Wave Serpents
1 Fire Prism
10 Dire Avengers
20 Guardians with weapon Platforms
6 Fire Dragons
6 howling banshees
To help me out with this amount of painting, especially on the vehicles, I have got myself a new compressor and duel action Airbrush, and Iím going to learn how to use it lol.
I really like the fluff behind a lot of the craftworlds and I had a hard time deciding which to go with, however I am leaning strongly towards Alaitoc because of their fluff and colors. As for the Aspect Warriors I will hold as true to their colors as I can while trying to tie in Alaitoc where I can.
Right now all I have painted is this farseer you may have seen a while ago on here, and this Warlock I picked up to try out some freehand:
Right now I am working on some dire avengers between my different Nids projects and so far all I have done is there bases:
Thatís it for now, stay tuned and to those who are following my Nidís Plog donít worry I will still be working on them for the rest of the year!
---
If you are starting the dire aventgers, and want some practische with your new toy, I'd highly recomend watching this video:
Hope it helps.
Senior Member
Join Date: Jan 2010
Location: Somewhere between the Warp and a Craftworld
Posts: 2,063
Reputation: 1

---
The painting is... beautiful! Simply amazing. I'm going to be following this rather closely
Have some rep
---
Quote:
Mate, bacon can do anything.
---
Looking forward to following this one Troy! Love the blue and white scheme for the Eldar and the Farseer and the Warlock are looking good.
---

Commissions, Project Logs, and Galleries
Follow me on Twitter: @MidgesWorkshop. You can aslo follow me on face book Here
Back in "Sexay"!!!~
Join Date: May 2011
Posts: 972
Reputation: 1

---
Some really good stuff!~ Looking forward to seeing more!~
---
Looking for work....
Current project(s) with plog(s): None ATM
Upcoming project(s): Plague Hulk
Recently finished project(s):
Warboss 2
,
Lord Hector Rex
---
So I have the Dire Avengers all assembled, but I left off their heads and guns to make it easier to paint., I also magnetized the Exarch so I can swap out all the different weapon options on him(1/16 size magnets).
I then went ahead and primed them last night and as you can see I stuck all the heads and guns on pushpins and stuck them up right in some clay, to be able to prime them properly and hopefully this will make them easy to paint.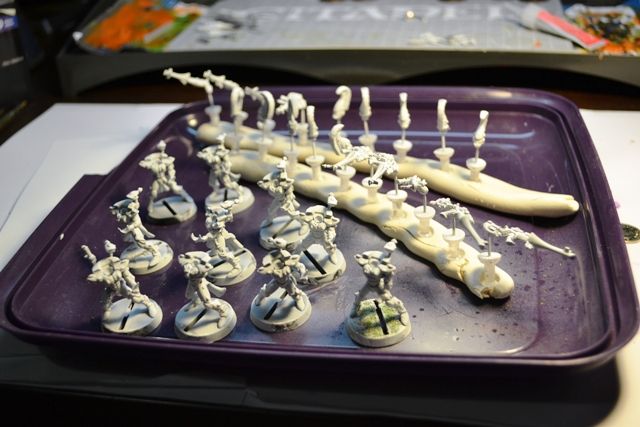 ---
I used my airbrush for the first time and based the Dire Avengers in enchanted blue. It took me a while to get the PSI and air flow right and you really have to thin the paints down to almost water consistency (milk they say). That took a while because it was even thinner then I was thinking. Once I figured that out the process was smooth though, and my duel action brush was great for controlling the amount of paint sprayed, and the fact that you can just spray air is awesome for drying paint and fixing over spray.
Im not going to attempt to spray the highlights on like in the video above, because my skill is no where near that good yet, instead im going to go in and put them on with a brush. Once that is done I am going to give them a wash in blue then in purple.
---
very nice so far Troy. Glad you are getting the hang of the airbrush as I think it will really help you when it comes to working on your Grav Tanks. Looking forward to seeing how things progress.
---

Commissions, Project Logs, and Galleries
Follow me on Twitter: @MidgesWorkshop. You can aslo follow me on face book Here
---
I'd give it a shot to try the highlights really. The coats seems very nice and evenly applied. Worst case scenario, you can redo them in case the highlights don't turn out the way you'd like them. If you manage to put on such a steady basecolor already, I'm sure you won't gunk the miniature up in a thick coat of paint.
And if you are gonna be doing tanks, you'll be using the airbrush for highlighting anyway, so why not have a go now?
Lower Navigation
Troy's Eldar Project log