Critique for da CriticGod
Join Date: Aug 2010
Location: Philadelphia, PA USA
Posts: 3,350
Reputation: 43

---
Cool. Looking forward!
And it is just stunning how well some of Jes Goodwin's miniatures from 2nd edition hold up. Karandras still looks like a badass, granted a badass with a very strong neck!
---
HI all,
It's been a while since I updated my Plog, and I didn't get a chance to use the good camera, but here are some pics of the PL finished! Overall I'm very happy with how he came out, it took me a little longer then I thought it would to finish him though.
Next, I'm moving on to the center piece of this whole army the Wraithknight! (This is going to take a while... )
So far I've got all the parts cleaned up, partly assemble and ready to prime!
I went ahead and completed the base for this guy first. I wanted to make him stand with a bent knee over something, so I ended up with this makeshift bunker on the base. One foot will be on the ground and the other on the metal panel. Normally, I would think that this base is a little too busy, but this guy is so big and tall that he is just going to Dwarf the base anyway I think.
---
Nice base mate, and good work with Karandras. What's the plan for the Wraithknight's colours?
---
Thanks guys.
For this guy he will be primarily my craftworld colors of blue then faded into turquoise. I'm thinking that his armour plates on his knees, shoulders, and groin will be turquoise as well, with perhaps some decals. the head will be turquoise and the face will be the star-field look. I will use some OLS on the big-guns and some powers word effects on the sword and shimmer shield as well.
I primed this guy up with white and black. all the black parts will stay black with some gray highlighting, bolt gun metal work and a wash of nut oil, while all the white will be the craftworld blue/turquoise.
he will be assembled and magnetized after the parts are painted this is to help with the airbrush process.
---
Here are some wip shots (shitty phone camera) but there will be better pics of the finished model. Starting to come together very well so far!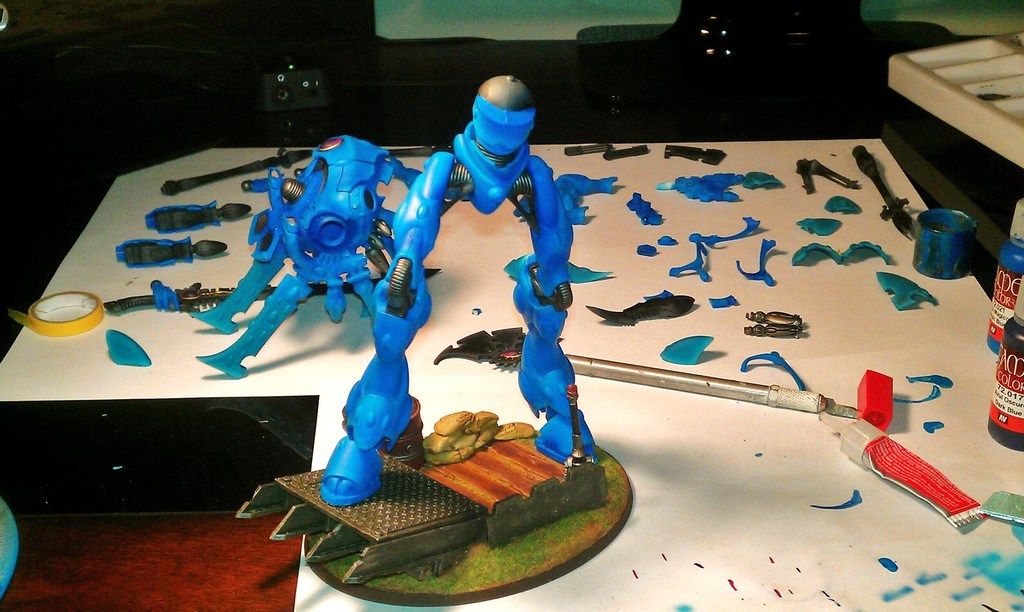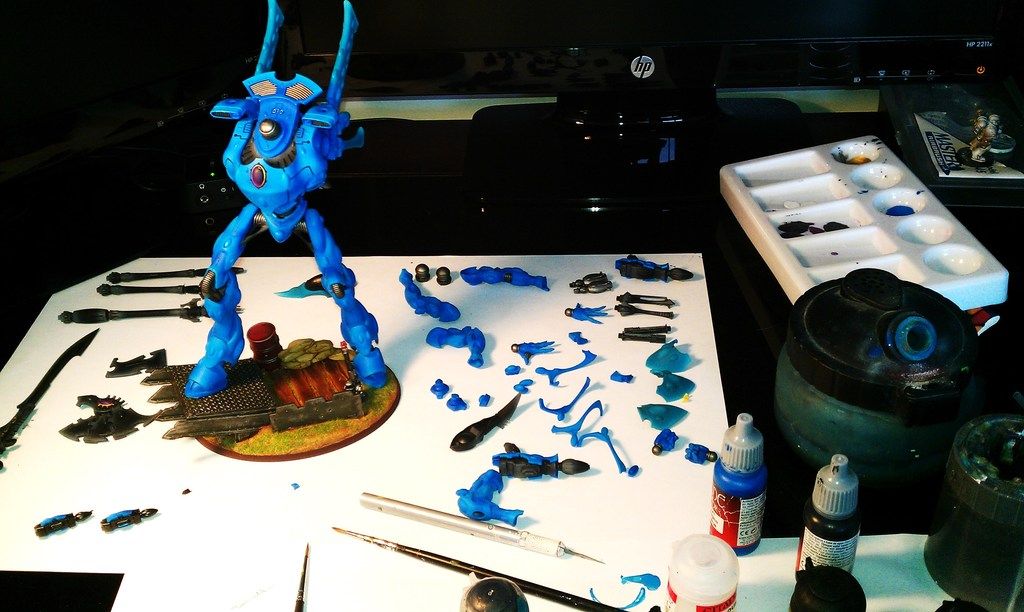 ---
I managed to finish the Wraithknight, (well, still waiting on a few extra bits to show up so I can pose up the second set of arms in a cool position for the sword and shimmer shield.) This pose is mainly meant for the shooty version. Nice thing about this model is that I didn't actually need a single magnet, everything pushed into place.
Overall I'm very happy with how this model turned out, love how my blues show up on this large scale as well as the turquoise fading. I kept it simple with just one sprit stone on the body and a few on the sword and shield (fluff reasons). The helmet got the space theme there is a little OSL on the guns, and the sword has a power shimmer effect going on.
I think the base works well with the pose and now I get a 4+ cover save anywhere on the table as well, cause man does this thing need it!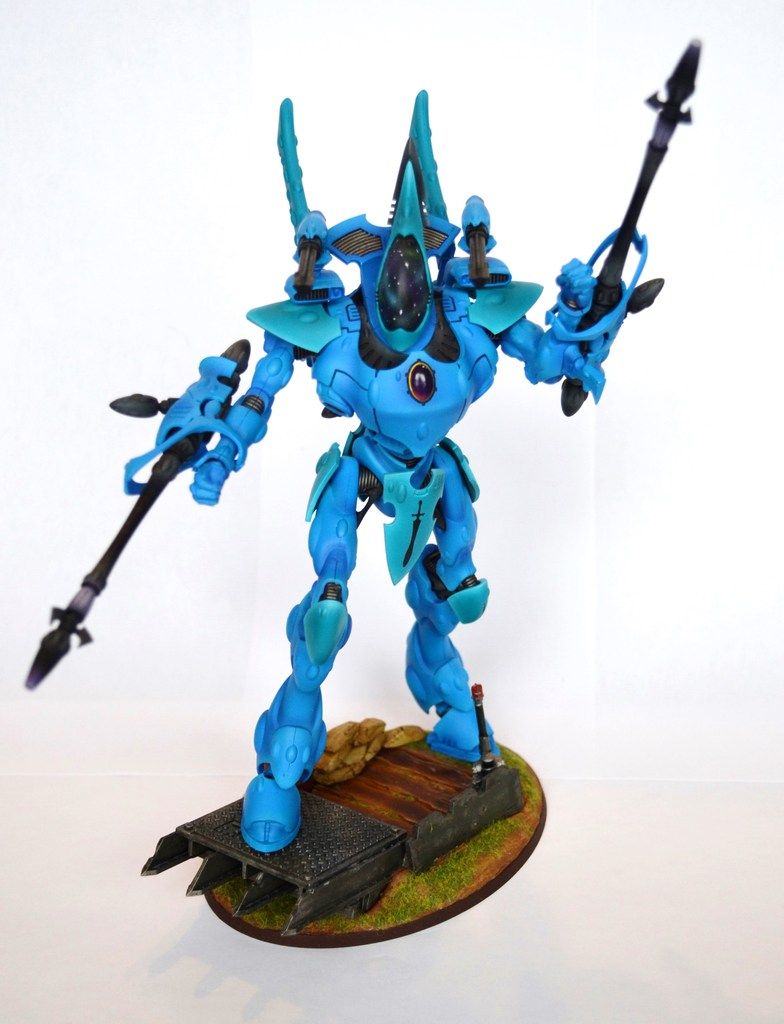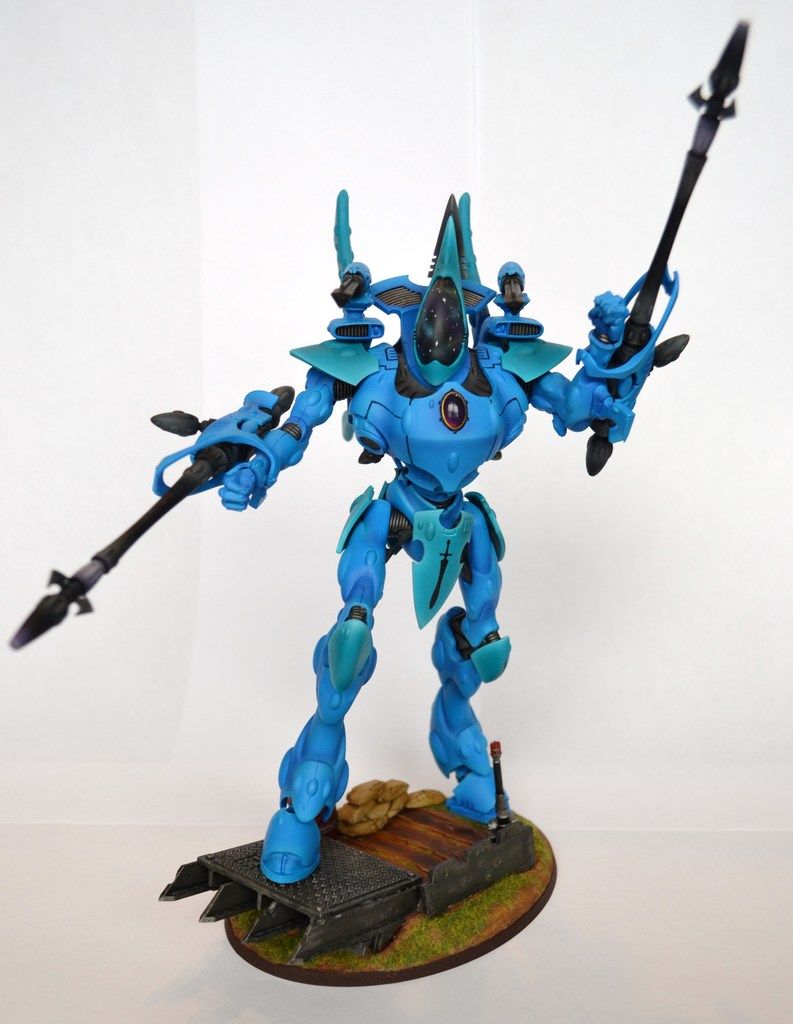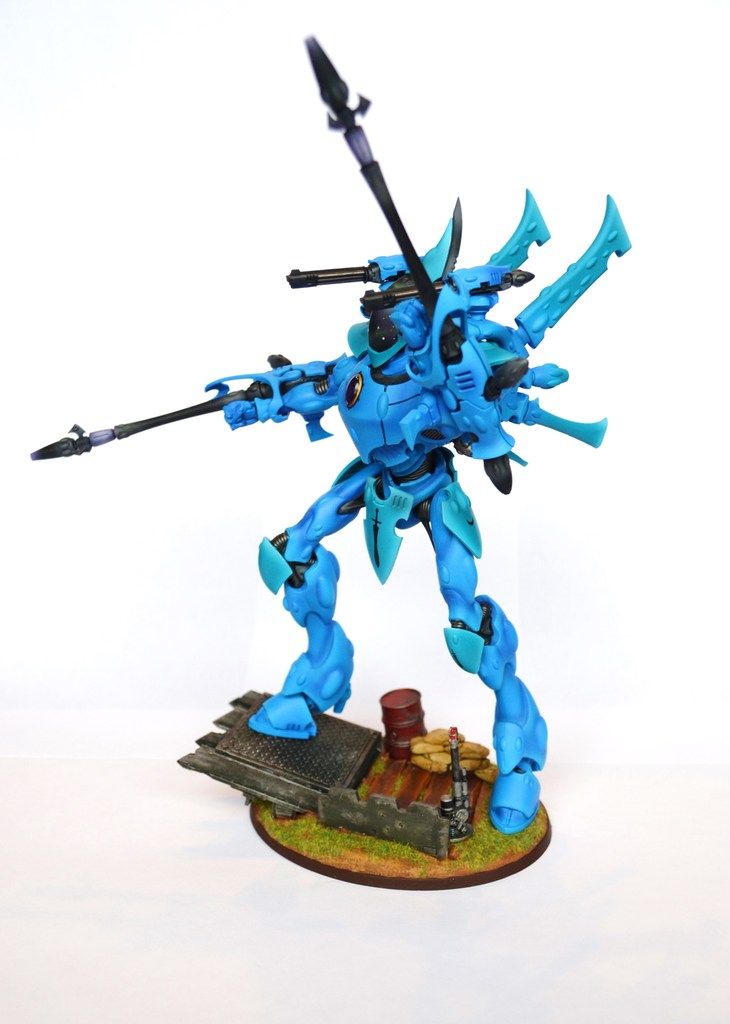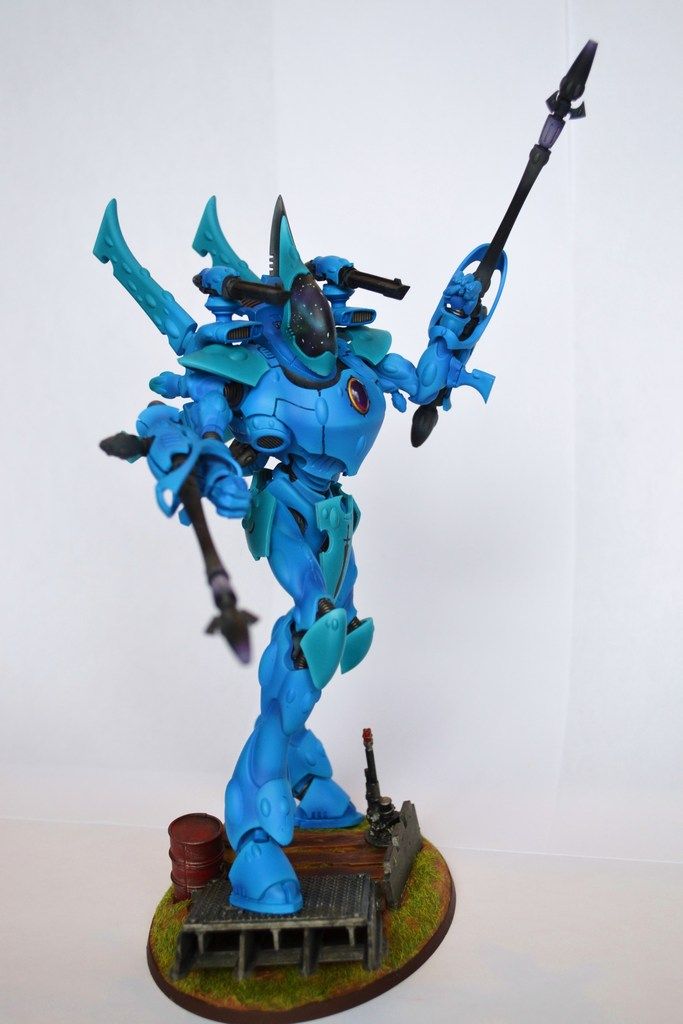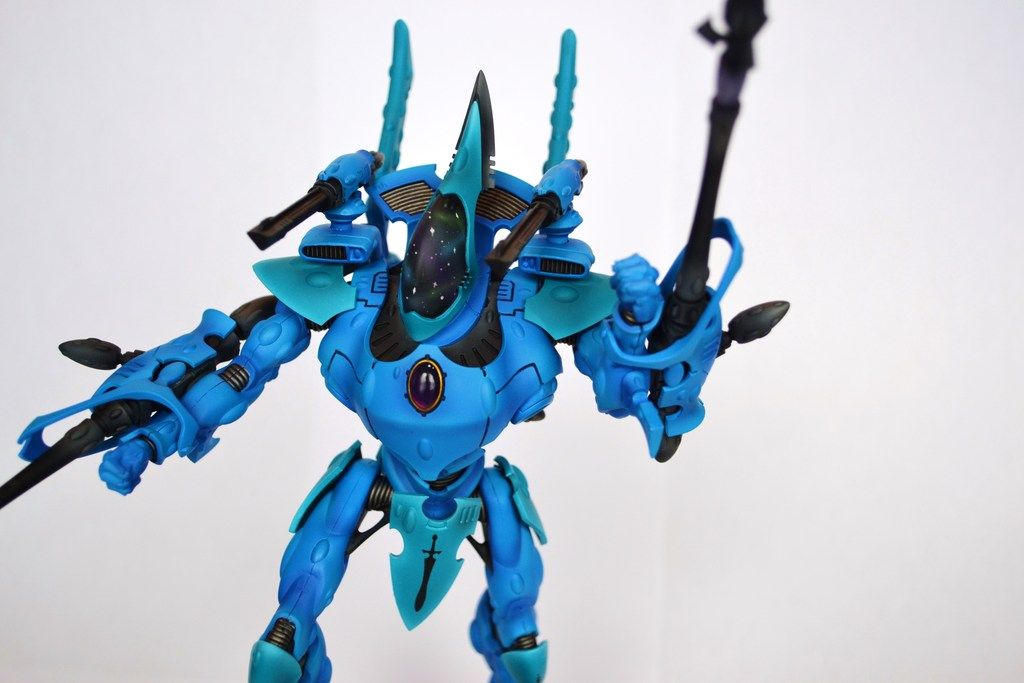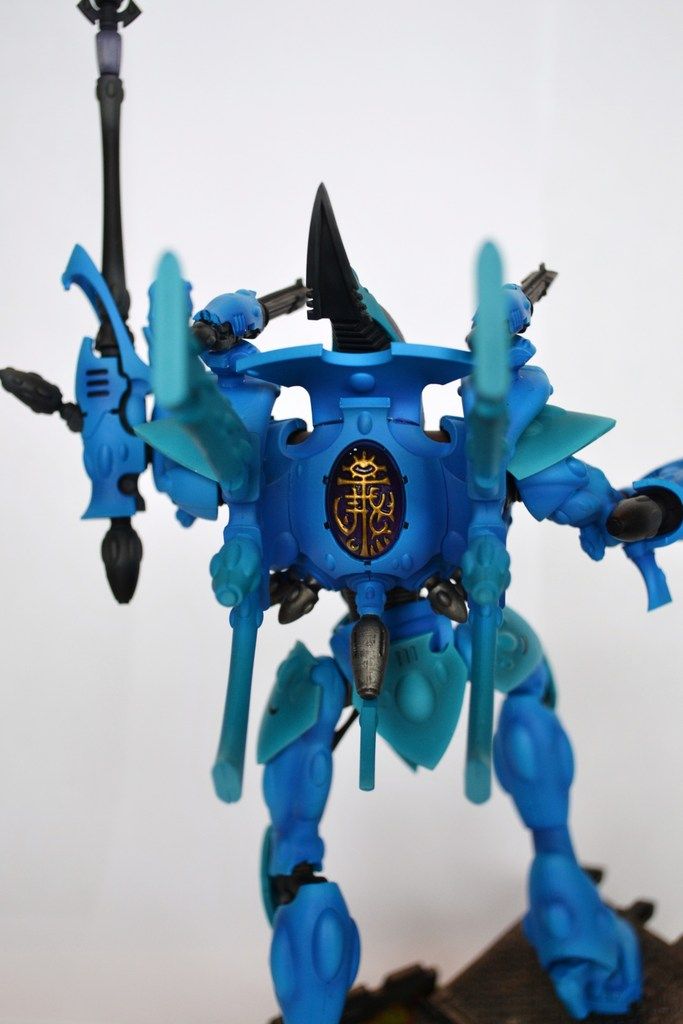 [URL=http://s1097.photobucket.com/user/troybuckle/media/Wraithknight/DSC_0944_zpsznsthg4j.jpg.html][IMG]http://i1097.photobucket.com/albums/g346/troybuckle/Wraithknight/DSC_0944_zpsznsthg4j.jpg[/IM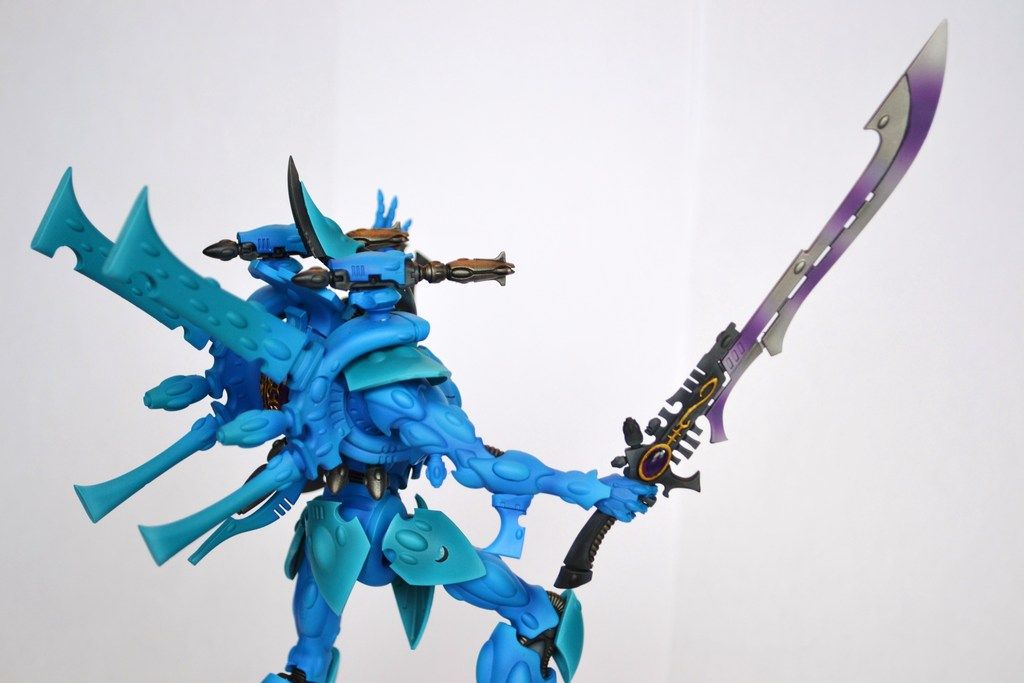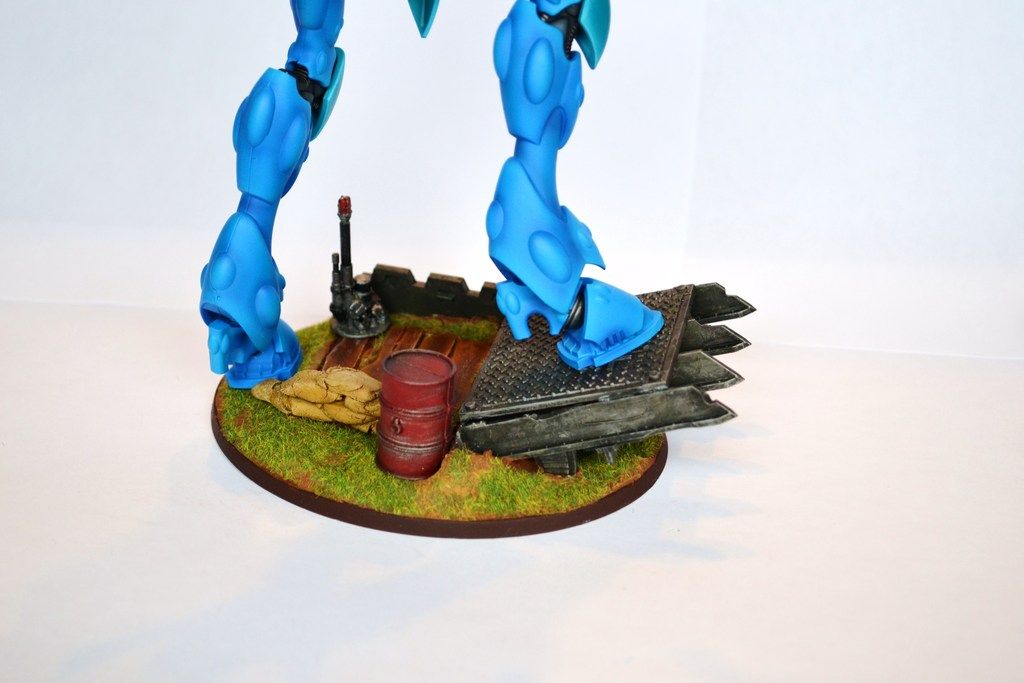 Lower Navigation
Troy's Eldar Project log