---
Awesome Pod there Matt. Looking forward to seeing those Termies, the conversions look ace, so once painted should be amazing. Keep up the outstanding work!
---
Mistake, sorry.
---
Last edited by mad matt; 08-04-11 at

09:54 AM

.
---
Sorry, really... Another mistake...
---
Last edited by mad matt; 08-04-11 at

09:55 AM

.
---
This morning I got up quite early for my lifestyle (4.30) as I needed silence and all my concentration for a special task: building my contemptor dread! I have to tell you, this model, if you can handle its looks, is outstanding. The most poseable kit for Wh40k Iīve built so far. Well, I know, there are quite a lot of haters of this fellow. BUT I love it and had ordered mine about 3 minutes after having seen the first pics at the FW page.
I must admit, itīs not so templar-like but I think being a second founding chapter and being the former "elite" company of the Imperial Fists makes up a definetely good chance to have some of them being around in the Black Templars Chapter. Well, back to optics. The following picture is extreme WIP (WORK IN PROGRESS !!!) but should allow you a first impression/ idea, where weīre going to walk this one. I exchanged the sencond fist for a massive sword (If I modify or keep it like that iīve not decided yet, but heīll keep a d**n big sword. Thatīs it on my part for the beginning, as Iīll send the mini to my chap who made those outstanding Termie-Customs. Heīll put on a tabard and some decoration: some chains and badges. When the big one will be back in my hands after that, Iīll add some further decoration like sigils and some rivets and get some more life into his basing. So keep your eyes open for updates, brothers and heretics...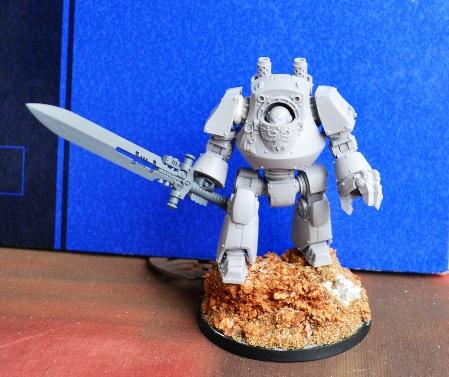 Templar Contemptor Dreadnought
---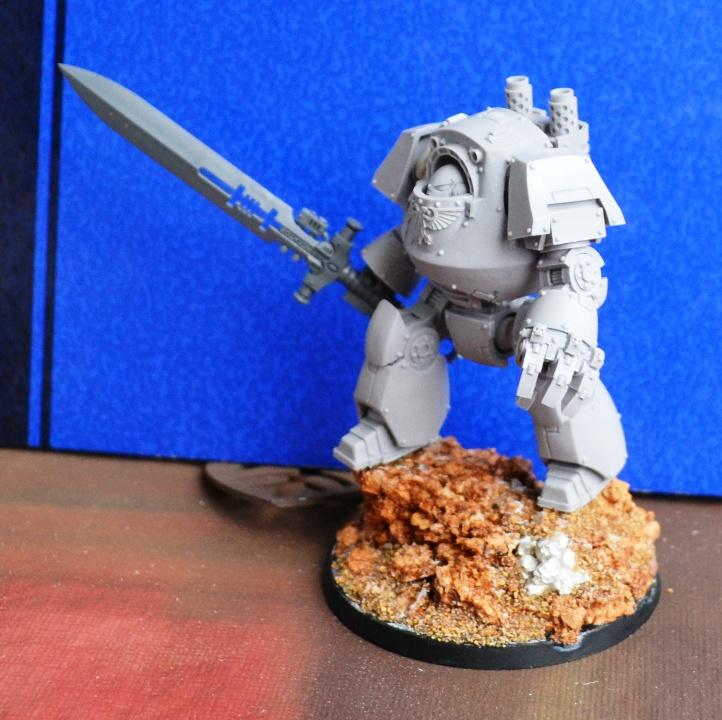 ---
Last edited by mad matt; 08-04-11 at

09:56 AM

.
---
Ohhh epic. looking forward to this, the contemptor is a nice model, can't wait to see the converting and him painted up.
---
Loving the contemptor man! The Dreadknight sword looks great on him. Look forward to seeing some paint on him!
---

Commissions, Project Logs, and Galleries
Follow me on Twitter: @MidgesWorkshop. You can aslo follow me on face book Here
Scenic Bases Tutorial Part 1
---
Hello brothers and heretics,
I have to admit, that Iīm still working on my last drop pods and thus havenīt found the time to paint some initiates in order to make that glow-tutorial for you, but be assured: itīs not forgotten.
Meanwhile, during the drying periods of the paint on the pods, Iīve made some scenic bases to get my army finally based. As some have asked my how I do my base decorations, Iīve decided to share that in two little Tutorials with you. The first one is about making the scenic base and the second one about how to fix your minis properly and fixing gaps between feet and base of the mini. So hereīs part 1

Step 1: Preparations
Well, this is some work for outside as it is dirty and the superglue stinks.
So you need:
+cork
: The cork I use comes from IKEA where you get it as about 1 cm thick discs that you put under hot cooking pots. Itīs really cheap.
+sharp cutter knife
+bases

+sand & small stones:
Sand for bird cages mixed with some rougher grained sand is great. The stones are thought for decorations at home and I bought them at some 1-€-store.
+bits:
some small bits are nice ammendments to your base decorations. I mainly use ork bits or the GW Skull Pack. Helmets and lost guns work well too.
+superglue:
I know I could also use PVA glue, but superglue works better and faster. Nevertheless, the GW stuff is too expensive for this work. I use some really cheap superglue from a German Hardware Company. 8 gramms for about 1,25 $. The downside is, that I has got a strong acidic stink which is typical for all those superglues. So going outside and letting the stuff dry outside should be better for your health than having it next to your bed, I guess.
Step 2: preparing the cork
I break the cork plates into smaller pieces about the size or slightly smaller than the bases that should get some love. As 1 cm (about 2/5 Inch) is too thick I cut the cork pieces CAREFULLY (mind your fingers!!!
) in two, thus getting two almost identical pieces about 4-5 mm thick. Perfect.
Next I put some superglue onto the downside ( the smooth side) of the cork pieces. The cork will soak it up and in about 5 minutes, the superglue will be hardened.
Step 3: glueing the cork onto the bases
After the superglue has dried on the smooth side of the cork pieces I put on some more superglue onto the same spots - Iīm quite generous with the superglue here in fact. Then put it onto the base and press the pieces together for some seconds. If you have some smaller pieces of cork you can put on a little cork mosaic
and youīll get some really interesting looking base.
Once the cork pieces stick firmly to the bases I use my fingernails to roughen up the cut surface of the cork or take away disturbing flocks of it. But donīt overdo it. The trimming and fixing will be done, once you have decided which miniature you will put on.
Step 4: Sand, stones , bits

Itīs time to put some glue onto the plastic areas of the base you can still see. I donīt do it for the full base at a time but rather do it in quarters, preventing sticky fingers or glue running of the surface onto the sides of the bases. Then I put some small stones randomly onto the glue and after that (without new glue!!!) I let some sand "rain" into the gaps. Maybe youīll have to do several layers , if you want it to get higher. If you want to include bits, just glue the bits to the surface and again let some sand rain onto the glue. Your bits will stick better to the base like that and it looks more natural. If you do several layers give your glue some minutes to harden between each layer.
Step 5: hardening

As cork is a quite soft material, and you surely donīt want to get damaged during "duty" (meaning when playing the mini), itīs necessary to harden the cork. Put some drops of superglue onto the cork (all over the cork but not onto the sand!!!). The cork will again soak up all the glue and get hard as a rock - almost. If you have really big pieces of cork as maybe on a 60mm base, you should repeat the step once or even twice. But donīt overdo it as your rock might lose precious details.
Now you should let it dry for about 12 hours or even better a day (outside!!!).
Thatīs the end of tutorial 1. The next one, coming in the next few days, will show you how to fix your minis to the base and how to adjust the base to your mini properly.
---
Ok so now i have deffinatly got to get me one of those.

Looks awsome
Lower Navigation
Black Templars - Barbarossa Crusade