---
Congratulations again on getting featured on GW's site, you deserve it with such amazing skills.
---
Damn straight you're in GW. Took them long enough!
Not content with a single picture, you're half the bloody blog post mate! Outstanding! It's simply magnificent to see such brilliant work recognised and appreciated worldwide.
---
Give a man a match, and he's warm for a day.
Set a man on fire, and he's warm for the rest of his life!
Cato Marquand
---
Thanks a lot everybody! Thanks!

Let me return the favour: my first video tutorial is online.

---
Nice vid tute Matt! Congrats on the GW post!
---

Commissions, Project Logs, and Galleries
Follow me on Twitter: @MidgesWorkshop. You can aslo follow me on face book Here
---
i also have to say grats on being on GW mate, when are you going to start winning some swords :D
also AH HAA!! that's it! as simple as that, get the right products and job done
---
Grats on the GW blog! I saw them and I was like hey I've seen that PLOG!
---
Grats on getting featured man, you definitely deserve it and like I've said before I can only hope to reach this level of painting
Senior Member
Join Date: Oct 2010
Location: In the basement, surrounded by Woodland Scenics packages.
Posts: 614
Reputation: 5

---
Well done, Matt. Its cool to see a Heretic featured on the blog. The tutorial was a nice bonus. Off to the hobby shop for som Tamiya paint!
---
Congrats on making front page! Can't say I'm surprised at all, really, but congrats nonetheless.
---
Win/loss record for The Fists of Vengeance- 20 - 1 - 8.
Hive Fleet Kraken- 7 - 2
The Unnamed Clan- 0 - 0 - 0
---

Thanks for your congratulations. I haven´t been lazy these last days and I´m proud to tell you that my first support-choices are about to get some loving. A Predator with converted gun barrel (still needs to be shortened a bit)...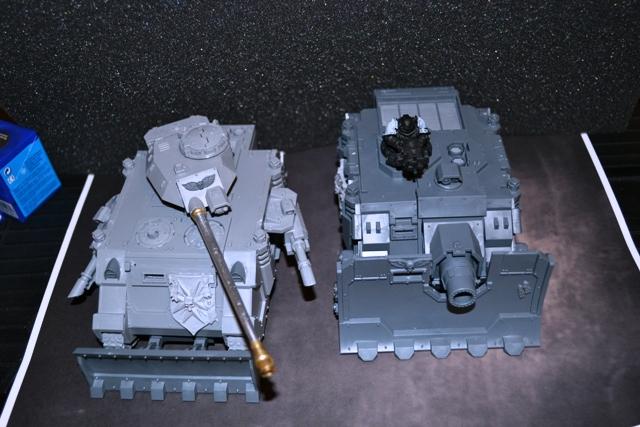 But which of these beasts should I paint up first?
Lower Navigation
Black Templars - Barbarossa Crusade