Getting My Eldar Painted
---
Hi folks,
This will probably be a fairly slow moving project log as I don't get a lot of time to paint or game. So please bear with me. The mini's that I have painted at the moment have been in storage for a few years and prior to that a lot of them made a journey from the US to Australia. So Pics of the finished mini's:
My Falcon:
This was started in the US when I had access to an Air Brush. I've got a Fire Prisim that I'd like to do the same sort of paint job on the front wings too, so that will have to wait until I get an Air Brush. The magnet is a new addition, I had just been poking the plastic thing through from the inside but the magnet works much better.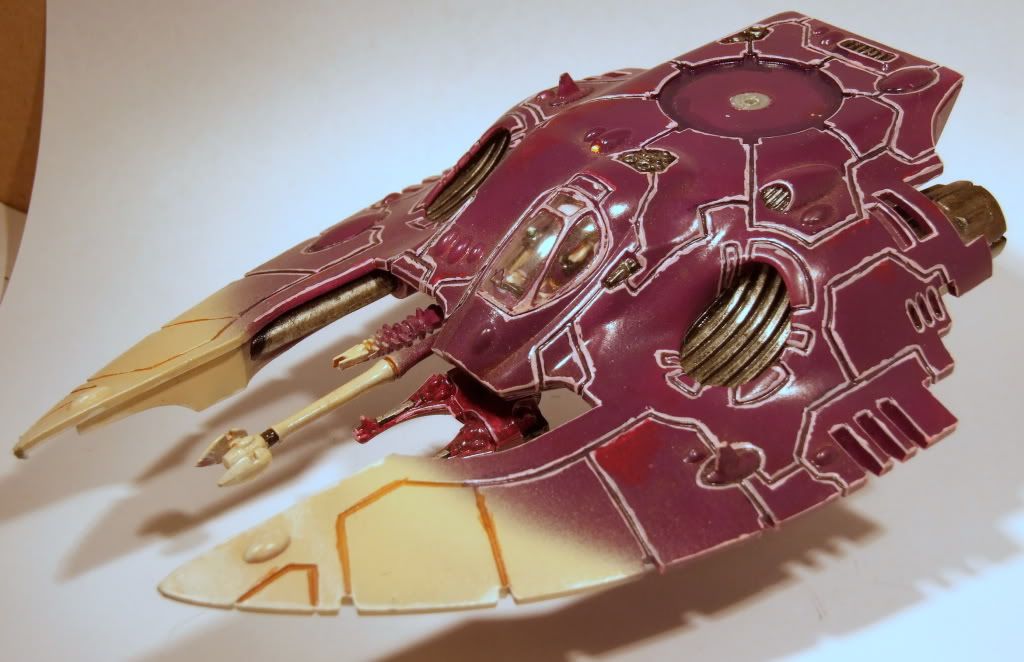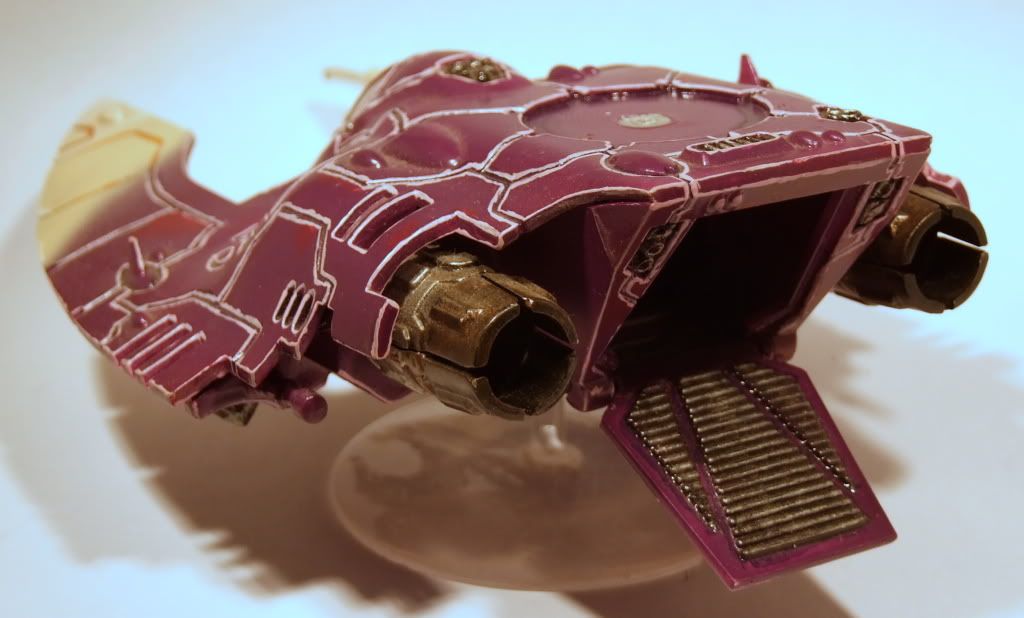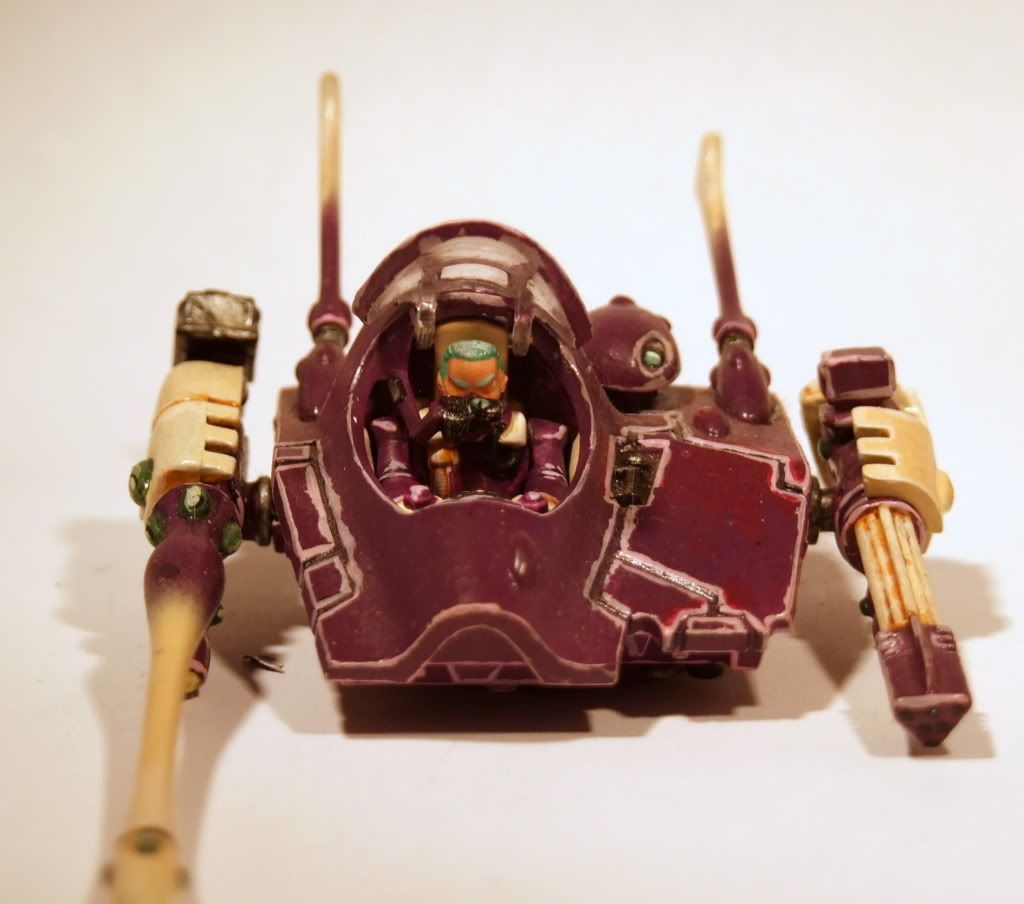 My Wraithlord:
This guy was traded for way back when having 2 arms on your "Dreadnaught" was optional, and there was only the one arm. I'd like to replace him at some point with one of the newer models. I've also recently added a magnet to his weapon mount. I just noticed that his base needs a new coat of black around the edge.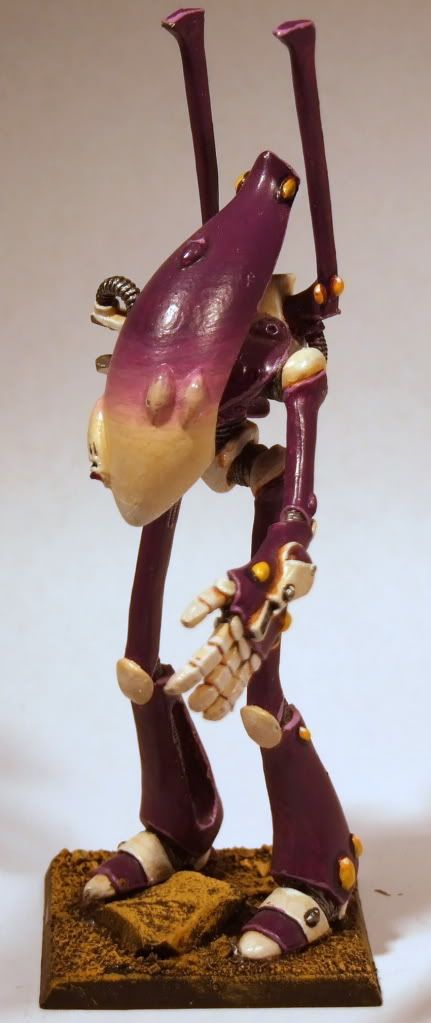 My WarWalker:
This is one of the old metal models, I'd like to get 2 more of these. I think when/if I do I'll strip this one back and paint them all at the same time. Magnets have also been recently added to his weapon mounts and he needs a bit of touch up.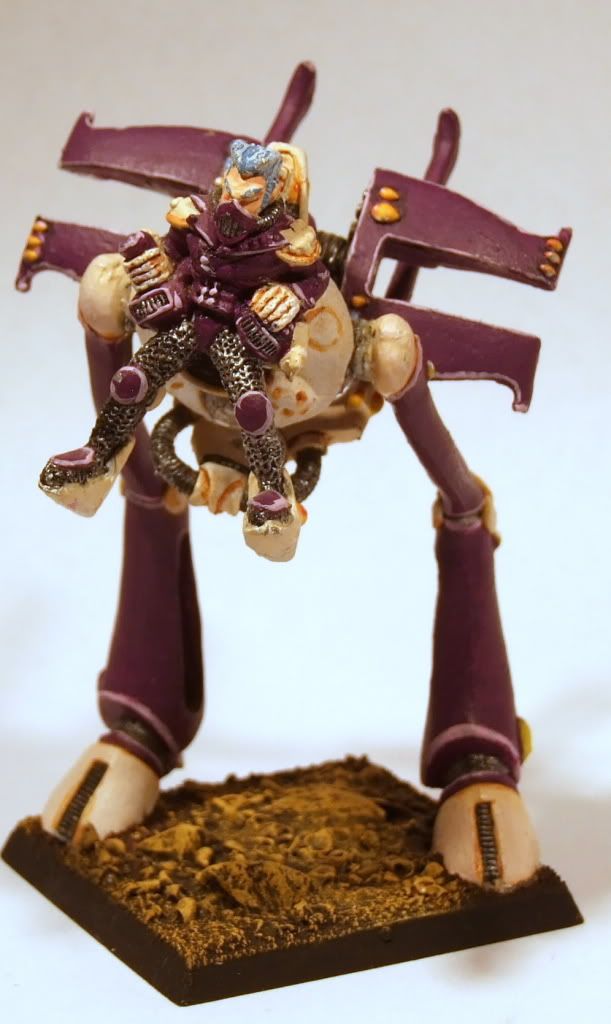 My Vyper:
This is the first model I ever painted with clear plastic involved. I was quite distraught when I sprayed the clear coat on and the window fogged over. I'll be looking into fixing that as well as some touch ups in the not to distant future. Another Recent weapon mount magnetization.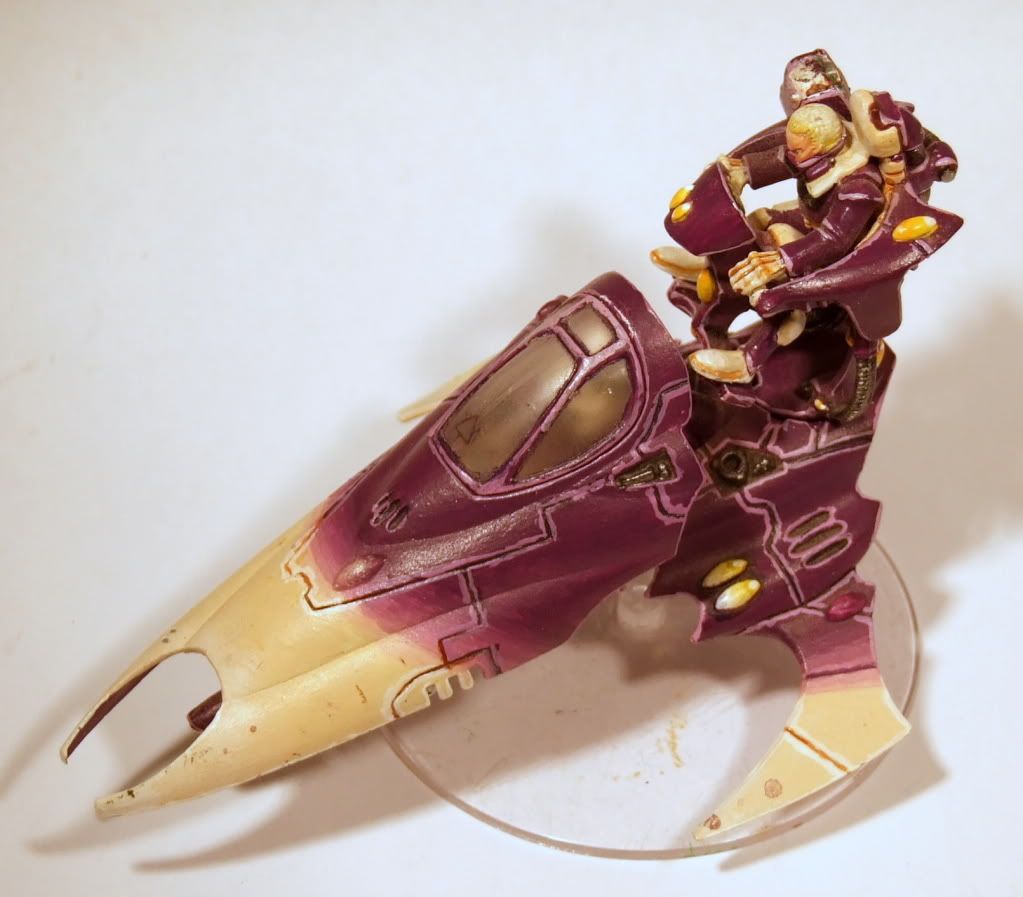 I think that's enough for today. I'll type a bit more and get some more pics posted tomorrow. I look forward to C&C.
---
i like the colours but i have to say your extreme highlights on the purple armour plates is letting your models down, the highlight is too strong, the lines are too thick and uneven.
I know that might sound harsh but the highlights are pulling my eye away from what would be a very nice looking paint job, i think the flash from your camera is exaggerating them in some way too but they are spoiling your hard work.
also you have highlighted every edge of every armour plate, this is a common mistake, you should only highlight were light would naturally fall and some "chosen" edges that will show the model in the best light.
Never pay again for live sex! | Hot girls doing naughty stuff for free! | Chat for free!
---
HUGE BITZ RESTOCK NOW ON
---
I agree with BnK on this. The highlights are too strong and uneven.
---
Easily fixable though.

Get some glaze medium and some matt medium. Mix 25% glaze, 25% matt and 50% water. Use that to dilute your primary purple colour to the thickness of GW wash. Then aply it around the edges. Work the wash untill it pools up a bit on the edges and you'll have more subtle highlights.
Back in "Sexay"!!!~
Join Date: May 2011
Posts: 972
Reputation: 1

---
In future references for highlights or edging, try getting a roll of masking tape from your local hobby shop. They should have ones that are really thin (in width) to keep the small lines more even.
---
Looking for work....
Current project(s) with plog(s): None ATM
Upcoming project(s): Plague Hulk
Recently finished project(s):
Warboss 2
,
Lord Hector Rex
---
Quote:
In future references for highlights or edging, try getting a roll of masking tape from your local hobby shop. They should have ones that are really thin (in width) to keep the small lines more even.
Thats a great tip.
---
I agree about the highlights, I've never been happy with them. I think my paints have always been too thick, I've been watching alot of painting tutorials on YouTube and had sort of worked out that my paints are too thick. I've also been doing alot of reading here and read a post from someone about a Flow Improver medium (I think it was Djinn). I got some of that and have started working with a mix of that and water to thin my paints down to where they are useable. I'll post a pic of the Mini I just finished and a WIP pic of my warlock tonight (I'm at work now). I think they are a bit better but I'm still not happy with the highlights. I need a more of a steady hand, more painting practice will help with that I hope.

I like the tip about the Glaze/Matt Medium wash. I'm going to give that a shot and I'm going to have a look for the skinny masking tape suggested too. I don't know that the masing tape can save the paint job that's been finished, but for future work it should help alot.
---
i say overall any job you fiininsh is a good job haha! but seriously listen to these guys, like bits&kits, djinn, these guys have really really helpped my painting improve, and as for the highlights, dont worry to much i still cant get mine right either. keep it up
---
@fatmantis, thanks for the encouragement. I've learned alot from these guys already, just from reading their responses to other threads.
So as promised some of my recent work:
This first one is one I finished last week. He's a conversion of an old Blood Bowl mini that I did a LONG time ago. I'm not happy with the way his hand looks and I'm not real happy with the way the shaft of his spear looks, but I'm using him as a Warlock with Singing Spear and I think that comes across fairly well.
This is my next Warlock WIP. I'm very happy with the way his robe has come out. It is almost the exact colour I had in my head when I started. It's still a bit shiny but when I put the clear coat on it that should kill the shine. the lighting isn't the best but here it is anyway.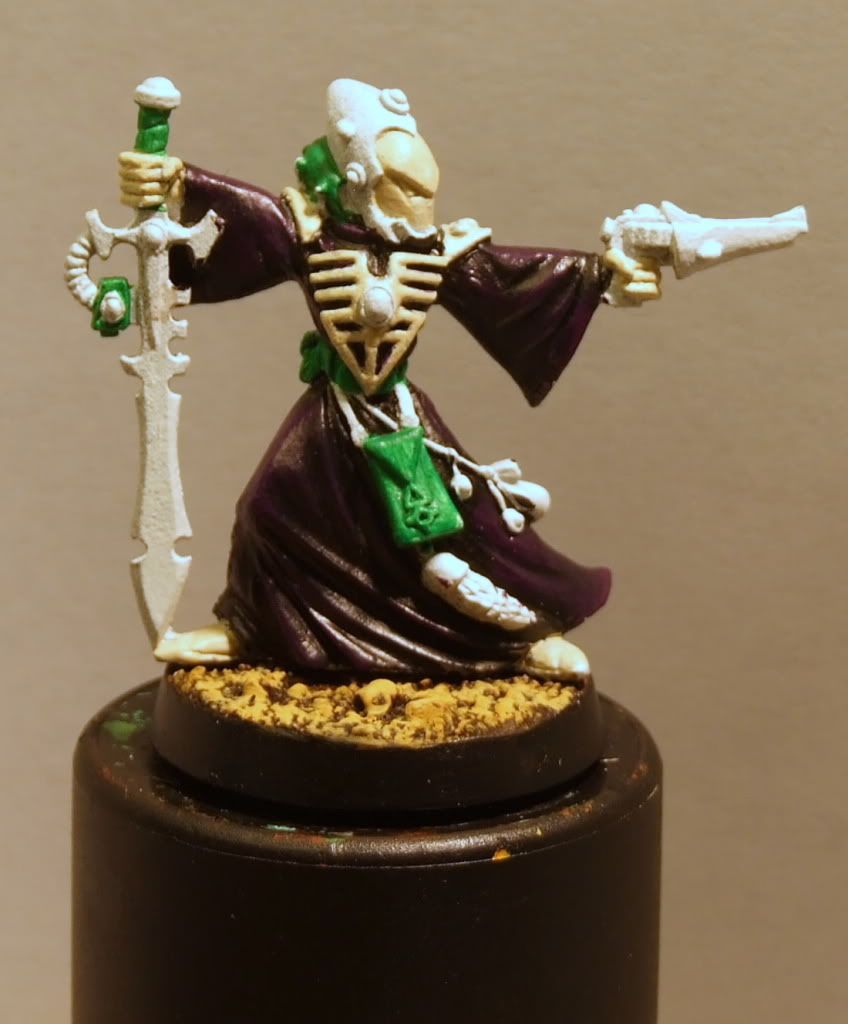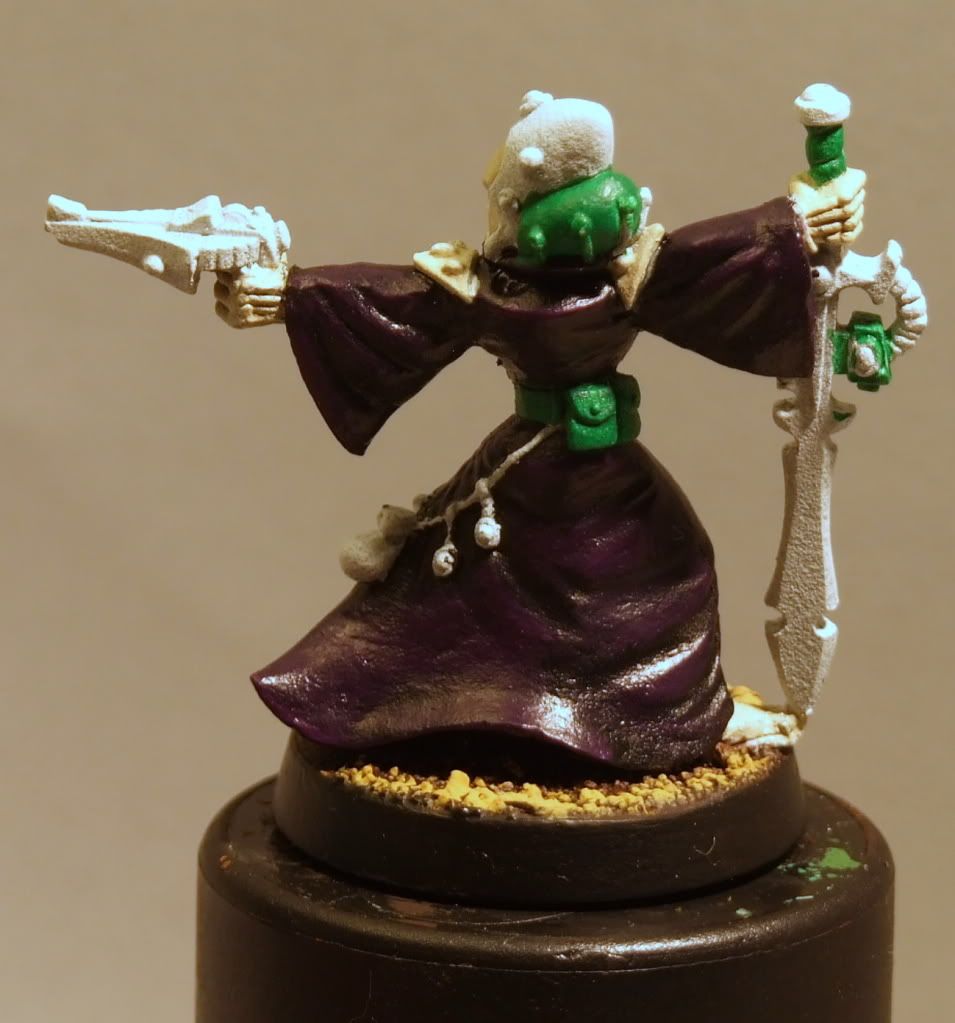 I'm done with the robes, the rest of the colours are still need highlights and shading.
---
Last edited by farseer22; 06-14-11 at

10:40 AM

.
---
Warlock finished!
I'm happy with the way the 2 Gems turned out (the one on his head and the one on his chest). I've tried to be a bit more gentle with the highlights. I'm still getting kind of a lizard skin finish on the paint, so I'd appreciate some ideas on how to clear that up.
Turns out the front on shot of him didn't show the gem. I'm considering doing some gems on the sword.
looking forward to some C&C
Thanks
---
Last edited by farseer22; 06-16-11 at

11:40 PM

.
Lower Navigation
Getting My Eldar Painted