Back in "Sexay"!!!~
Join Date: May 2011
Posts: 972
Reputation: 1

---
The one reservation I have for the lava base is that the lightest part seems to be on top....when it actually would be the reverse...try looking up pictures of actual lava.
But seems pretty well done other than the blurry pictures.
---
Looking for work....
Current project(s) with plog(s): None ATM
Upcoming project(s): Plague Hulk
Recently finished project(s):
Warboss 2
,
Lord Hector Rex
---
Cant really comment to much on the models as i cant see them clearly, only thing i can suggest from the images is they possibly need a wash and highlight as the metal seems all one block colour and there should be a function called Macro on your camera put that on it will make your pics clearer.

Also I dont think theres a need to put a "Reserved for" sign as its your log and you update when you want.

As to the bases they seem to lack the glow of lava, but apart from that it looks good i wouldnt even want to attempt doing those sort of bases and im still trying to figure out how to paint Grey Knights in a unique way. Good Progress so far tho keep it up.
---
Thanks for the comments, and sorry for my delay to reply! Finals at university and all......
Was hoping to have most of the bases order, unfortunately Dark Art minitures who I was hoping to source the bases of are out of stock
@arumchic: I Orignally tried painting the lava from photographs (With it coolest and Darkest on top) , but IMO it looked poo, so tried is as you see it. I figured it only changes that coour on earth becase the air has a cooling effect on it, But on an alien or daemon world could it not stay hot for longer?
@yanlou: thanks for the C &C, the stormraven has been washed blue, and the silver is indeed highlighted but untill I source a Digital Camera youll have to take my word for it
Everything else has only the first layer of silver hopefully once Ive washed it and highlighter, it should be more to your taste! :D
Back in "Sexay"!!!~
Join Date: May 2011
Posts: 972
Reputation: 1

---
I don't think so, but whatever floats your boat. You can go take a look at my lava base
here
and see how it looks like to you.
---
Looking for work....
Current project(s) with plog(s): None ATM
Upcoming project(s): Plague Hulk
Recently finished project(s):
Warboss 2
,
Lord Hector Rex
---
Hmm point taken it looks more natural, but with no disrespect intended I think I prefer it looking hot in the middle. I think I might yellow ink it to dry and make appear more glowy.

However that Said, I do love your skulltakers sword! Might take that as a bit of inspiration!
---
So long time no update and I have finished university and began progress back with this project! First up is 3 models that I am planning on using as my objectives: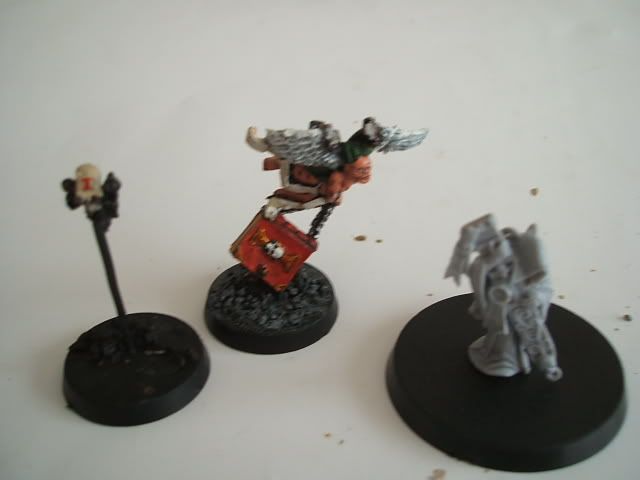 Obviously WIP and still in various stages of painted-ness.
The first model is just a bog standard servo skull, the middle is a semi completed cherabim, and the last the familiar from Lord Hector Rex that still needs spraying and painting. Obviously once all three are done they will be mounted on the same lava bases as the rest of the army.
C&C
---
Yay! First ever fine cast model!
Im converting up a emperors champion to be the justicar for my strike squad!
The sword has snapped off unfotunately despite being safely transmitted in my hard case, but I will pin it on tonight but twisted round so that the words "imperator rex" are on the top of the sword. A Storm bolter was added to ensure that the Model was WYSIWYG.
The left shoulder pad was filed and shaped untill a GK shoulder pad fitted on top to give him some grey knight Inconography. THe fist was cut away and the grey knight fist holding a seververed head pinned in place. Unfortunately this obscured the facial features of the daemonette, so it was cut off and pinned with the head facing in the opposite direction so that it could be seen from the side. (See Below)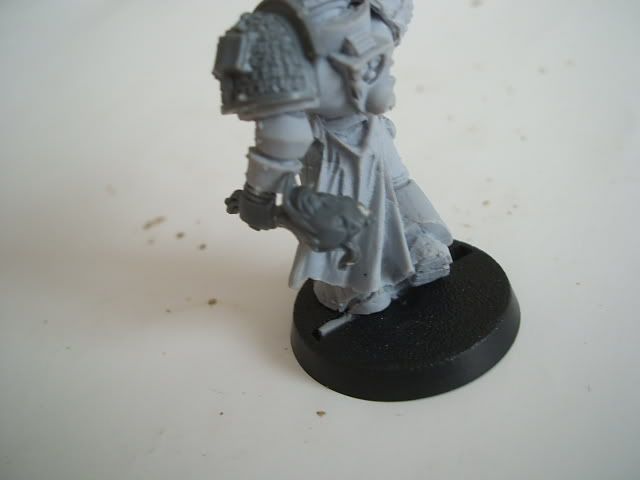 Hopefully spraying him tommorrow, but aiming for each large area (Belt buckle and each kneeCap to display the squad iconography (White background, Red Stripe plus any campaign symbols)
---
Last edited by OrdoMalleus; 08-05-11 at

11:11 PM

.
---
Can't wait for that Justicar to be completed!
---
A decent looking army all around. It'll look very nice when they're all on the lava bases.

I gotta say though, I think you've gone and ruined one of the finest GW models. The Emperor's champion is a stunning model, and I think you should have left the sword as it was and stuck the bolter on the left hand, which was already empty. Besides, the head of the deamonette doesn't look right sticking straight out by the hair. But that's just me.
Lower Navigation
OrdoMalleus GreyKnights brought kicking and screaming into 5th Ed