Attempt at a full army - Blood Angels log
---
Hello and welcome to my army building log. About a year ago I started a project log up on Dakka about building up a new army after a long hiatus from the hobby. However after the summer I had to return to uni for the final year of my law degree and had no free time at all so the project got put on hold. Now a year on I'm back from uni having finished and have a lot of free time again so decided to start the project up again. This time I've also decided to post it onto other forums though to get some more opinions and hopefully some more motivation ;)
For my new army I chose the Blood Angels which I got rather excited about after seeing they got a new codex and minatures. It had been a good few years since I'd painted any miniatures so I was a bit rusty and decided to start with a test miniature: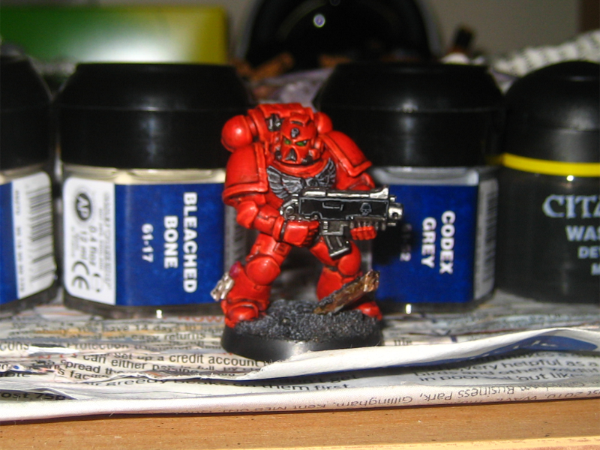 Looking back, this model had a lot of problems but really helped me get back into the swing of things.
Here's a group shot of how the first five tactical marines we're progressing:
After this the next marine I completed was going to be the plasmagunner for the squad who has a purity seal on his hand to hopefully stop any overheating :D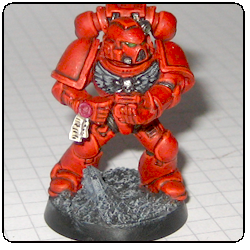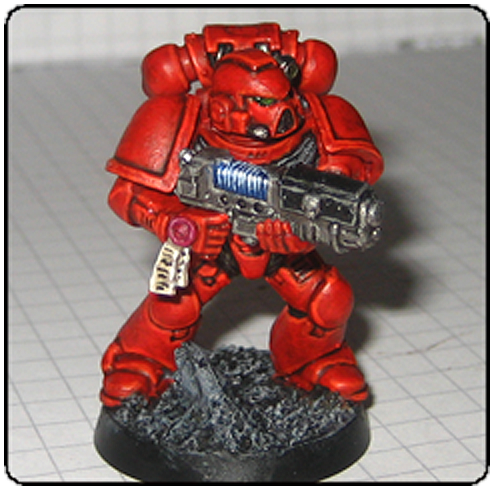 At this point I'd worked out quite well how I was painting each stage of the model and the next two squad members came along quite quickly then.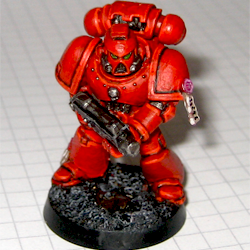 This next picture also shows the arms of Brother Noctis from Space Hulk and the arms of the Tactical Squads Lascannon marine.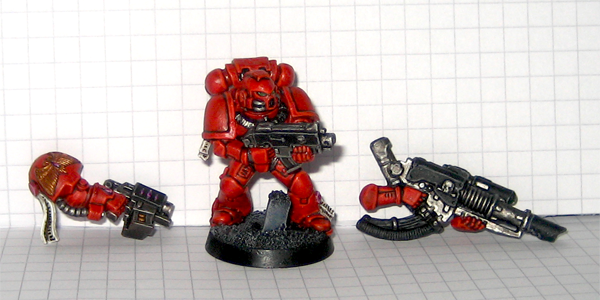 And finally here's a shot of the first four marines defending an imperial Shrine I'm building.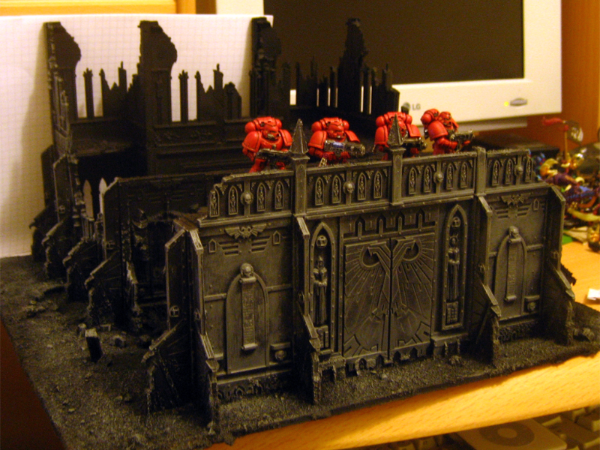 Expect some more updates soon as I work through the rest of the log but this will do as an introduction.
---
A man after my own heart, am a blood angels collector myself.

You've made a great start to your army.

When you say full army, what are we talking? A full company or the whole full 10 companies plus vehicles and HQ's?
---
These look really nice
Normally i would suggest breaking the red up as there is so much of it, but for some reason it just works.
My only real criticism would be that the purity seals get lost in the armour, and the bases look a bit drab.
If you're churning out minis this good and you're still a bit rusty, i can't wait to see how this progresses
---
My Salamander Logs & Army Showcase:
The Ashbringers 3rd co.
:::
Into the fires of Battle
:::
Army Showcase

Currently Painting:
Landraider Redeemer
---
They look really nice, I'll be following this
.
---
That looks very good. Will defeintely keep an eye on this one as well
---
Carry The Emperors Will as your torch!
---
Great start to your army!
---
Definitely a nice start mate! I would add another layer of highlighting past what you have now. Just along the edges of the armor plates that would catch the most light, just to get some further definition, but that is more a personal preference than a necessity as your models are looking very nice already. I look forward to following along with you progress!
---

Commissions, Project Logs, and Galleries
Follow me on Twitter: @MidgesWorkshop. You can aslo follow me on face book Here
---
Thanks for all the comments and feedback guys :D

@cruor angelus silicis: Glad to know your a blood angels collector aswell. Blood Angels we're the first army I ever collected
back when I was 12 so when I decided it was time to get a full army completed they sprang to mind.

To start with I'm just going to get a fieldable army ready so I can play some games but I do intend to exapand much further
after that. How far I go we shall just have to wait and see.

@Varakir: Cheers for the feedback, the bases are to fit with a modular cities of death board I'm making but there will be more
detail on those to come.

@Bane_of_Kings, Tossidin and Hammer49: Glad you like them guys :D stay tuned there's more on the way.

@Midge913: Thanks for the feedback mate that's exactly the sort of thing I'm looking for. These first pictures were all taken
with the flash on and I think that dilutes some of the highlighting but keep checking in as there's more on the way soon.
---
Last edited by AlexHeap; 06-06-11 at

07:12 PM

.
---
Great looking angels, I really like the plama gun coils too.
---
Strike Force Crucible
<--- deathwatch army log
You are charged with the crime of existance Xenos! - Watch Librarian Auron
Lower Navigation
Attempt at a full army - Blood Angels log