Building a Host of Naggaroth
---
Hello everyone, I've just started collecting DE after a long break from the hobby so I thought i'd post a plog about it, mainly to encourage me to keep painting.
To start of I bought a Sorceress, a unit of warriors and a unit of cold ones. I've focused most of my painting on the sorceress and have tried to get the warriors done up to tabletop standard.
Sorceress-
I've tried to get the skin to look whiteish on her but I don't think it's as good as it could be. First model I painted though having not painted for 3~years so I don't think it's too bad.
Warriors-
I could do with redoing the banner here but I think it's alright for now, pleased with the overall look of them.
Cold one Knight-
Only done one of these so far as a test run, but thought I'd post it up here to see what others think.
I'll try and get some more posted in the coming days/weeks, and I'll be grateful for any feedback
.
---
They're looking good. Even though they're a test-run, I would be perfectly happy if my lizard looked like that.

Been thinking of starting a Fantasy army, was thinking Dark Elves as well, but I'm not decided yet. I'm currently torn between the DE and Vampie Counts... ultimately it may just boil down to 'which army can I buy the cheapest' heh

But keep up the good work, looking forward to seeing how your army progresses.
---
Vanitas Vanitatum Omnia Vanitas!
---
Nice start to your DE. They look very good. Look forward to seeing more of them.
---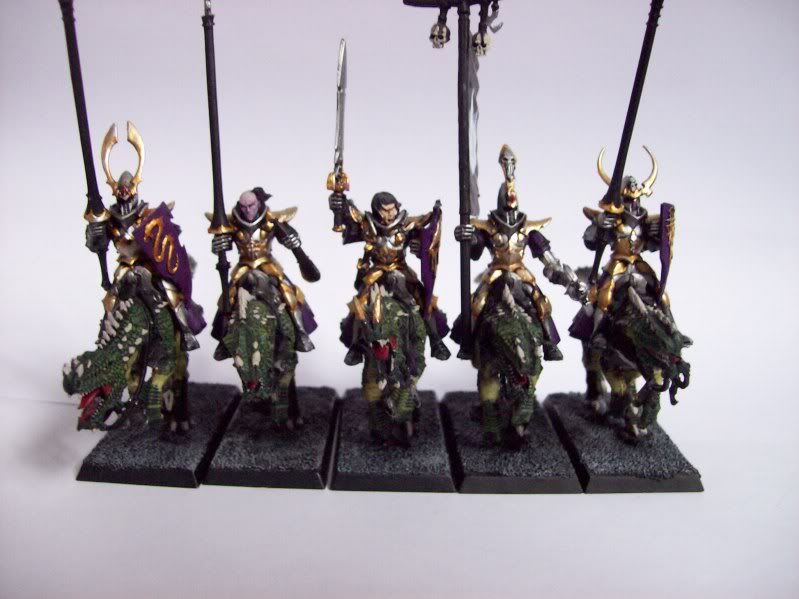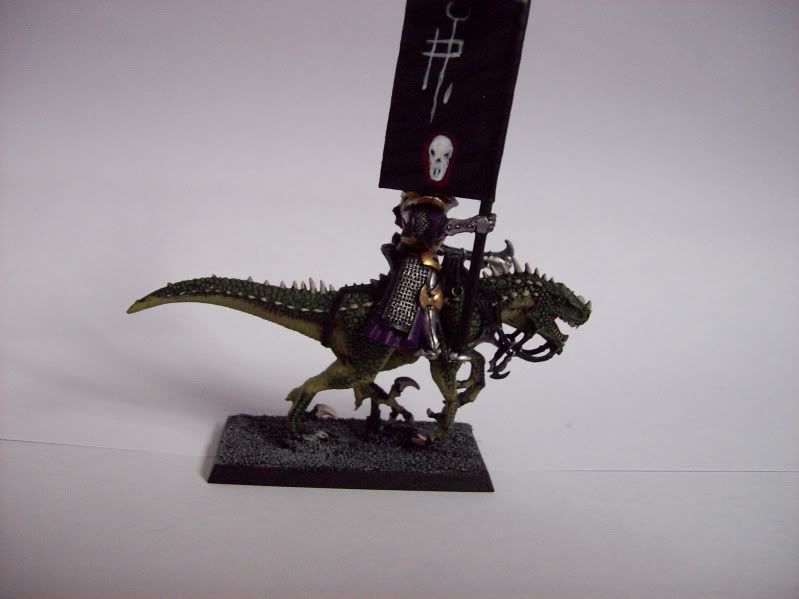 Sorry for the long delay, finally got this unit done today, sorry about the bad quality of the photos again, my camera is still broken. Any comments welcome!
---
Nicly done, your armoured cav looks ready to take to a fight.
Are you getting your force ready to play some of the storm o magic games?
---
Your Cav look great, but if I may make a suggestion, I would recommend tonning done the armour on your Cav. maybe a watered down badaab black wash, looks to shinny at the moment.

Otherwise, great!
---
"To retreat is defeat. Advance! Advance! In our Death lies Victory."
Captain Denos, 19th Company,468th regiment of the
Death Korps of Krieg
The K.R.I.E.G. Project (My Death Korps of Krieg Plog)
---
I may give that a try, it'd help make the layers look less defined too.
Hopefully I will be able to get in a few storm of magic games at some point!
.
Lower Navigation
Building a Host of Naggaroth