---
your craving the sense of accomplishment you get from completeing a good paint job, nothing wrong with that toss.
---
Guess who is f***ing back!?
Hey again everyone, been a long time since I updated this log (I did warn you right?), but I have finally got the motivation and time to start painting something again. Since it is such a long time since I really painted (not counting this logs updates), I find I am lacking the knowlegde I once did, aka, I have forgotten many of my own methods and mixes... lol. Anyway, I am quite happy with the chap I am painting on at the moment, and thought I would use it as an excuse to bring my glorious log back to the front page ;)
Here is some wip pictures of the space hulk terminator I am working on: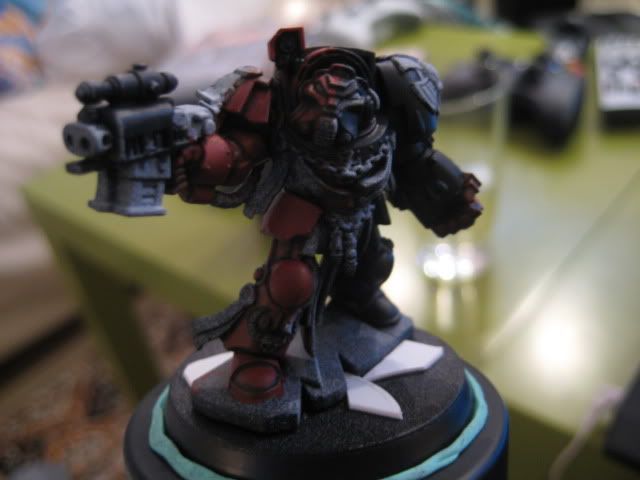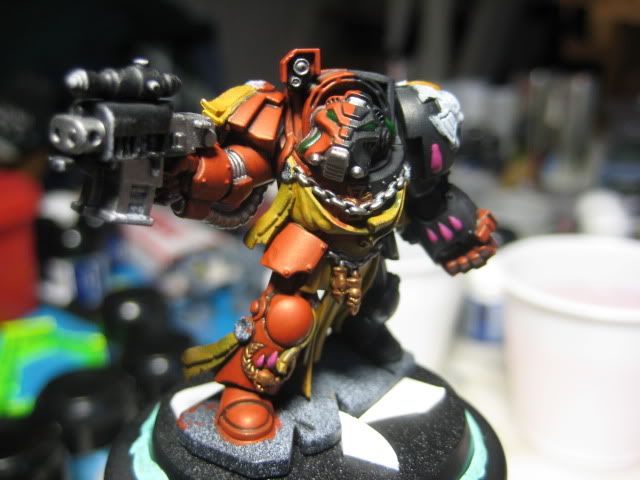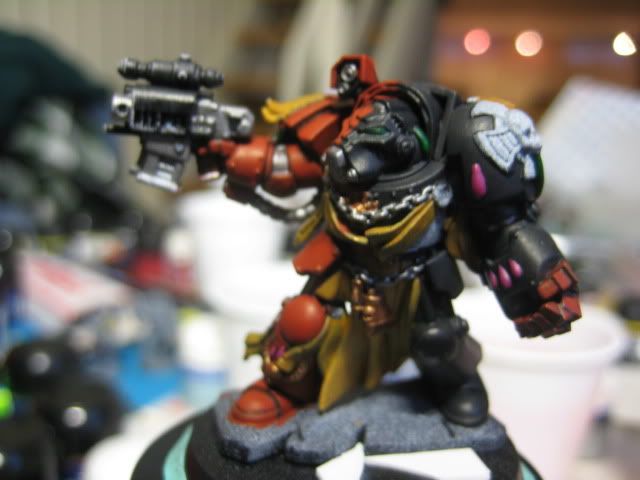 The two last pictures is where I am at the moment, excuses for bad pictures, cba to put up any lightbox or whatever at the moment :p
I have some questions for you though, and would appreciate your thoughts on it!
1: The colour on the gems. I am using purple (looks to pink at the moment maybe) like eavy metal did on the studio models. I am considering if I should use another colour instead, blue green, deep red... thoughts?
2: The wax on the purity seals. I am opting for a deep red at the moment, though I have been considering green. thoughts?
3: I really want to do some freehand, as it kinda is my trademark when painting (or so I like to think), so if any one of you have any ideas for what or where I could do it I would be happe to have your thoughts on it! I have been thinkining of doing it on one or both shoulderpads, maybe the helm, or the tabard...
Thanks for your time, C&C is as always welcome, though it is a wip at the moment.
Expect udates in the not to distant future, or else you will just have to slap me or something...
- Tossidin out
---
Carry The Emperors Will as your torch!
---
I never liked this colour scheme but your really pulling it off! Good job!
---
My Deceiver is a shard of the true thing and yet has killed
Draigo
Lysander and countless marines
Back in "Sexay"!!!~
Join Date: May 2011
Posts: 972
Reputation: 1

---
So, why aren't you painting more often????
You're a great painter and should keep painting.
I like your style. It's really nice and clean.
As for the seals, you might want to go with a dark green since the armor's red already and it won't show up that much on top of the armor.
As for the gems, that's entirely up to you. Maybe try it first in the "purple" and see where it goes from there.
---
Looking for work....
Current project(s) with plog(s): None ATM
Upcoming project(s): Plague Hulk
Recently finished project(s):
Warboss 2
,
Lord Hector Rex
---
I think your models is looking really great, even though they are not completly done
As for the questions:
1-2: I think green would be the best option for both the seals and gems as green will make the stand out a little more, If you paint them purple and red the will disapear into the model a bit to much I´m afraid.
3: If you want the freehanding to be clearly visible I would say that the left kneepad and maybe the back of the powerfist would be the best places.
And now a question of my own, what happend to the dude with wings?? I wanna see him done as you did really good progress on him.
Keep up the good work!
---
There are no friends in the real world, just less hostile enemies
---
Quote:
I never liked this colour scheme but your really pulling it off! Good job!
Hah, then I will just have to MAKE you like it :3
Dont know why I dont paint more often arumichic, though I agree, I should paint more.
As for your question Meldon, you can see him on the fourth picture, if you are really, really good! :p
When I first got the motivation to paint I didn't want to continue on a model I had already painted on, and I hate painting those wings now lol. Gonna finish him whenever I feel like it ;)
Anyway, a big thanks for the nice comments guys! It really keeps me motivated
I have opted for green seals and purple gems at the moment, as I don't want too much green. Freehanding will come on it's own I guess, a squad marking or whatever I come up with (to damn little space on these termis lol). Let's see how it ends up- If I am lucky I will continue tomorrow!
Good night happy painting
---
Carry The Emperors Will as your torch!
Tzeentch laughs at likely
Join Date: Dec 2009
Location: Inside my Head, Bristol, UK
Posts: 8,556
Reputation: 44

---
Glad you are back; try not to make it too brief a visit.

The divided scheme looks great so far.

I have an irrational belief that purity seals should be red, so it will be interesting to see if you can make green look right.
---
The divided scheme is very nicely done mate! Personally I think that you should do the gems green and purity seals a nice purple color. Just my two cents. Keep up the good work!
---

Commissions, Project Logs, and Galleries
Follow me on Twitter: @MidgesWorkshop. You can aslo follow me on face book Here
---
Hello again! I recently decided to start painting another army (yep, deal with it Tossidin, more to paint!), so I have just finished the first model (a test so to say), and as I am totally new to the paint scheme, I can't say that I think it is perfect, but I really think I have the makings of something good if I just step up and learn myself to paint the scheme better.
I would like some suggestions on how to improve it. Is the main colour to dark? Learn to make smoother transitions into green etc.
Pics of my wery First Alpha Legionnaire!:
From start: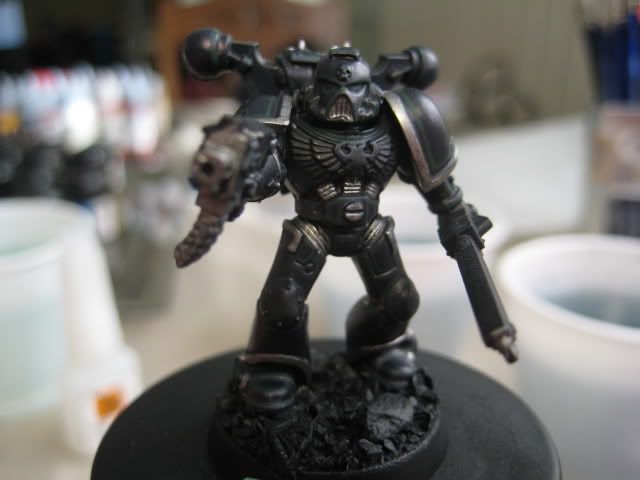 On the way: (wow what did I think when I painted that sword -.-)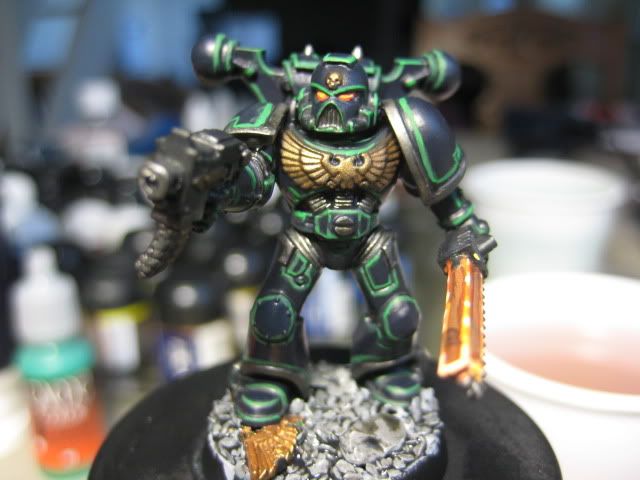 To finish: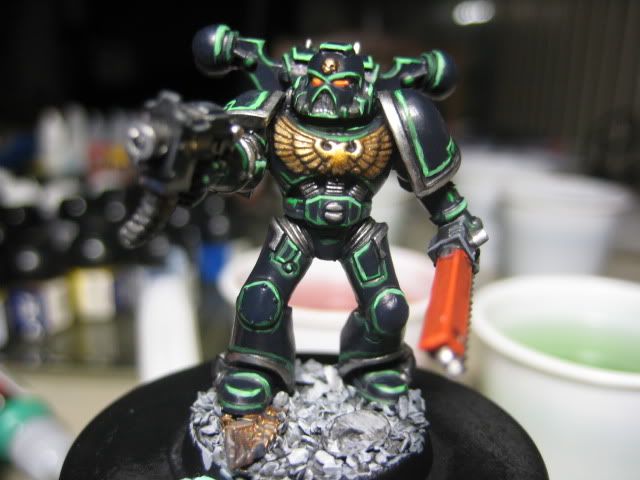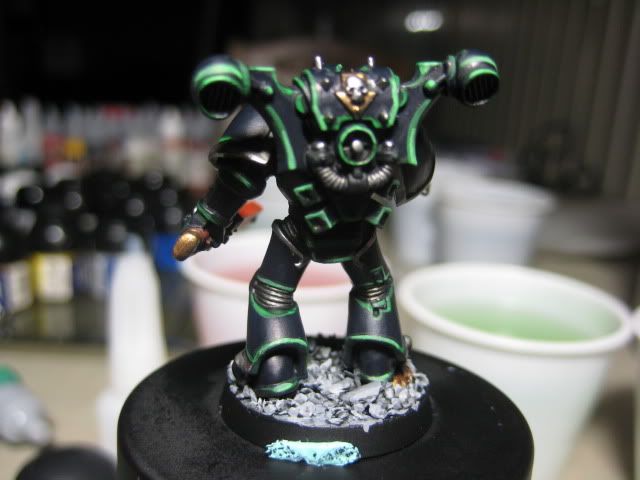 C&C is welcome as always!
---
Carry The Emperors Will as your torch!
---
I am not the biggest fan of hard edge highlights, but I think for the most part it works here. The shoulder pads look a little odd, but for the most part I like it. Keep up the good work man.
---

Commissions, Project Logs, and Galleries
Follow me on Twitter: @MidgesWorkshop. You can aslo follow me on face book Here
Lower Navigation
Tossidins painting log for those rare occassions when he actually paints something!