The Emporer's Feth - IG Army
---
Hey all,
I have been 'blogging' with my buddy for a couple of years as we build and paint our armies but I want to get a bit more feedback as I go and see if I can slowly build up to getting a best army nomination (which we were going for at the last 40k Doubles Tournament).
This project log will see me take the army from a four hundred points to a thousand hopefully over the next year, I am not going to be too ambitious as having played against IG for a couple of years I know what kind of units work well for me so I can take my time painting and borrow from my mates horde when we wanna play tournie sized games.
I started my IG army last November and now have a Vendetta, a Chimera and a demolisher/executioner.
I will post some pics later today of what i have so far, any comments would be gratefully received, I spent some time on doing an Aquila head and wings on the Vendetta so I will do a quick tutorial on that as there were a few people asking how to do it and it took me ages to figure it out.
Here is how the Vendetta came together...
I cant seem to write next to the images but the Vendetta project goes like this (i did the head and wings in same way):
1. Draw the design in pencil
2. Trace the design onto something you can then use as a stencil to spray over (I used my sons 'messy mat' which I thought had seen better days and was due a change)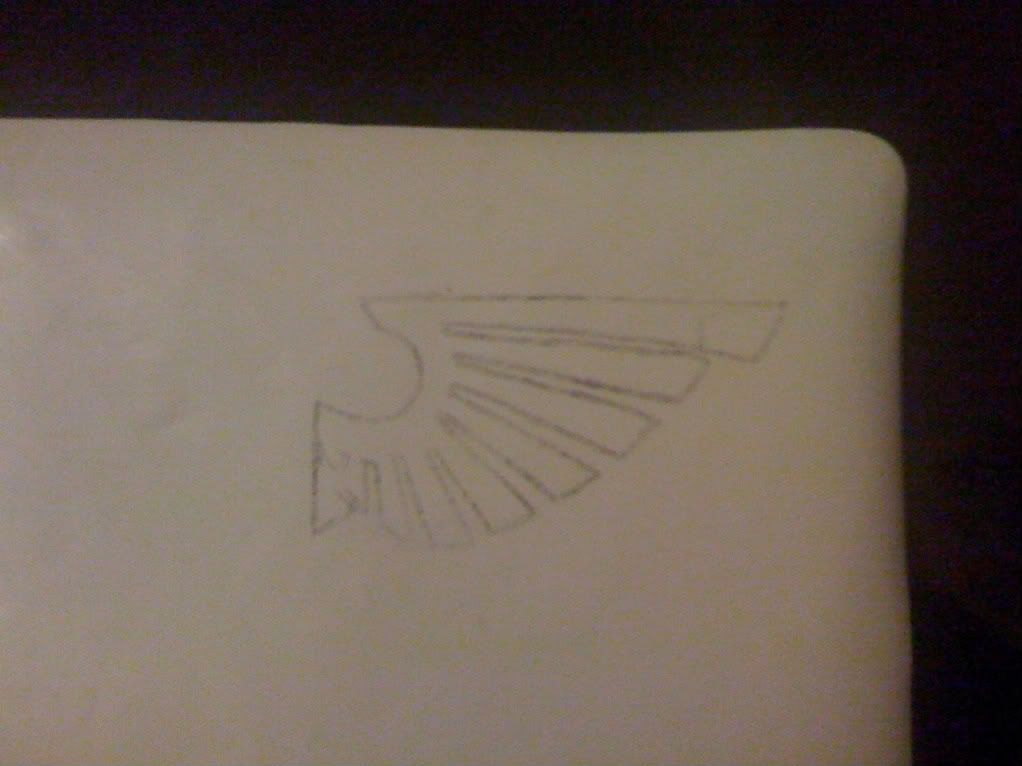 3. Get bollocked by my wife for using son's messy mat
4. Spray the wings white (I wanted to spray the model as much as possible as you get a nice clean, flat surface - I could free hand the design but i wanted to try this and see if you got a better look from it)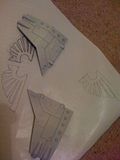 5. Tape the stencil onto the model
6. Spray it grey! ( I used Tamiya German Grey - after much research this was the 'look' i was going for - an army fighting in urban areas so dirty grey was my goal)
7. Remove the stencils and check out your handywork!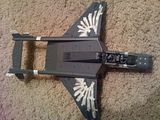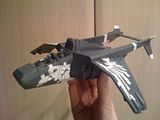 You will see that I also did some bits on the tail plane - I sprayed these white and then put masking tape over before spraying grey again.
8)I then went over the edges of the fuselage where there was white and added some grey weathering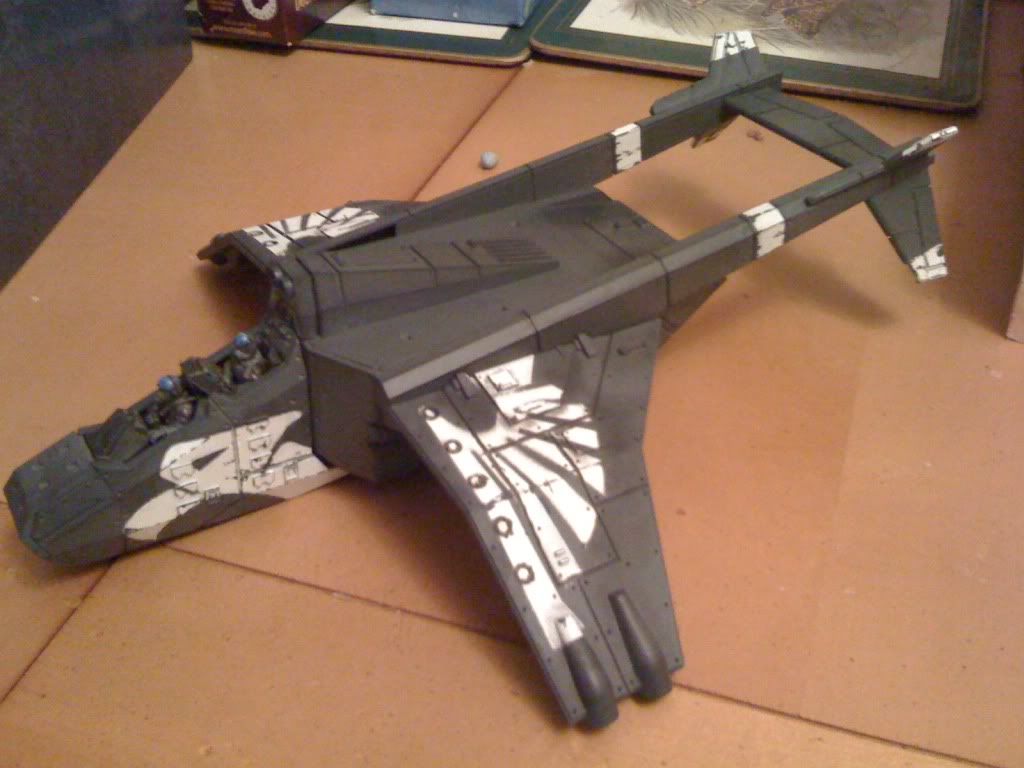 9) there will be some white 'blocks' around the stencil outline where the tape was, just a bit of brush painting with grey to do here
10) A bit more weathering, and picking out the areas that would be worn by use and its nearly done.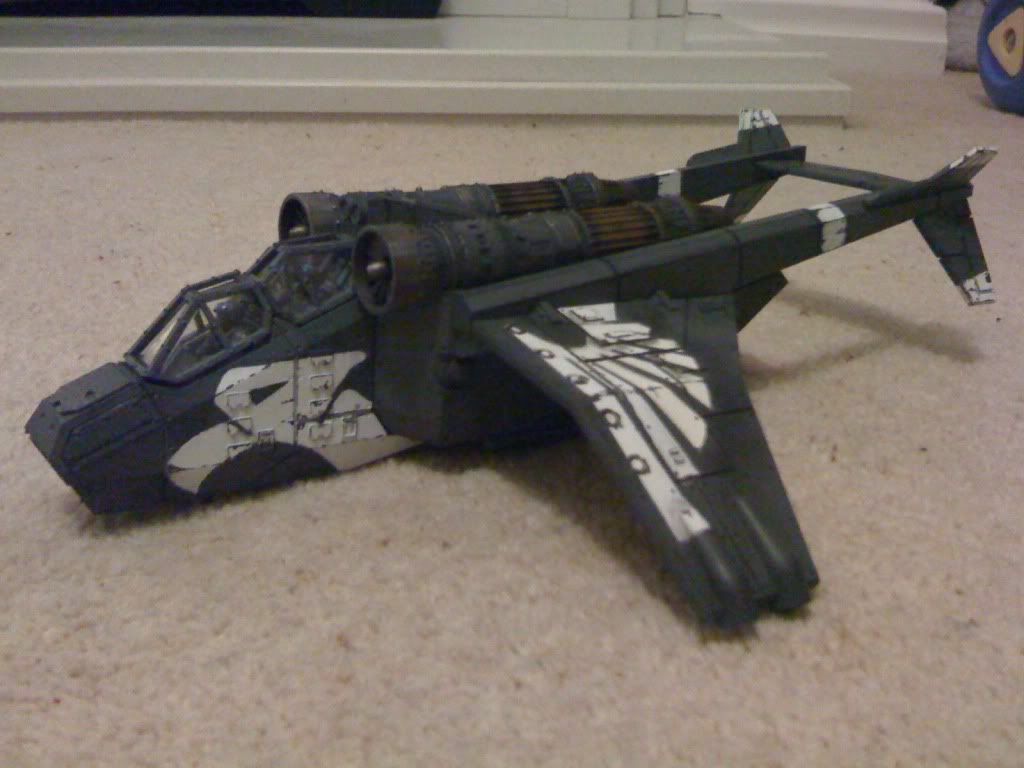 I will post some close up photos of the finished article later...
---
Last edited by Jangalak; 02-26-11 at

05:46 PM

.
---
I like this. I like IG and I like the darker grey you are using coupled with the white as a nice contrast. Now all you have to do is whip up the rest of your army in a super-fast-order and get 'em painted. +rep

As an aside you uploaded your images as an attachment direct from your PC (I'm assuming). If you want to put text below each one you will have to enter them as an image with a URL address (there's a pic of a mountain in a yellow box you click on) from an image hosting site. I use photobucket but people use photoshack and I would imagine there are others.
---
Man, you make this technique look so easy!!

I really like the finished result, it looks really good and the white stands out well. I may steal the process for the day I inevitably get a Stormraven.

Rev
---
very cool. I just wish I had the patience to make a stencil for my valks...
---
---
Thanks for comments piemaster, i have had a go at your photobucket suggestion and seems to have done the trick but for some reason not all the images are coming through the same size...must be the warp.
cheers
---
Check out my IG painting blog
The Emporers Feth
Check out Hocky's IG Project Log
here
(The Emperor's Feth 2)
---
thanks reverend, i am almost tempted just to get a stormraven just so i can do some more big stencils, but am gonna have to stick to the IG programme if i am gonna be ready for the next one.
I loved the stormraven in the top ten best armies - the weathering was superb. Am gonna work my way through that Imperial Armour book to see what the trick there is.
---
Check out my IG painting blog
The Emporers Feth
Check out Hocky's IG Project Log
here
(The Emperor's Feth 2)
---
So you did get that IA painting book then? you'll have to let us know if it's worth the dollars...
---
I really admire the stencil work, sir. The model looks really striking. I would say, however, that the model needs another contrast colour - but that's probably just because I'm a whore for three-colour schemes...
If it were me, I'd throw in some more banding / markings in another, contrasting colour - maybe red or blue.
Can't wait to see more from this thread. Are you planning on using stencils on the other vehicles / tanks in the army? When will you be adding some infantry?
---
current wip -
dark angels seventh company
skaven horde
the warriors of ulthuan
foible -
foi·ble / ˈfoibəl
noun: a minor weakness or eccentricity in someone's character:
"they have to tolerate each other's little foibles".
---
This looks great. Can't wait to see the rest of the army.
---
@ reverend - nah, never picked up the book on the day, was too involved in the games to do anything sensible like thatg. Got it on order so should be arriving next week. I will do a quick review once i have had a shifty at it.

@ aquatic - thanks for the feedback, i was teamed up with my buddy for the Doubles Tourney at GW in Notts last weekend and we were trying for best army nominee, we were top twenty but didnt make the cut for top ten. I spoke to Nick Bayton to get some advice and he said he loved the look but it needed some more colour, so thanks I will definately be trying something else out to add a little more light.
---
Check out my IG painting blog
The Emporers Feth
Check out Hocky's IG Project Log
here
(The Emperor's Feth 2)
Lower Navigation
The Emporer's Feth - IG Army